Pirate Ship Halloween Decorations
Want to plunge guests to the depths of the sea? Go where only sunken ships and sailors dare to tread.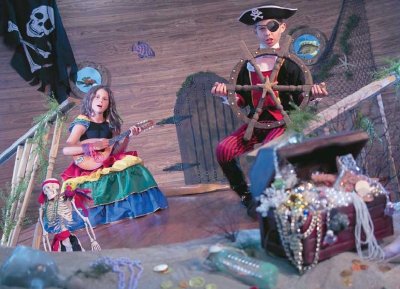 Decorate your party room
to look like a pirate's ship.
The first step in submerging your Halloween decor to the depths of a watery grave: Plug in a black light. It'll cast an eerie underwater glow and highlight colorful but spooky cutouts of octopus, sea creatures, and ghost-shaped seaweed. Use clear fishing line to float a few cutouts or fish from the ceiling, and stick some cutouts behind poster board "portholes" hung low on the party room walls.
Because captain and crew go down with their ship, hang and lay plastic or cardboard skeletons around the room. Decorate a few skeletons with deflated inflatable life rings, pirate eye patches, and scarves. Drip fake pearls and costume jewelry from the skeletons' hands. Hang sea netting (found at party supply stores) on the walls, and hang starfish or a snagged pirate from it. A skull and crossbones flag will add more pirate-y charm.
Pirate bounty.
Buy inexpensive Mardi Gras and pearl beads and mix them with gold-wrapped chocolate coins. Scatter them across the serving table for pirate booty. A treasure chest is a great centerpiece. Find one at a Halloween or craft store, or create your own by papering a shoe box with brown construction paper; make the "hinge" with silver or black tape. Fill it with old costume jewelry and trinkets, and leave it open. Or, for giggles, "lock" it with a big buckle from an old belt but hide a spooky surprise inside, such as a skull. Curious kids will love the gag.

Lay seashells around the rooms. To complete the ambience, play a nature CD of the sea: lapping oceans waves or storm sounds work well, but haunting whale calls will hook captains craving the creepiest sounds.

When kids arrive at the door, blindfold each and invite them to step into the deep by walking the plank, which is a board set on the floor at the entry to the party. Will they take the plunge?
For a completely different Halloween scene, try a haunted garden decor that includes creepy creatures like bugs, spiders, and even man-eating plants. We'll tell you everything you need to create your own ghoulish garden on the next page.
Want to scare up more fun Halloween ideas? Try these: