There's a Party in the Graveyard Centerpiece
This two-sided graveyard centerpiece will make any table even more festive and spooktacular!
What You'll Need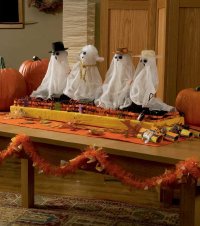 This ghostly graveyard will BOOst
your table's Halloween spirit.

Y

ellow tissue paper
Large foam block: 35 x 12 x 2 inches
Hot glue gun, glue sticks
4 paint stir sticks
Acrylic paint: white, black, orange
Paintbrush
4 foam balls, 3 inches each
3 yards white cheesecloth
4 yards orange ribbon, 3/8 inch wide
Scissors
16 large wiggle eyes
10 inches jumbo loopy white chenille
3 doll hats
Gold cord
50 toothpick-size dowels
Miniature Halloween trinkets: spiders, bats, insects, gargoyles, shovels, tombstones, wishing well, rakes, etc.
1/2 yard black tulle, cut in half
Party shred
Wrap and glue yellow tissue paper around foam block.


Paint stir sticks white; let dry. Glue a foam ball to top of each stick. Space sticks evenly along foam block, about 71/2 inches apart, and insert into foam.


Attach a foam ball to the top of each stick.


Fold white cheesecloth in half, and place length over foam balls on sticks. Gather cloth between sticks to create ghosts. Tie gathers with orange ribbon.


Place the cheesecloth over the assembled balls and sticks.


Glue 2 wiggle eyes on each side of foam balls. On each side of each ghost, paint a mouth. Glue loopy chenille on a ghost for hair; turn up ends. Sponge paint straw hat with black and orange paint, if desired. Glue hats to other ghosts' heads. Tie gold cord around a ghost's neck.


Glue the wiggle eyes onto each ghost.


Paint dowels black; let dry. Push dowels around outside edge of foam, placing them about 1 inch apart. Don't worry about spacing them perfectly; the unevenness is spookier. Weave 2 rows of orange ribbon between dowels.


Glue spiders, bats, insects, gargoyles, shovels, tombstones, and other trinkets throughout foam. Loosely weave black tulle between base of ghosts; glue in spots to hold. Place party shred around ghosts.


For a finishing touch, scatter the party shred around the ghosts.

Your ghastly party in the graveyard is ready to adorn your table and entertain your guests. The next do-it-yourself Halloween decoration is even more boo-tiful. Read the next page for the frightening details.
Want to scare up more fun Halloween ideas? Try these: