Witch's Brew of Surprises
This whimsical Halloween decoration holds trick-or-treat candy for all the cute critters who visit this October.
What You'll Need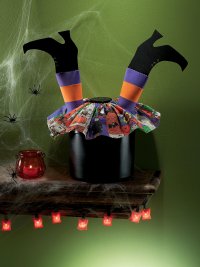 Brew up some fun with this
one-of-a-kind treat container.

1-gallon licorice container

Black spray paint for plastic

1/6 yard Halloween-print fabric

Ruler

Fabric glue

Large quilting needle

Purple embroidery floss

Craft glue

Craft foam: orange, purple, black

Scissors

2 empty toilet paper rolls

Black-and-white polka-dot ribbon, 1/8 inch wide

Scallop-edge scissors

6 silver square mini brads
Wash and dry container. In a well-ventilated area, spray lid and container inside and out with black paint. Let dry 20 minutes. Spray again to cover completely. Let dry overnight.


From fabric, tear a 53/4-inch strip. Glue short ends together with fabric glue, matching right sides, to create a 1/4-inch seam. Let dry.


With quilting needle and embroidery floss, make a running stitch 1/4 inch below untorn edge.


Place fabric over lid handle. Gather fabric around knob. Tie ends of floss, and trim floss ends. Tuck edges of gathered fabric to inside so cut edge is against knob and doesn't show. Use craft glue to adhere fabric to knob; let dry.


Tuck the edges of the fabric against the knob, covering it completely.


Cut four 11/2 x 53/8-inch strips of purple craft foam. Cut two 13/8 x 53/8-inch strips of orange craft foam. Cut out 2 boots from black foam using this pattern.


Glue purple, then orange, then purple craft foam strips to a paper roll using craft glue; trim strips if needed. Be sure to line up seams. Repeat for second roll.


Glue the ribbon along the seam of the craft foam.


Measure length of paper roll. Cut 2 ribbons to this length; glue a ribbon to each roll lengthwise along craft foam seams.


Use scallop-edge scissors to trim 1 end of each roll. To each boot (cut out in step 5), add 3 brads where indicated on pattern. Fold rolls in half, with ribbon-covered seam in middle of back. Glue a boot inside scalloped edge of each roll. Hold roll until glue sets. These are the legs.


Position the legs onto the fabric as shown.


At other end of rolls, cut 1/2-inch slits about every 1/2 inch. With seam of fabric placed in middle back of lid, decide where legs will be placed. Glue fabric to lid at these spots using craft glue. Glue tabs of legs over glued fabric.
For a gruesome Halloween decoration, how about some heads on a platter? Read on to get the full instructions for this frightful feast for the eyes.
Want to scare up more fun Halloween ideas? Try these: