Life After the Presidency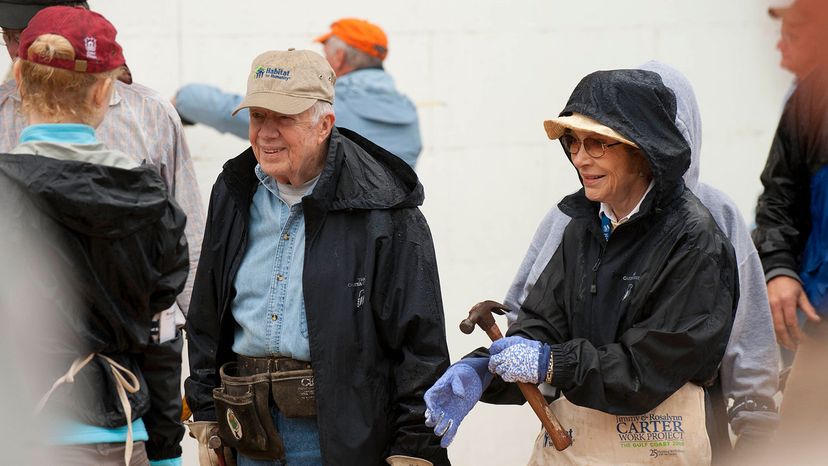 There are three ways a president can leave office mid-term: death, resignation or impeachment. Eight presidents have died in office. Four of these presidents, Abraham Lincoln, James Garfield, William McKinley and John Kennedy, were assassinated (five other sitting presidents have survived assassination attempts). Of all presidents, William Henry Harrison had the shortest administration; he died of pneumonia one month after his inauguration.
Only one president, Richard Nixon, has resigned. Three presidents have been impeached: Andrew Johnson, Bill Clinton and Donald Trump. None of the three was convicted. Johnson escaped Senate conviction by one vote, but Clinton and Trump were found not guilty in the Senate by wider margins.
Most presidents fulfill one or two terms and are either defeated in re-election or retire. So what's life like for a person who's been the leader of the free world? Generally, it's good. Some presidents retire to a life outside of the public eye. Many have published their memoirs. Others use the prominence afforded by the presidency to continue or even improve their work. Jimmy Carter, after leading an unpopular single-term administration, went on to create what many agree is the most successful post-presidency. The former president established the Carter Center, a human rights organization, and became heavily involved with Habitat for Humanity, which builds homes for the poor.
For most of U.S history, presidents have been given a pat on the back on their way out and that's about it. That changed in 1958, when Congress passed the Former Presidents Act. This law gave a departing president an annual pension of $25,000 a year under the original bill. Since then, the amount has been increased to the same as a Cabinet member, about $161,000 per year. The government also provides a former president funding to support an office and staff for four-and-a-half years.
During his second term, President Franklin Roosevelt had an archive for the personal papers and mementoes he'd accumulated during his time in office. Since a president can't accept personal gifts during office, any tokens presented by foreign heads of state and other dignitaries and citizens belong to the American people. To continue this chain of custody, Roosevelt established his presidential library in 1941. This tradition was carried on by Harry Truman, under whose administration Congress passed the Presidential Libraries Act. This law created the Presidential Library System, a part of the National Archives, which oversees the 14 presidential libraries currently in existence. It became customary for a presidential library to be built to house the effects of the outgoing administration and all modern presidents have a presidential library. Just before his death in 1962, Roosevelt's predecessor, President Herbert Hoover, saw a presidential library built for his administration.
Not all presidents leave public life after the White House. President William Taft went on to become the Chief Justice of the Supreme Court, appointed by President Warren Harding eight years after Taft left office. Taft preferred the judicial over the executive branch: "I don't remember that I ever was President," he once wrote [source: White House]. Other presidents have been appointed or elected to various positions. After being impeached, Andrew Johnson was elected as a senator for Tennessee, while John Tyler served in the Confederate House of Representatives more than a decade after leaving the White House [sources: United States Senate, White House].
"There is nothing more pathetic in life than a former president," President John Quincy Adams once said. That, like all other aspects of the American presidency, has evolved and changed, all due to the decisions made by the people who've held the office.
Related HowStuffWorks Articles
More Great Links
Sources
Akhtar, Allana and Madison Hoff. "19 financial perks of being the president of the United States." Business Insider. Feb. 14, 2020. (Sept. 8, 2020) https://www.businessinsider.com/financial-perks-president-of-the-united-states-2018-7

Anthony, Carl Sferrazza. "America's First Families." Simon and Schuster. 2000. "http://books.google.com/books?id=44elUBU7FZkC&pg=PA66&lpg=PA66&dq=famous+presidential+first+families&source=web&ots=wB9tFu_R41sig=-fBYgDGwQ5OCarHp4vVvzDbmUp4#PPA68,M1

Califano, Joseph A. Jr. "What was really great about the Great Society." Washington Monthly. October 1999. http://www.washingtonmonthly.com/features/1999/9910.califano.html

Cathey, Libby, et al. "RNC 2020 Day 4: Trump accepts nomination from White House." ABC News. Aug. 27, 2020. (Sept. 9, 2020) https://abcnews.go.com/Politics/rnc-2020-day-trump-accept-nomination-white-house/story?id=72577769

Crutsinger, Martin and Aversa, Jeannine. "US government may take ownership stakes in banks." Associated Press. October 9, 2008. http://news.yahoo.com/s/ap/financial_meltdown

Curtin, Michael. "A tour of the White House with Mrs. John F. Kennedy." Museum of Broadcast Communications. http://www.museum.tv/archives/etv/T/htmlT/tourofthew/tourofthew.htm

De Lew, Nancy, M.A., M.A.P.A. "Overview: 40th anniversary of Medicare and Medicaid." Health Care Financing Review. Winter 2005-2006. http://www.cms.hhs.gov/HealthCareFinancingReview/downloads/05-06Winpg5.pdf.

Evon, Dan. "Did Rush Limbaugh Refer to 12-Year-Old Chelsea Clinton as a Dog?" Snopes. Feb. 12, 2020. (Sept. 9, 2020) https://www.snopes.com/fact-check/rush-limbaugh-chelsea-clinton/

Fitzgerald, Michael. "War and the American Presidency." Humanist. March-April 2005. http://findarticles.com/p/articles/mi_m1374/is_2_65/ai_n11850253/print?tag=artBody;col1

Glastris, Paul and Nancy LeTourneau. "Obama's Top 50 Accomplishments, Revisited." Washington Monthly. January/February 2017. (Sept. 8, 2020) https://washingtonmonthly.com/magazine/januaryfebruary-2017/obamas-top-50-accomplishments-revisited/

Lithwick, Dahlia. "What war powers does the president have?" Slate. September 13, 2001. http://www.slate.com/id/1008290

McCabe, Kathy. "Is there a life after the presidency?" USA Today. January 17, 2001. http://www.usatoday.com/news/vote2000/afterpresidency.htm

Mitchell, Alison. "Only Congress can declare war. Really. It's true." New York Times. May 2, 1999. http://query.nytimes.com/gst/fullpage.html?res=9A0CEED81E3DF931A35756C0A96F958260

O'Brien, Michael. "John F. Kennedy." Macmillan. 2005. http://books.google.com/books?id=TgSz9snm7HcC&pg=PA836&lpg=PA836&dq=integration+university+of+alabama&source=web&ots=QUOjPX6rk6&sig=xaX1A4A0coLBfG5IOvTsf7W6L-4#PPA836,M1

Reicher, Maggie. "Eleanor Roosevelt, no ordinary woman." Humanities. January/February 2000. http://www.neh.gov/news/humanities/2000-01/eleanor.html

Roiphe, Katie. "Bushwacked." The Guardian. June 1, 2001. http://www.guardian.co.uk/world/2001/jun/01/usa.features11

Rothman, Lily. "The White House Tour Seen in Jackie, as Described in 1962." Time. Dec. 2, 2016. (Sept. 9, 2020) https://time.com/4586913/white-house-tour-jackie/

Walsh, Kenneth. "A History of Presidential Pardons." U.S. News & World Report. June 8, 2018. (Sept. 9, 2020) https://www.usnews.com/news/the-report/articles/2018-06-08/the-most-prominent-presidential-pardons-in-history

Wead, Doug. "A list of presidents' children married while their father was in office." Dough Wead The Blog. April 19, 2008. http://dougwead.wordpress.com/2008/04/19/a-list-of-presidents-children-married-while-their-father-was-in-office/

Wolf, Julie. "The Iran-Contra Affair." PBS. http://www.pbs.org/wgbh/amex/reagan/peopleevents/pande08.html

"Air Force One." White House Military Office. http://www.whitehouse.gov/whmo/af1.html

"Air Force One: 'The flying White House.'" CNN. February 15, 2002. http://archives.cnn.com/2002/US/02/15/airforce.one/

"Andrew Jackson holds 'open house' at the White House." History. March 3, 2020. (Sept. 9, 2020) https://www.history.com/this-day-in-history/jackson-holds-open-house-at-the-white-house

"Andrew Johnson." United States Senate. (Sept. 9, 2020) https://www.senate.gov/artandhistory/art/artifact/Sculpture_22_00016.htm

"Assassinations and attempts." Grand Valley State University. http://www.gvsu.edu/hauenstein/index.cfm?id=5FDDBC1E-02AB-77A1-60768525C937A686

"Bush orders $200M in emergency food aid." CBS/Associated Press. April 14, 2008. http://www.cbsnews.com/stories/2008/04/14/world/main4014224.shtml?source=mostpop_story

"Civil rights context in the early 1960s." PBS. http://www.jfklibrary.org/Historical+Resources/JFK+in+History/Civil+Rights+Context+in+the+Early+1960s+Page+4.htm

"DEA historybook; 1980 - 1985." U.S. Department of Justice. http://www.usdoj.gov/dea/pubs/history/1980-1985.html

"Everything You Need to Know About Barron Trump." Town & Country. Aug. 7, 2020. (Sept. 9, 2020) https://www.townandcountrymag.com/society/a9595701/barron-trump-facts/

"Executive orders; J.Q. Adams - G.W. Bush." The American Presidency Project. http://www.presidency.ucsb.edu/executive_orders.php

"From George Washington to Benjamin Lincoln, 26 October 1788." National Archives. (Sept. 8, 2020) https://founders.archives.gov/documents/Washington/05-01-02-0054

"International agreements without Senate approval." FindLaw. http://caselaw.lp.findlaw.com/data/constitution/article02/12.html

"It's good to be president." Beyond Books. 2000. http://www.beyondbooks.com/gop00/3c.asp

"It's good to be president, for perks alone." Associated Press. October 25, 2004. http://www.msnbc.msn.com/id/6329335/

"John Tyler." White House. (Sept. 9, 2020) https://www.whitehouse.gov/about-the-white-house/presidents/john-tyler/

"Medicaid Facts and Figures." Centers for Medicare & Medicaid Services. Jan. 30, 2020. (Sept. 8, 2020) https://www.cms.gov/newsroom/fact-sheets/medicaid-facts-and-figures

"Medicare." National Committee to Preserve Social Security & Medicare. August 2020. (Sept. 8, 2020) https://www.ncpssm.org/our-issues/medicare/medicare-fast-facts/

"Monroe Doctrine, 1823." U.S. State Department. http://www.state.gov/r/pa/ho/time/jd/16321.htm

"Power to Declare War." United States House of Representatives: History, Art & Archives." (Sept. 9, 2020) https://history.house.gov/Institution/Origins-Development/War-Powers/

"President of the United States." Encarta. http://encarta.msn.com/encyclopedia_761571294/President_of_the_United_States.html#701509384

"President of the United States." Encyclopedia Americana. http://ap.grolier.com/article?assetid=0321140-00&templatename=/article/article.html

"President's authority to remove the chairman of the Consumer Product Safety Commission: memorandum opinion for the Counsel to the President." U.S. Department of Justice. July 31, 2001. http://www.usdoj.gov/olc/cpscchairmanremoval.htm

"Secret Service history." U.S. Treasury Department. http://www.ustreas.gov/usss/history.shtml

"The executive branch: powers of the presidency." U.S. State Department. http://usinfo.state.gov/products/pubs/outusgov/ch3.htm

"Thirty years of America's drug war: a chronology." PBS> http://www.pbs.org/wgbh/pages/frontline/shows/drugs/cron/

"U.S. Constitution: Article I." Cornell University Law School. http://www.law.cornell.edu/constitution/constitution.articlei.html

"Veto." Encyclopedia Americana. http://ap.grolier.com/article?assetid=0403040-00&templatename=/article/article.html

"Vetoes, 1789 to Present." United States Senate. (Sept. 9, 2020) https://www.senate.gov/legislative/vetoes/vetoCounts.htm

"White House releases 200 million in food crisis aid." AFP. April 15, 2008. http://www.citizen.co.za/index/article.aspx?pDesc=1,1,22&type=top&File=080415010644.ztup3a53.xml

"William Howard Taft." White House. (Sept. 9, 2020) https://www.whitehouse.gov/about-the-white-house/presidents/william-howard-taft/

"Woodrow Wilson." White House. http://www.whitehouse.gov/history/presidents/ww28.html