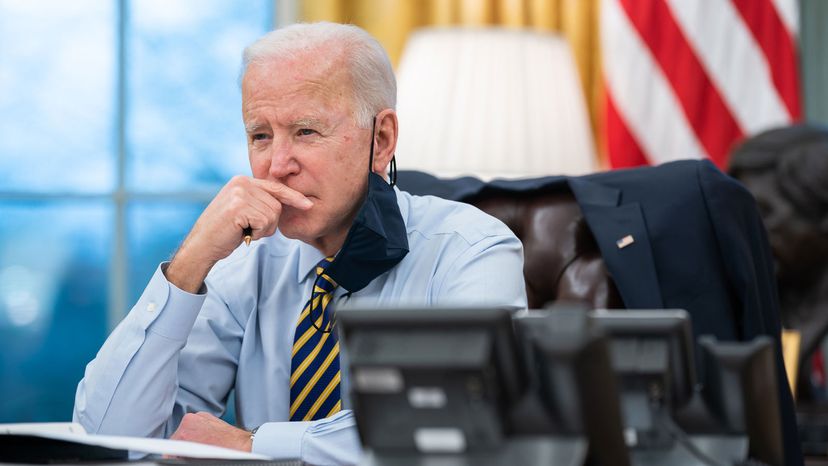 President Joe Biden participates in a conference phone call with governors affected by a snowstorm in the Midwest and Southwest Feb. 16, 2021, in the Oval Office of the White House.
Official White House Photo by Lawrence Jackson
The minute that Joe Biden assumed presidency of the United States, the clock started ticking on his first 100 days in office.
Well before he was elected, Biden was promising decisive action in his first 100 days to combat the COVID-19 pandemic, rebuild the economy and address racial injustice and inequality.
But why the fascination with a president's first 100 days? After all, we elect presidents for terms of 1,460 days. What's so important about these first three months and change?
Blame FDR.
"We started using the term 'first 100 days' after Franklin D. Roosevelt's first 100 days," explains Jonathan Ladd, associate professor of public policy and government at Georgetown University. "FDR's first 100 days were so productive that we've talked about it ever since."
FDR came to office in 1933 in the depths of the Great Depression. He signed 76 pieces of legislation in his first 100 days, including 15 major overhauls and new programs. He took the U.S. off the gold standard, revamped the banking system and created jobs through the Civilian Conservation Corps and the Tennessee Valley Authority.
No president since has even come close to FDR's productivity — Kennedy passed 26 bills, Reagan just 9, Obama only 11 — but that hasn't shaken the fixation on the first 100 days. It remains a benchmark of political efficiency and a convenient measure of a new president's power. A study showed that before the 81st Congress (1949-1951), the average number of laws passed during a president's first 100 days was 46, compared to 16 for later time periods.
Biden's 100-Day Record
In his first 100 days, Biden has spearheaded some bold initiatives, including signing a $1.9 trillion pandemic recovery package. He has also doubled the goal his administration set for COVID vaccinations, surpassing 200 million vaccinations by his first 100 days instead of the original goal of 100 million. He also has called for all U.S. troops to be pulled from Afghanistan by Sept. 11, 2021.
Biden has also signed an historic 60 executive orders, memos and proclamations — the most by any president in his first 100 days — a third of which were direct reversals of executive orders signed by his predecessor Donald Trump. Most of those reversals undid Trump-era policies on immigration, the environment and equity. For instance, Biden revoked Trump's executive order that separated migrant families at the U.S.-Mexico border.
The '100-Day Honeymoon'
In an article for FiveThirtyEight.com, political scientist Julia Azari noted that presidents often enjoy a "honeymoon" with Congress during their first 100 days, making it easier to push the new White House's legislative agenda. And the effect is strongest for presidents who confront divided government.
One possible explanation for the 100-day honeymoon is that, historically, most incoming presidents enjoyed high approval ratings with voters. In less divisive times, senators and representatives from the opposing party would cross the aisle as a nod to presidential popularity (and more importantly, to assuage voters back home).
Even though President George W. Bush won the 2000 election by the slimmest of margins, Georgetown professor Ladd explains, he was popular enough that conservative-leaning Democrats helped pass his tax cut package early in his tenure. Trump had no such luck, and Biden hasn't either.
"Popularity matters less now because there are a lot fewer conservative Democrats and liberal Republicans than there used to be," says Ladd.
Plus, Trump and Biden were significantly less popular than previous incoming presidents. Trump's approval ratings at his inauguration were in the high 30s. At the 100-day mark, it stood at 41 percent. Biden's approval rating hovers at 52 percent approaching his 100-day mark, significantly lower than Barack Obama (65 percent) or Ronald Reagan (68 percent) at the same point in their first terms in office. Beside Trump, the only other president with a lower approval rating at 100 days than Biden was Gerald Ford at 48 percent.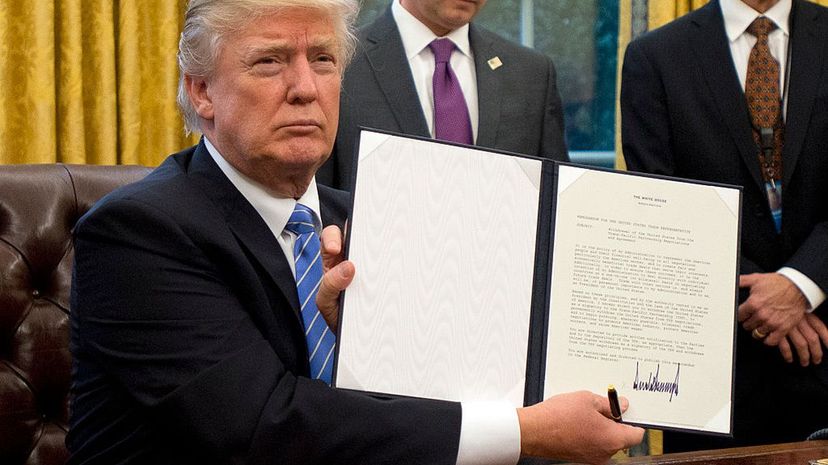 President Donald Trump shows the executive order withdrawing the U.S. from the Trans-Pacific Partnership (TPP) after signing it in the Oval Office in 2017. Trump did this in his first 100 days. Biden has signaled the U.S. may rejoin the TPP.
Ron Sachs - Pool/Getty Images
As a result, the bipartisanship "honeymoon" of the past appears to be over. Not one Republican member of Congress voted for Biden's pandemic relief bill, for example. As of this writing, it's unclear whether Biden has the votes to pass his ambitious $2 trillion infrastructure plan.
Changing of the Guard
Another reason why more legislation often gets passed in the first 100 days often has to do with a political changing of the guard. When the White House and Congress are finally controlled by the same party, previously defeated bills get a second chance at life.
President Bill Clinton signed the Family and Medical Leave Act within days of taking office in 1993. He could act so swiftly because the same bill had previously been passed by Congress and vetoed by President George H. W. Bush.
"Congress didn't have work to do to write the bill and figure things out," says Ladd. "It was ready to go."
The same thing happened with the Lilly Ledbetter Fair Pay Act, which President Barack Obama signed into law nine days after his inauguration.
Originally Published: Jan 23, 2017