The Red Ribbon
Bill whistled a jazzy tune. "Tonight's the night!" he thought. He strolled through Central Park on his way to meet Sally, his best girl.
There was still snow on the ground. But Bill could smell spring in the air. He jingled the engagement ring in his pocket. "A June wedding would be just right."
Bill saw Sally coming down the path towards him. He ran to her. He spun her around in his arms.
Sally squealed with delight. Bill settled Sally back down onto the park bench. He kneeled on one knee in front of her.
"Sally," Bill said, "you are the most beautiful girl I've ever met. I love you and I want you to be my wife. Will you marry me?"
Sally laughed and said, "Yes! I will marry you."
As Bill gazed lovingly at his bride-to-be, his eyes lingered on the red velvet ribbon Sally always wore around her neck.
"Why do you always wear that red ribbon?" Bill asked.
Sally said, "Bill, I must never take off my red ribbon!"
Bill smiled at Sally and left the ribbon alone.
Bill and Sally were married that June. Bill found a lovely little house in a nice neighborhood and they moved in.
Bill bought Sally many party dresses. But Sally always wore her red ribbon with each outfit. Bill thought this was odd.
Sally just smiled and said, "I must never take off my red ribbon."
After a few years, Sally found out she was going to have a baby. This news delighted Bill.
Sally talked with her friends who had babies. Bill talked with his buddies who had children.
They talked together late into the night about what they had learned from everyone.
When the big day came, Sally said, "Please tell the doctor I must not take off my red ribbon!"
Bill was frustrated. But he promised Sally that he would tell the doctor.
After the baby was born, Bill gave Sally flowers.
"Thank you for the flowers, Bill," Sally said. "And thank you for telling the doctor I must not take off my red ribbon."
Bill did not understand why the red ribbon was so important.
"Do you want to hold little Billy?" Sally asked.
Bill, Sally, and little Billy lived happily for many years in the small, lovely house in the nice neighborhood.
When little Billy was a baby, he would sometimes reach for the red ribbon around his mother's neck. Sally would gently take his little hands in hers and coo at him, saying, "Mommy must never ever take off her red ribbon!"
The red ribbon had frustrated Bill for a long time. He loved Sally with all of his heart, but did not understand her need to wear the red ribbon.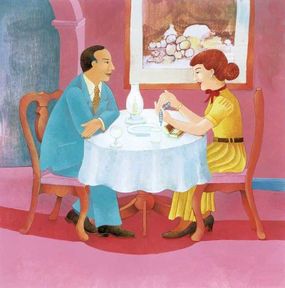 After many years, Bill had an idea. "Our anniversary is coming up. I will buy Sally a beautiful necklace. She will take off that old red ribbon so she can wear the beautiful necklace!"
Their anniversary came. Bill took Sally to a fancy restaurant overlooking Central Park. They had a delicious meal.
Then Bill gave Sally a velvet box with a beautiful diamond necklace in it. She opened it, smiled, and tears came to her eyes. Bill put the necklace around her neck and started to take off the red ribbon.
Sally stopped him. She said, "I must never take off my red ribbon!" Bill sat back in his seat with a huff. He looked at Sally and shook his head.
"I may never understand," Bill said.
Sally gently placed the diamond necklace back in the velvet box and closed the lid. "It is lovely, Bill. I will treasure it always," she said. "But I must never take off my red ribbon."
"Why?" Bill asked, as he had for so many years.
Sally smiled sadly and shook her head. She did not answer him.
Late that night Bill was still awake. "I've loved Sally for more than twenty years. But she insists on wearing that horrible red ribbon around her neck. I think it's about time I found out why."
Bill got out of bed and walked around to Sally's side. Bill carefully pinched the ends of the bow on the ribbon. He began to slowly pull on the ribbon.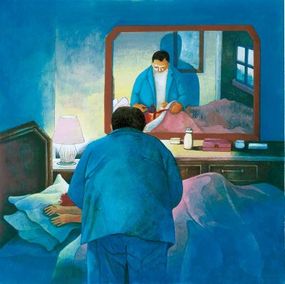 The bow became smaller and smaller. The loops of the bow pulled through and only a half-knot was left.
Bill slid his finger under the half-knot and tugged.
ZIP! The red ribbon gave way.
POP! Sally's head came off. It rolled right to the floor, bouncing in the moonlight!
One large tear fell from Sally's eye.
"I warned you!" she said.
Discover Robert Louis Stevenson's classic characters in the next story, "Dr. Jeckyll's Diary."
Want more Halloween stories? Try these:
Halloween Stories: Rediscover your favorite spooky stories and share them with friends.
Ghost Stories: Browse this collection of ghost stories for children, featuring such famous authors as Mark Twain, Oscar Wilde, and Saki.