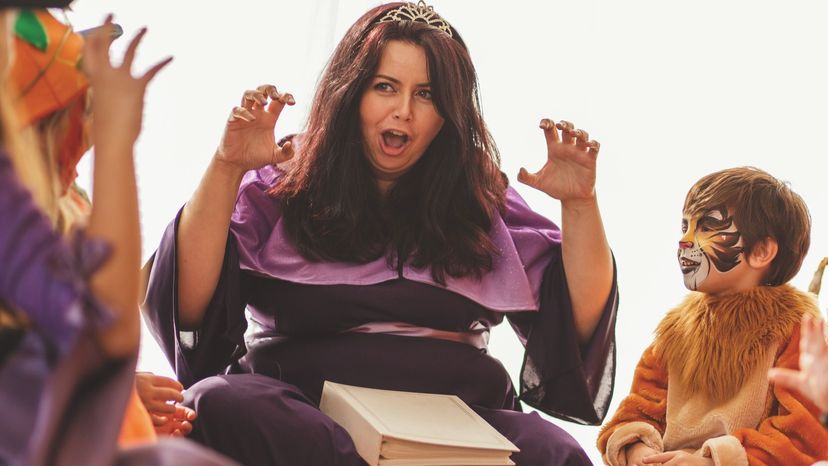 Packed with adventure, mystery and thrills, these Halloween stories are great ways to bring the family together over some shared scary fun. For kids, a good Halloween story lets them experience these stories through the characters' eyes, filling in the details of their worlds with their own imaginations. It also introduces children to the downright fun of being scared silly.
At one narrative per page, these stories are adapted for young listeners, making them especially great as Halloween party entertainment. Tell these stories aloud and discover the joy of storytelling -- with a scary twist.
The sections below will take you to collections of Halloween stories. Browse through them to rediscover old classics, or find new scary family favorites.
Ghost Stories: Tales of haunted houses, scary spirits -- these spine-tingling stories are tough to beat. In this article, you'll find classic ghost stories from famous authors -- Washington Irving's headless horseman, Mark Twain's Cardiff Giant -- as well as more modern takes on ghosts.
Scary Stories: There's no doubt about it -- these stories are spooky. In this article you'll find classic scary stories from famous authors -- Robert Louis Stevenson's Dr. Jeckyll and Mr. Hyde, Mary Shelley's Frankenstein -- as well as more contemporary tales, all especially adapted for reading aloud to children.
Want more great Halloween ideas? Try these:
Halloween Crafts: Check out ideas for spooky homemade fun in this article.
Halloween Decorations: Dress up your home with these great Halloween decoration ideas.
Kid's Halloween Costumes: Pirate or princess? Cowboy or cat? Find the perfect costume for your kids in this article.

Halloween Masks: No costume is complete without one of these masks.

Halloween Games: Get the party started with these fun Halloween party games.
Halloween Recipes: Adults and kids alike will love these tasty treats.

Pumpkin Carving Patterns: Get inspired by these great ideas for pumpkin carving.

How to Bake Pumpkin Seeds: Learn how to make the ultimate Halloween snack.
How Halloween Works: Our guide to all things Halloween.