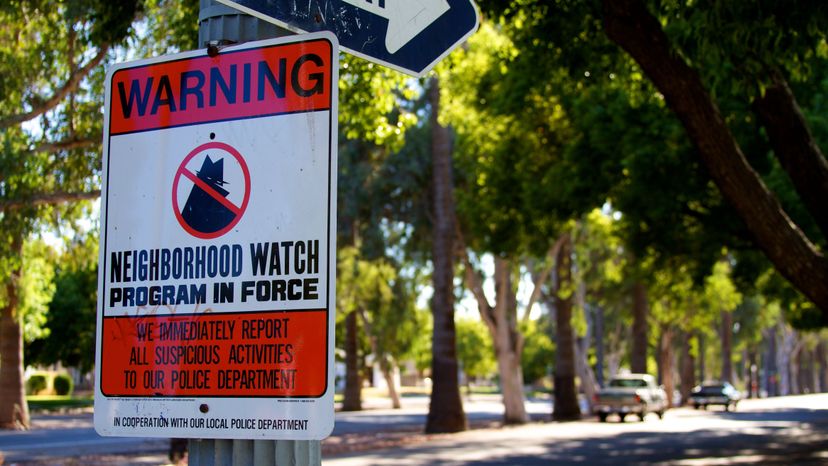 Boris the Burglar may not be a household name, but his face has been plastered across cities, towns and suburbs throughout the U.S. since the early 1970s. And if you've ever wandered around a neighborhood marked with orange-and-white signs bearing the image of a man dressed like a villain out of a 1950s noir film, then you've seen him too. These signs are often labeled with the words "NEIGHBORHOOD WATCH."
But just what, exactly, are neighborhood watch programs? Following an increase in crime in the late 1960s, the National Neighborhood Watch Program was established in 1972 under the umbrella of the National Sheriffs' Association (NSA), according to the National Neighborhood Watch's website. The organization established guidelines so that local neighborhood watch groups could register with the National Neighborhood Watch and properly set up programs in communities across America.
Although neighborhood watch programs originally started in order to respond more effectively to burglaries, the concept of neighborhood watch has evolved over time so that local residents serve as the 'eyes and ears' of law enforcement by keeping a watch out for suspicious behavior in their neighborhood and reporting potential criminal activity to police.
"The general concept was that the police cannot be everywhere. So if you can keep an eye on your neighborhood and report what you see to the police and report to your neighbors, then it becomes beneficial to law enforcement," says John Thompson, a retired law enforcement officer and the former Deputy Executive Director of the National Sheriffs' Association.
According to the National Neighborhood Watch's website, the concept of neighborhood watch stems from the Chicago School of social disorganization theory, which links high crime to specific neighborhoods that have weak social structures and little community control. Neighborhood watch groups theoretically step up to provide that community control. However, the concept of ordinary citizens serving as 'eyes and ears' of the police has also been criticized by advocacy groups for failing to create meaningful trust between neighbors.
The mandate of the National Neighborhood Watch shifted slightly in the aftermath of the terrorist attacks on September 11, 2001, when the NSA received a grant from the Department of Justice to rebrand the organization as USAonWatch in order for residents to share information regarding homeland security concerns. But when that grant ran out, National Neighborhood Watch returned to its roots of dealing with community-specific crime, Thompson says.