1
Decline in Quality Family Time
Even though this family is watching TV "together," they really aren't. For quality family time, get away from all electronic gadgets -- including the TV set.
Eric Audras/ONOKY/Getty Images
Advertisement
Families spend more than 31 hours watching television each week, on average, while spending only around 38 minutes of the entire week having screen-free interactions with each other [sources: Westphal, Dinner Trade]. This is a drastic decline in family time compared to the pre-TV days, when families would -- at the very least -- gather around the table each evening to chat over supper [source: Dinner Trade].
Some experts will say that any time you spend together can count as quality time; others say that time spent viewing television with kids isn't quality, because family members aren't interacting all that much while watching TV. Or if they do, it's short little conversations between commercials or even by social media rather than meaningful discussions [sources: Westphal,Yale Medical Group.
This decline is worsened by the fact that since the late '70s and early '80s, Americans have been watching TV more on their own, says Dr. David Ostroff of the University of Florida. During that period, televisions got cheaper, and families went from having a single TV set in the living room to having a TV in practically every room of the house. Plus, with hundreds of channels to choose from -- not to mention devices like iPads that stream TV shows -- it's less likely a family will even find one show they can all agree to watch.
To make TV less isolating, kids and parents should watch shows together, particularly when the children are small, so they can talk about the shows afterward and discussing any controversial points. Better yet, turn off the TV and do a family activity like playing a board game or taking a walk in the park. Here, parents and children can concentrate on each other completely without the competition of the boob tube.
Author's Note: 10 Ways TV Has Changed American Culture
I was thrilled about this assignment, because (confession!) TV is a big part of my life. My husband and I both studied television in college, and we watch a lot of TV. I know, the Kill Your Television crowd probably doesn't approve, but I love good TV, and I'm not sorry!
That episode of "This American Life" that I quoted in the introduction is one of my all-time favorite episodes of that radio series. There was something validating about hearing Ira Glass talk about his favorite TV shows. There's a moment in the episode when he confessed that not only do he and his wife watch "The O.C." religiously -- a show I was also watching at the time -- but they sang the theme song together. Loudly. Something about that made me feel a connection with Glass. I know, it might sound kind of silly, but I think that good TV has a way of bringing us together.
It was also around this time in 2007 that my friends and I got really into watching "Lost." We wouldn't just watch the show. We would get together every week for a viewing party with themed snacks and drinks and sit on my porch for hours afterward hatching theories and anticipating the next episode.
TV gets a bad reputation sometimes, but I think there's something special about some of the shows that have been coming out in the last 5-10 years. Watching good TV is more than just zoning out. You're engaged, thinking, theorizing, and I think there's an intrinsic value in that.
Related Articles
Sources
Ackerman, McCarton. "Tracey Gold on Beating Her Eating Disorder." The Fix. Dec. 13, 2011. (Jan. 28, 2013) http://www.thefix.com/content/weight-gold6665?page=all

American Psychological Association. "Early Exposure to TV Violence Predicts Aggression in Adulthood." (Feb. 14, 2013). http://www.apa.org/pi/prevent-violence/resources/tv-violence.aspx

Da Silva, Michelle. "How food television is changing the way we dine." Georgia Straight. March 21, 2012. (Jan. 28, 2013) http://www.straight.com/article-640221/vancouver/food-television-everyones-expert

Dinner Trade. "Interesting Statistics on Family Dinners." March 16, 2010. (Jan. 28, 2013) http://dinnertrade.com/568/interesting-statistics-on-family-dinners

Fernau, Karen. "Thrifty Millenials feeding recipe culture." USA Today. Dec. 26, 2012. (Jan. 28, 2013) http://www.usatoday.com/story/money/nation/2012/12/26/thrifty-millennials-feed-recipe-culture/1791471/

Freedom to Marry. "Where State Laws Stand." (Jan. 28, 2013) http://www.freedomtomarry.org/pages/where-state-laws-stand

Gaskell, Ari. "How Social Media Affects Our TV Viewing Habits." Technorati. Jan. 2, 2013. (Jan. 28, 2013) http://technorati.com/social-media/article/how-social-media-affects-our-tv/

Glass, Ira. "What I Learned from Television." This American Life. March 16, 2007. (Jan. 28, 2013) http://www.thisamericanlife.org/radio-archives/episode/328/what-i-learned-from-television?act=0#play

Harvard School of Public Health. "Television Watching and 'Sit Time.'" The Obesity Prevention Source. (Jan. 28, 2013) http://www.hsph.harvard.edu/obesity-prevention-source/obesity-causes/television-and-sedentary-behavior-and-obesity/

Heubeck, Elizabeth. "Helping Girls with Body Image." WebMD. (Jan. 28, 2013) http://www.webmd.com/healthy-beauty/features/helping-girls-with-body-image

Hinckley, David. "Americans spend 34 hours a week watching TV, according to Nielson numbers." New York Daily News. Sep. 19, 2012. (Feb. 13, 2013) http://www.nydailynews.com/entertainment/tv-movies/americans-spend-34-hours-week-watching-tv-nielsen-numbers-article-1.1162285

McCracken, Grant. "Why Reality TV Doesn't Suck, and May Even Make Us Smarter." Wired. Oct. 4, 2012. (Feb. 13, 2013) http://www.wired.com/opinion/2012/10/why-reality-tv-doesnt-suck-and-may-even-make-us-smarter/

Mestel, Rosie. "Adolescents' TV Watching is Linked to Violent Behavior." Los Angeles Times. (Jan. 28, 2013) http://www.latimes.com/features/health/la-hew-kidviolence2002,0,2251451.story

Mifflin, Lawrie. "At the Fox News Channel, the buzzword is fairness, separating news from bias." The New York Times. Oct. 7, 1996. (Feb. 13, 2013) http://www.nytimes.com/1996/10/07/business/at-the-new-fox-news-channel-the-buzzword-is-fairness-separating-news-from-bias.html

Osborn, Jeremy L. "When TV and Marriage Meet: A Social Exchange Analysis of the Impact of Television Viewing on Marital Satisfaction and Commitment." Mass Communication and Society. Volume 15, Issue 5. September 2012. (Feb. 13, 2013) http://www.tandfonline.com/doi/full/10.1080/15205436.2011.618900

Ostroff, David, chairman of the department of television and communication, University of Florida. Personal interview. Jan. 29, 2013

Pollan, Michael. "Ouf of the Kitchen, Onto the Couch." The New York Times. July 29, 2009. (Feb. 13, 2013) http://www.nytimes.com/2009/08/02/magazine/02cooking-t.html?ref=magazine

Sanneh, Kelefa. "The Reality Principle." The New Yorker. May 9, 2011. (Jan. 28, 2013) http://www.newyorker.com/arts/critics/atlarge/2011/05/09/110509crat_atlarge_sanneh

Science Daily. "When TV and Marriage Meet: TV's Negative Impact on Romantic Relationships." Sep. 18, 2012. (Jan. 28, 2013) http://www.sciencedaily.com/releases/2012/09/120918121322.htm

Sileo, Alexander. "Avoiding the Liberal-Conservative Dichotomy." The Georgia Political Review. Oct. 23, 2012. (Jan. 28, 2013) http://www.georgiapoliticalreview.com/avoiding-the-liberal-conservative-dichotomy/

Stanley, Alessandra. "How MSNBC Became Fox's Liberal Evil Twin." The New York Times. Aug. 31, 2012. (Feb. 13, 2013) http://www.nytimes.com/2012/08/31/us/politics/msnbc-as-foxs-liberal-evil-twin.html

Stelter, Brian. "Gay On TV: It's All in the Family." The New York Times. May 8, 2012. (Jan. 28, 2013) http://www.nytimes.com/2012/05/09/business/media/gay-on-tv-its-all-in-the-family.html?_r=0

Taylow, Jim Ph.D. "Popular Culture: Reality TV is NOT Reality." Psychology Today. Jan. 31, 2011. (Jan. 28, 2013) http://www.psychologytoday.com/blog/the-power-prime/201101/popular-culture-reality-tv-is-not-reality

Todd, Ben. "Blood, sweat, and all those tears pay off for Jamie Oliver as Food Revolution tops ratings in America." MailOnline. April 23, 2010. (Jan. 28, 2013) http://www.dailymail.co.uk/tvshowbiz/article-1267549/Blood-sweat-tears-pay-Jamie-Oliver-Food-Revolution-tops-ratings-America.html

University of Washington. "Teen Health and the Media: Fast Facts." Body Image & Nutrition. (Jan. 28, 2013) http://depts.washington.edu/thmedia/view.cgi?section=bodyimage&page=fastfacts

Westphal, Katherine. "The Awful Truth About Television: Family time suffers when kids get only 38 minutes of parents' time." Instead of TV. (Jan. 28, 2013) http://www.insteadoftv.com/television-family-time-suffers.html

Woodland, Lindsay. "Choosing a Cooking Oil: Extra Virgin Olive Oil Doesn't Make You Morally Superior." Yahoo! Voices. Sep. 10, 2008. (Jan. 28, 2013) http://voices.yahoo.com/choosing-cooking-oil-extra-virgin-olive-oil-doesnt-1898914.html?cat=3

Woolley, Peter J. "Fox News Does Not Make You Dumb: Researchers Respond to Critics." Huffington Post. May 15, 2012. http://www.huffingtonpost.com/peter-j-woolley/fox-news-does-not-make-yo_b_1519284.html

Yale Medical Group. "All Family Time is Quality Time." Yale School of Medicine. (Jan. 28, 2013) http://www.yalemedicalgroup.org/stw/Page.asp?PageID=STW000434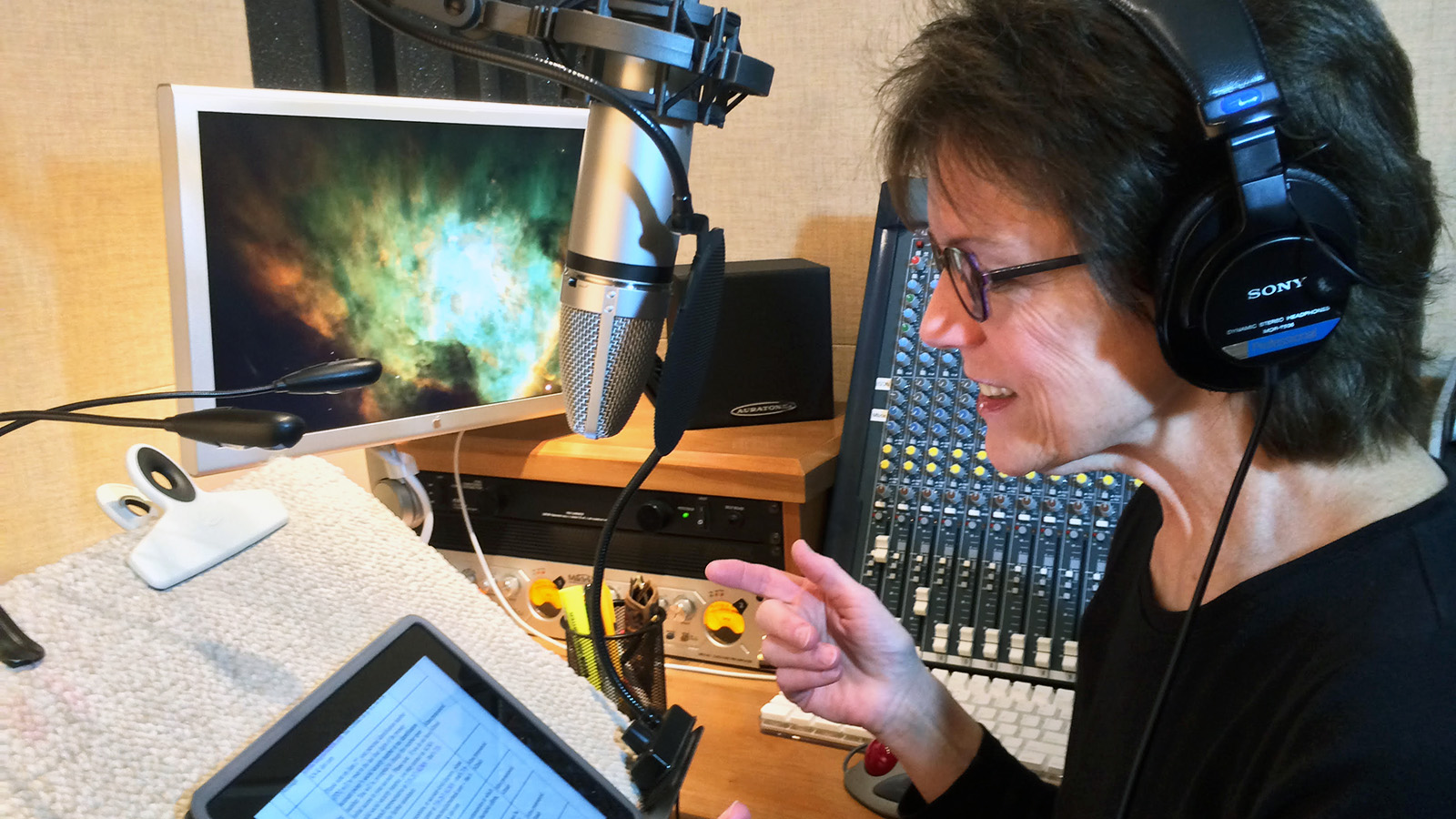 Up Next
Susan Bennett never knew she would become one of the world's most famous voices until Siri debuted on iPhones in 2011. HowStuffWorks tells her story.
---