Parade Security and Logistics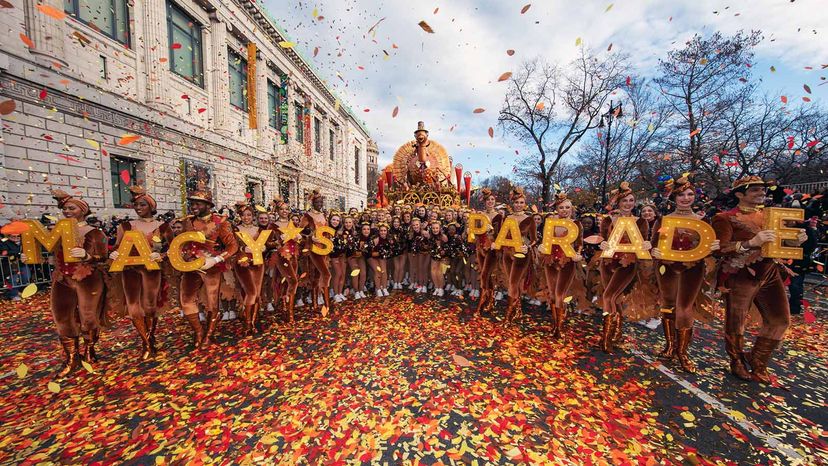 Though the New York Police Department doesn't release exact numbers on how many of its force patrol the parade, police presence is obvious. Safety precautions have increased in recent decades. Former mayor Rudy Giuliani appointed a task force to review the 1997 incident where a Cat in the Hat balloon crashed into a lamp post, seriously injuring four people. In 1998, guidelines were set that prohibit balloons from flying if sustained winds exceed 23 miles (37 kilometers) per hour or if gusts exceeded 34 miles (55 kilometers) per hour. Balloons now can't be more than 70 feet tall, 40 feet wide or 78 feet long (21 by 12 by 24 meters) [source: Chan].
In 2006, former mayor Michael Bloomberg appointed a task force to review a 2005 balloon incident where an M&M balloon forced a street lamp top over, injuring two sisters [source: Chan]. The task force found that balloons should be flown at lower heights to avoid obstructions. The guidelines for how high a balloon should be flown vary for each balloon.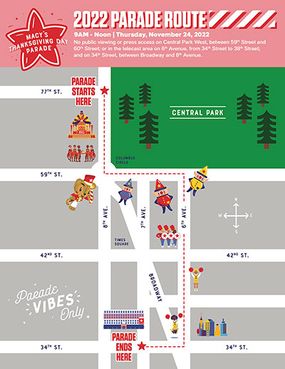 In addition to these guidelines, anemometers — instruments that measure the speed of wind — are mounted on poles at key points on the route, and each one is monitored with a portable computer by a police officer and a New York City Office of Emergency Management representative.
Macy's begins planning for the parade at least one year in advance and includes float and balloon creation, celebrity booking, volunteer coordination, and training for clowns and balloon handlers. As the parade grows closer, the preparations get more intense.
Well before the parade begins, objects that could obstruct balloons — including arms of lampposts, traffic-signal poles, streetlights and trees — are either altered or removed. On the eve of the parade, the balloons and floats are brought to New York City, and setup begins. By 6 a.m. on Thanksgiving Day, the balloons and floats are ready to go, and parade participants take their places for the 9 a.m. parade start.
After the parade, floats are immediately disassembled, balloons deflated and everything returned to its warehouse in Hoboken, New Jersey. Mechanical street sweepers are used to clear the mess.
Related Articles
More Great Links
Sources
"America's Parade: A Celebration of Macy's Thanksgiving Day Parade." 2001. Time, Inc. http://www.time.com/time/magazine/article/0,9171,1001297-1,00.html

"Why Love A Parade?; 765 Parades: Too Much Cost, Too Little Honor." The New York Times. June 7, 1991 (Nov. 10, 2020) http://query.nytimes.com/gst/fullpage.html?res=9D0CE0DB1E31F934A35755C0A967958260

Banyay, Laurie. "Post-Party Pickup." Public Works Magazine. Sept. 1, 2006. http://www.pwmag.com/industry-news.asp?sectionID=771&articleID=362837

Bleecker, Arlene and Sam. "What a Gas! Parade Balloons Come to Life on Thanksgiving Eve." The Boston Herald. Nov. 24, 2002.

Brick, Michael. "Training for Balloon Handlers at Parade Is Said to Be Light." The New York Times. Nov. 23, 2005.

Chabria, Anita. "Actvism - PETA's Softer Sell Was Not a 'Turkey.'" PR Week. Jan. 7, 2002.

Chan, Sewell. "A Weather Eye on the Balloons and Wind." The New York Times. Nov. 23, 2006. (Nov. 10, 2020) http://www.nytimes.com/2006/11/23/nyregion/23parade.html

Chan, Sewell. "Don't Look Up, Chicken Little. The Wind May Ground You." The New York Times. Nov. 24, 2004 (Nov. 10, 2020) https://www.nytimes.com/2004/11/24/nyregion/dont-look-up-chicken-little-the-wind-may-ground-you.html

Chan, Sewell. "Given a Reprieve, Giant Balloons Fly Low Over a Soggy Macy's Parade." The New York Times. Nov. 24, 2006 (Nov. 10, 2020) https://www.nytimes.com/2006/11/24/nyregion/given-a-reprieve-giant-balloons-fly-low-over-a-soggy-macys-parade.html

Chan, Sewell. "Macy's Parade Gets Tighter Weather Control Than Ever." The New York Times. Nov. 23, 2006 (Nov. 10, 2020) https://www.nytimes.com/2006/11/23/nyregion/23parade.html

Choi, Charles. "Macy's Thanksgiving Parade-It's Science." United Press International. Nov. 26, 2003 (Nov. 10, 2020) https://www.upi.com/Science_News/2003/11/26/Macys-Thanksgiving-parade-its-science/40001069875600/?ur3=1

Dillon, Sam. "Balloons, Floats, Band And (Rip!) Lots of Wind." The New York Times. Nov. 26, 1993 (Nov. 10, 2020) https://www.nytimes.com/1993/11/26/nyregion/balloons-floats-bands-and-rip-lots-of-wind.html

Feldman, David. "Imponderables - The Solution to Mysteries of Everyday Life." 1987. William Morrow and Co.

Fiely, Dennis. "This Tater's No Tot; Urbana Student to Help Guide Mr. Potato Head in Macy's Parade." The Columbus Dispatch. Nov. 14, 2006 (Nov. 10, 2020) https://www.pressreader.com/usa/the-columbus-dispatch/20061114/282033322697901

Gordon, Greg. "New York's extensive war on terrorism rivals national effort." McClatchy Newspapers. Dec. 6, 2006. http://www.mcclatchydc.com/staff/greg_gordon/story/15150.html

Grippo, Robert M., Hoskins, Christopher. "Macy's Thanksgiving Day Parade (Images of America)." 2004. Arcadia Publishing.

Jones, Joyce. "Behind the Macy Thanksgiving Parade." The New York Times. Nov. 13, 1994 (Nov. 10, 2020) https://www.nytimes.com/1994/11/13/nyregion/behind-the-macy-thanksgiving-parade.html

McDonough, Anne. "March Madness; An Insider's Guide to Seeing New York's Thanksgiving Extravaganza-the Right Way." The Washington Post. Nov. 8, 2006 (Nov. 10, 2020) https://www.washingtonpost.com/archive/lifestyle/2006/11/08/march-madness-span-classbankheadan-insiders-guide-to-seeing-new-yorks-thanksgiving-extravaganza-the-right-wayspan/b8d06faf-c748-4e04-b711-6a6f1e8019f1/

McFadden, Robert D. "Above, Familiar Characters; Below, Their Cheering Fans." The New York Times. Nov. 28, 2003. http://query.nytimes.com/gst/fullpage.html?res=9503E2DD153AF93BA15752C1A9659C8B63&sec=&spon=&pagewanted=all

Macy's Thanksgiving Day Parade Press Kit. 2006. http://www.macys.com/catalog/syndicated/remote/remotesyndication.ognc?Brand=PRESSRELEASE

Macy's Thanksgiving Day Parade Press Kit. 2007. http://www.macys.com/catalog/syndicated/remote/remotesyndication.ognc?Brand=PRESSRELEASE

Martin, Douglas. "A Day to Give Thanks for Balloons: A 'Balloonatic' Makes Air Sculptures for Macy's Parade. Nov. 24, 1994.

Martin, Douglas. "No Lightweight Duty for Macy's Helpers; Rigorous Drills and New Rules for Balloon Crews After '97 Accident." Nov. 3, 1998.

Mindlin, Alex. "The Man in Blue, Two Stories Tall." The New York Times. Dec. 24, 2006 (Nov. 10, 2020) https://www.nytimes.com/2006/12/24/nyregion/thecity/24skyw.html

Polgreen, Lydia. "As His Relatives Roast, Tom Turkey Shivers At the Front of a Parade." The New York Times. Nov. 29, 2002 (Nov. 10, 2020) https://www.nytimes.com/2002/11/29/nyregion/as-his-relatives-roast-tom-turkey-shivers-at-the-front-of-a-parade.html

Sims, Calvin. "New York City Rethinks Parade." The New York Times. April 12, 1992 (Nov. 10, 2020) https://www.nytimes.com/1992/04/12/weekinreview/the-region-new-york-city-rethinks-parades.html

Wolf, Buck. "Balloonatics Prepare for Thanksgiving Parade." ABCNews.com. Nov. 23, 2004 (Nov. 10, 2020) http://abcnews.go.com/Entertainment/WolfFiles/story?id=291499