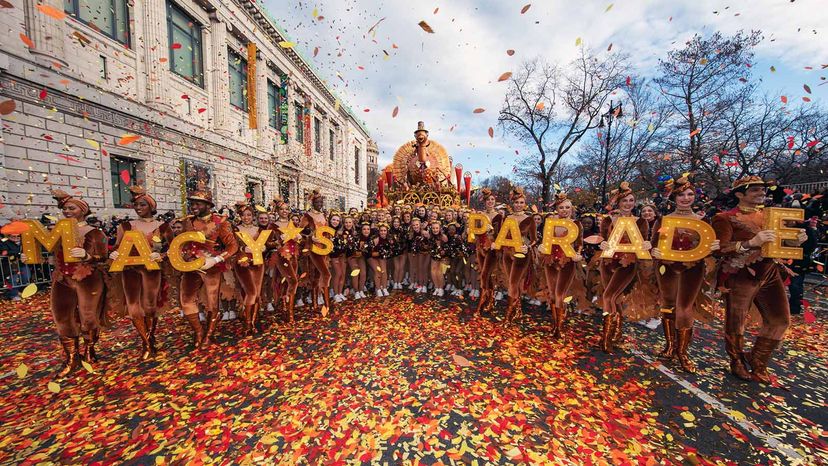 On the fourth Thursday of the month, the same day that most Americans gather around the dining table and gobble turkey to celebrate the Thanksgiving holiday, the Macy's Thanksgiving Day Parade marches through the streets of New York City. Elaborate floats, marching bands, clowns and celebrities create a carnivalesque atmosphere. But the main attraction is the parade's giant helium balloons, many of which are depictions of cartoon characters.
For 95 years, the parade has drawn spectators who line the streets and cheer on the participants. "For more than nine decades, the Macy's Thanksgiving Day Parade has served to bring joy to millions, who gather with friends and family to experience this one-of-a-kind holiday celebration along the streets of New York City and in homes nationwide," Will Coss, executive producer of Macy's Thanksgiving Day Parade, said in a press statement. "We can't wait to help New York City and the nation kick-off the holiday season with the return of this cherished tradition."
The parade starts its 2.5-mile (4-kilometer) route at 77th Street and Central Park West at 9 a.m.; from there it goes to Columbus Circle turning onto Central Park South and heading down Sixth Avenue before turning west at 34th Street and ending at 7th Avenue in front of Macy's Herald Square.
In this article, we'll look at the history behind the Macy's Thanksgiving Day Parade and how the parade's balloons and floats are created. We'll also look at some balloon-wrangling mishaps and learn about the logistics involved in staging a show for an audience of millions.