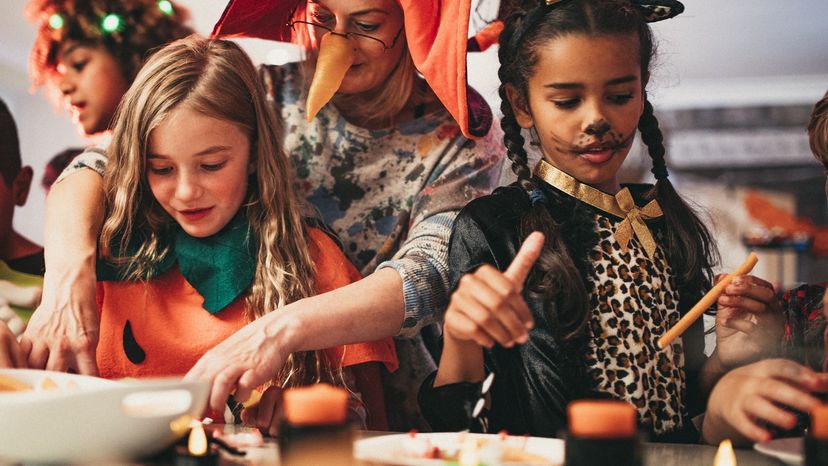 Halloween is a great time to unlock kids' imaginations, treat your family and friends to homemade goodies, and just have fun. Bring all these elements together in a Halloween party that's as fun for the kids to enjoy as it is for you to put together.
We've got dozens of fresh ideas so even parents pressed for time can pull off the perfect party with ease.
Halloween Candy Image Gallery
We'll show you how to keep your goblin guests entertained and how to make your young hosts the hit of the holiday with themed parties that are bound to be fun. No matter what theme you choose, in costume or out, you'll bear an uncanny resemblance to a bewitching wizard if you keep these simple party tricks up your sleeve:
For maximum fun and minimal chaos, let the age of your child determine the number of guests to be invited. For example, if your goblin is seven, invite seven of his closest ghostly chums. If you have several children, let them each invite a few friends, but make sure you have plenty of adult and teenage helpers. You want to enjoy the party also.

Send out invitations two weeks in advance, and request RSVPs within the week. Like costumes, Halloween parties are far less painful when they are sized to fit: think menu, craft, and game supplies.

Nighttime isn't the only time for a Halloween party. Afternoon parties offer the outdoor advantage -- less pre- and post-party cleanup, more activity options, and lots of room for the kids to scream, giggle, and get silly. Be sure to specify warm clothes and/or play clothes in the invitation if the kids will be spending any time outside.

Whether the party is indoors or out, keep kids safe and on the right track by closing doors to rooms and spaces that are off-limits. No door? No problem. Hang crisscrossed streamers, caution tape, or signs that warn, "Beware: Haunted" across no-enter zones. For added security and fun, cut monster footprints from cardboard leading from party room to party room. Don't forget the path to the bathroom.

Keep food, games, and emergency cleanup and craft supplies at the ready to avoid lulls during the party. Organization and preplanning are key to a successful party: You want to keep that energetic group of goblins grinning.
Have kids who love to be scared? In our next section, we'll give you a scary party idea designed just for the family.
Want more great Halloween ideas? Check out:
Halloween Crafts: Check out ideas for spooky homemade fun in this article.

Halloween Decorations: Dress up your home with these great Halloween decoration ideas.
Kids' Halloween Costumes: Pirate or princess? Cowboy or cat? Find the perfect costume for your kids in this article.
Halloween Masks: No costume is complete without one of these masks.
Halloween Games: Get the party started with these fun and spooky Halloween party games.
Halloween Stories: You don't need a campfire to tell one of these scary tales.
Halloween Recipes: Adults and kids alike will love these scary tasty treats.
How Halloween Works: Check out this article for all things Halloween.