Snow covered the ground, and more snowflakes were falling softly. It was growing dark. Only a streetlamp lit the front of the toy shop. Inside, the old toymaker Cornelius was busy working. "Only two more days left till Christmas," Cornelius muttered to himself. "I still have all these toys to finish before the big day. I'm not as young as I used to be, and I can't work as fast. I just hope I'll be able to finish them."
Cornelius knew that the boys and girls in his town were looking forward to receiving their Christmas toys. And he had made a special one for each child he knew. Just then, Cornelius's wife Katerina entered the shop. "It is past time for you to come home for your supper," she said kindly. "You must quit for tonight."
"I can't stop now. I must keep working," said Cornelius. "I have to finish this toy train before I can stop for supper. Little Charles will be disappointed if he doesn't have his train for Christmas." Cornelius pointed to a doll and a pair of skates he had just finished. "At least those are ready for Caroline and little Tommy," he said. "But I still have to make the wooden toy soldier for Edward. Christmas seems to get busier every year."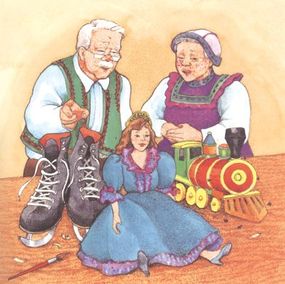 Cornelius the toymaker was on the right track. He had already finished a shiny pair of ice skates and a beautiful doll!
At that moment, the bell on the shop door tinkled. A poor woman came in with her three children. The children's eyes opened wide as they gazed at the wonderful toys. "Look at that toy train!" said the oldest boy, Peter. "How I wish I could have it for my very own." Lisa, his sister, smiled shyly at the beautiful princess doll. Little Karen touched the cuddly pink bunny.
But the mother sighed. She had only a few pennies to spend, certainly not enough for these wonderful toys. Sadly, she and the children left the shop. After the children and their mother left, Katerina was unhappy. Then she had an idea. "Why don't we give the children the toys they want," she said, "as a special Christmas gift, even if they can't pay for them?"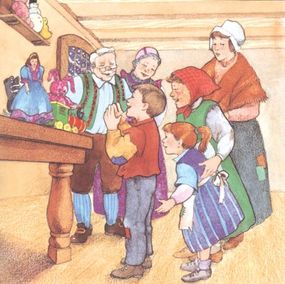 Cornelius and Katerina felt bad for the customers that could not afford to buy his handmade toys.
Old Cornelius shook his head sadly. "I wish we could. But those toys are already promised to other children. And I have no time left to make any more." So Cornelius carefully put all his tools away. Then he and Katerina closed the shop and went out into the snowy night.
After Cornelius and Katerina left, the toys in the little shop suddenly seemed to awaken and come to life. They began talking among themselves. They had heard and seen the poor children wishing for Christmas toys. Then Harold, one of the most handsome of the toy soldiers, had an idea. "We can help. We can make the special gifts for the children for Christmas!"
"Oh, yes!" cried Brown Bear. "I'll make the softest, most cuddly pink rabbit ever for little Karen."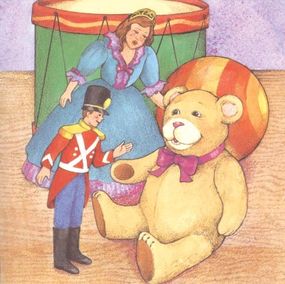 The toys were eager to create additional Christmas gifts.
"And well get started right now on the toy train for Peter," said Hans and William, two strong and clever toy soldiers. But Louisa, the beautiful doll, said, "What foolish ideas you have! I have never done any work before, and I'm sure I won't begin now. You silly toys go right ahead, if you think you can. But don't count on me!"
She walked over to the corner of the toy shelf and watched as the other toys began to work. Hans and William, the two toy soldiers, were already busy putting together the engine of a toy train. Harold came over to help them. Brown Bear was sewing up the sides of a pink, furry bunny. He called to Veronica, a gray elephant with lavender ears, to bring over plenty of soft stuffing.
Then Louisa looked up to see two taffy-colored kittens trying to paint a face on a princess doll. They were dripping paint everywhere. "Goodness," thought Louisa, "can't they do any better than that? They're making a terrible mess of it. Maybe I had better help them, just for a little while."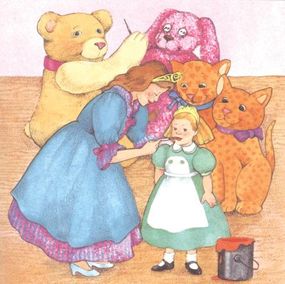 The toys raced against the clock to finish before sunrise.
Louisa shooed the kittens away and set to work herself. After a while, one of the kittens said, "Oooh, how beautiful you've made her -- almost as beautiful as you are!" Louisa just smiled her beautiful smile and patted the kittens on the head.
When Cornelius and Katerina opened their shop the next day, they saw three toys they had never seen before. There was a train, with a tag that said To Peter. And a princess doll, with a tag reading To Lisa. And, finally a pink stuffed bunny, whose tag said To Little Karen.
"Where did these come from?" Cornelius wondered aloud. "I can't understand it. Something magical must have happened here!" That evening, when the mother and her three children passed the shop again, Cornelius called to them to come inside. Then he and Katerina gave them their wonderful Christmas gifts.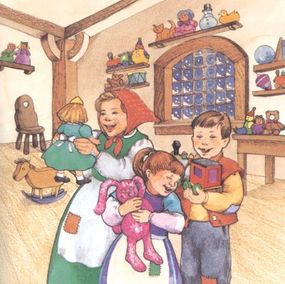 Little Karen, Lisa, and Peter fell in love with their brand new toys.
Cornelius and Katerina did not come to their shop the next day because it was Christmas. They stayed home to eat their own special Christmas dinner. They were happy because they knew that all the children in town were playing with their new Christmas toys. But the very next day, when Cornelius came to his toy shop, he took down the sign over the door.
"What are you doing?" asked Katerina. "I must change the name of my shop," he said. "I will make a new sign. From now on, my shop will not be called The Toy Shop."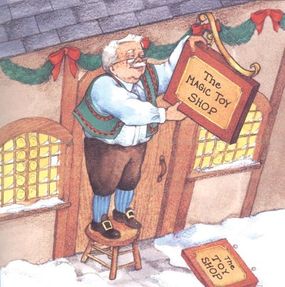 The toy maker was so inspired by the surprise, that he changed the name of his toy shop to The Magic Toy Shop.
What will you call it, then?" asked Katerina. "Because of the magical thing that happened this Christmas," said Cornelius, "from now on my shop will be called The Magic Toy Shop!"
Want to share other classic Christmas stories with your children? For more heartwarming holiday stories, try these: