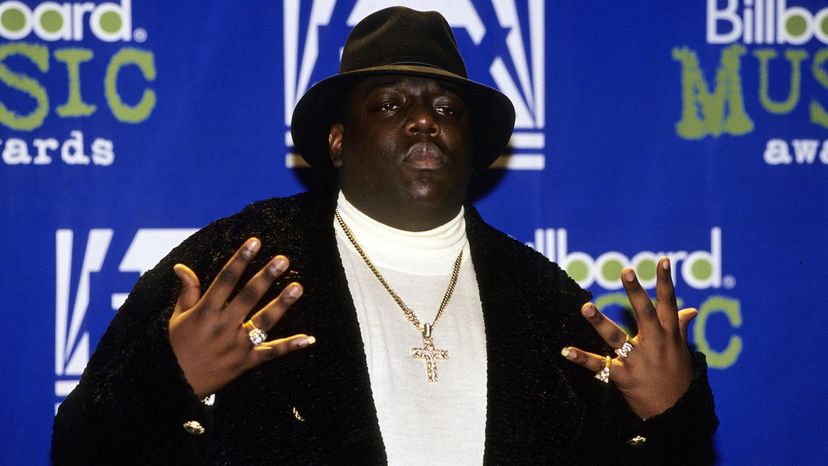 American rapper Notorious BIG (born Christopher Wallace), seen here at the 1995 Billboard Music Awards, was gunned down and killed at a red light in Los Angeles in 1997.
L. Busacca/WireImage/Getty Images
Law enforcement, forensic science, crime scene investigation, just general problem solving has come a long way since Sherlock Holmes and Sam Spade hung out in alleys (albeit fictional ones) trying to figure out whodunit.
But even the sharpest fictional detectives — Shawn Spencer, Harry Bosch, Monk — can't catch all the crooks out there. Dead ends are an unfortunate part of solving crimes. Some crimes never get solved.
Here are nine notable cold cases that are still baffling investigators.
1. The Murder of Biggie Smalls
The suspects, the motives, the theories behind the drive-by shooting death of iconic rapper Biggie Smalls (aka the Notorious B.I.G., or Christopher Wallace) in Los Angeles in 1997 are almost too many to list. Was Death Row Records mogul Suge Knight involved? Was Biggie's murder linked to fellow rapper Tupac Shakur's gunning down just months earlier? Was it a gang hit? Were crooked cops involved? Books have been written, documentaries produced ( even recent ones), and thousands of articles have tried to unravel the crime. It remains unsolved.
2. The Gardner Museum Theft
In the early morning of March 18, 1990, two men dressed as policemen tricked their way into the Isabella Stewart Gardner Museum in Boston. In a little less than an hour and a half, they ripped off 13 pieces of art — including two Rembrandts, a Manet and five Degas drawings — in what has been described as the single largest property theft in the world, worth as much as perhaps $1 billion. Thousands of leads later, the artwork is still missing, and the $10 million reward remains unclaimed.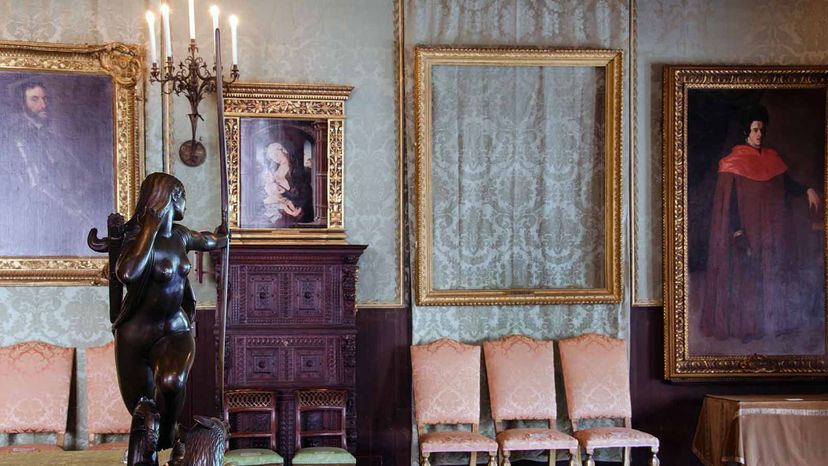 An empty frame remains where "The Storm on the Sea of Galilee," a 1633 oil-on-canvas painting by the Dutch Golden Age painter Rembrandt, was once displayed.
FBI
3. The Death of a British Spy
A 31-year-old code breaker who worked for MI6, the British Secret Intelligence Service, was found dead in his London apartment in August 2010. His naked body was padlocked inside of a North Face bag. The twist: The key to the lock was inside the bag with him. Gareth Williams' death — the British press is calling it the "spy in the bag" case — was first ruled accidental, though a coroner said he was probably killed. The case is still under investigation.
4. The Murder of Bob Crane
Known as the wise-cracking Col. Hogan from the bizarre late-'60s TV show "Hogan's Heroes" — it was a sitcom set in a prisoner of war camp in Nazi Germany during World War II — actor Bob Crane, in real life, enjoyed taking pictures and videos of himself and his many sex partners in action. When his bludgeoned body, an electrical cord around his neck, was found in a Scottsdale, Arizona, apartment in 1978, suspicion first centered on a sex-chasing friend. The friend finally was charged with the murder, in 1992, but acquitted at a trial in 1994. The case remains open.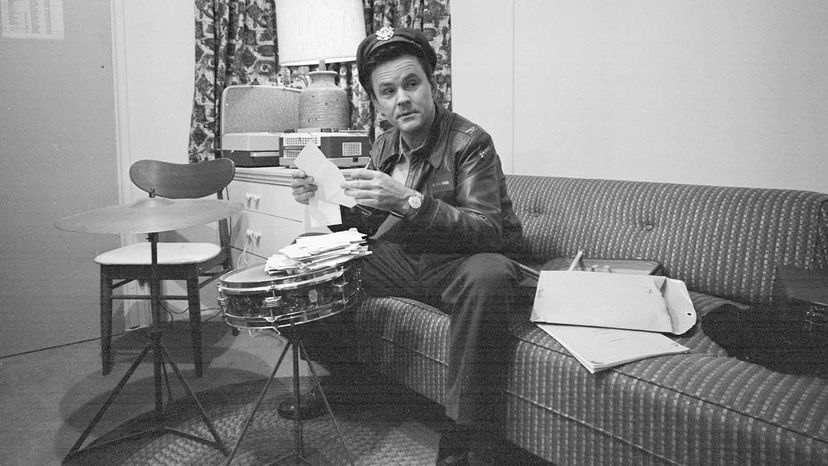 Bob Crane (seen here as Col. Robert E. Hogan) was found murdered in his Scottsdale, Arizona, apartment while he was touring for a dinner theater production in 1978.
CBS Photo Archive/Getty Images
5. The Identity of Jack the Ripper
No killer in history is better known than the one who stalked the filthy streets of London in 1888, murdering at least five prostitutes in brutal fashion, terrorizing the city, and sparking an interest in serial killers that has lasted for centuries. Jack the Ripper, as the Whitechapel murderer came to be known, sexually abused his victims, mutilated them, even removed internal organs. By various counts, hundreds have been suspected. None of them were ever charged.
6. The Murder of Elizabeth Short, the 'Black Dahlia'
The young woman was just 22. She was pretty, with dark curly hair and green eyes, an aspiring actress who looked the part. And when she was found alongside a sidewalk in the Leimert Park neighborhood of Los Angeles on a January morning in 1947, her naked body sliced in two just above the waist, bizarrely drained of blood, posed, and the edges of her mouth sliced nearly from lip to ear, Elizabeth Short became, to the press, the "Black Dahlia." Many falsely confessed to the murder, and the police had many suspects. But no one has ever been charged. Short's murder is often considered one of the most famous unsolved murders in American history, as well as one of the oldest unsolved cases in Los Angeles County.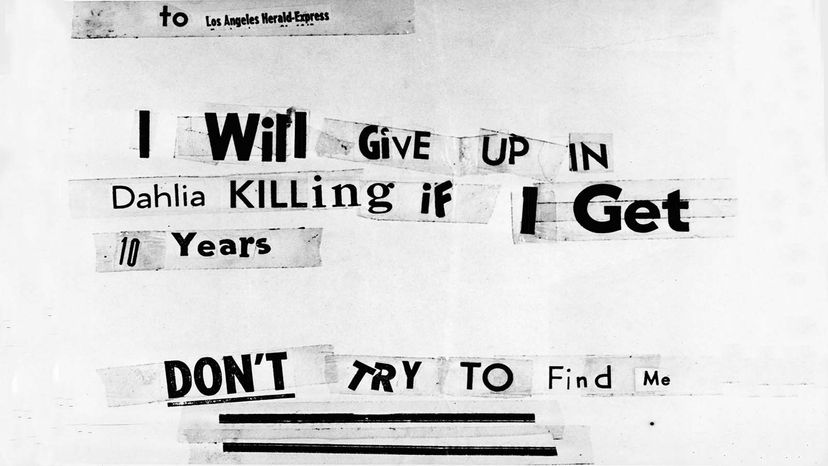 This threatening letter assembled from newspaper lettering was addressed to the Los Angeles Herald-Express and claims to have been written by the killer of Elizabeth Short, known as the "Black Dahlia." Some experts believe the letters were the work of journalists trying to keep the story alive.
INTERNATIONAL NEWS PHOTO/Getty Images
7. The Harry Winston Diamond Heist
Four men, three dressed as women, entered the ritzy Harry Winston jewelry store in Paris one afternoon in December 2008 and, in around 15 minutes, made off with more than $70 million in loot. The French-speaking baddies were part of a crime ring known as the Pink Panthers. Most were caught, but a lot of the bounty never has been recovered, including a huge diamond reportedly spotted on the finger of Lyudmila Putina, Russian president Vladimir Putin's ex-wife.
8. The Murder of Bugsy Siegel
If any gangster ever had it coming, Benjamin "Bugsy" Siegel was that made man. On a June evening in 1947, on a couch in his girlfriend's Beverly Hills mansion, the killer who once headed an outfit known as "Murder, Incorporated" got his, too, in a grisly assassination that ended his life at 41. Mob hit? Revenge by somebody he did wrong? Preemptive strike by the lover of one of his soon-to-be victim's wife? The theories are still flying. The case, officially, is still open.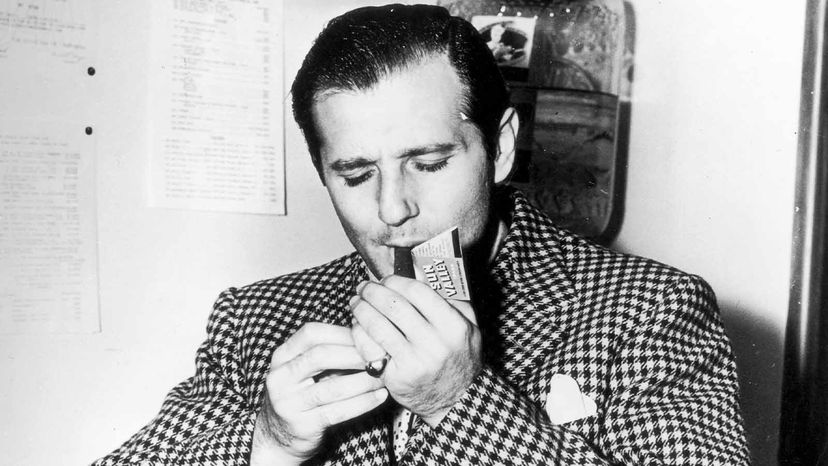 An assassin fired nine rounds from a rifle through the rented house where
Bugsy Siegel
was staying. At least four bullets struck Siegel, including two in the head and two in the torso, killing him instantly.
American Stock Archive/Contributor/Getty Images
9. The Identity of the Zodiac Killer
Notorious among the notorious, the Zodiac Killer murdered at least five people in Northern California in the late 1960s, and maybe as many as 37, taunting the police and press (and terrorizing the region) with a series of letters and cryptographic puzzles that were printed in local newspapers. In late 2020, 51 years after it was sent, one of the killer's puzzles finally was solved, part of which read, "I AM NOT AFRAID OF THE GAS CHAMBER BECAUSE IT WILL SEND ME TO PARADICE ALL THE SOONER." Several law enforcement agencies list the unsolved case as still open.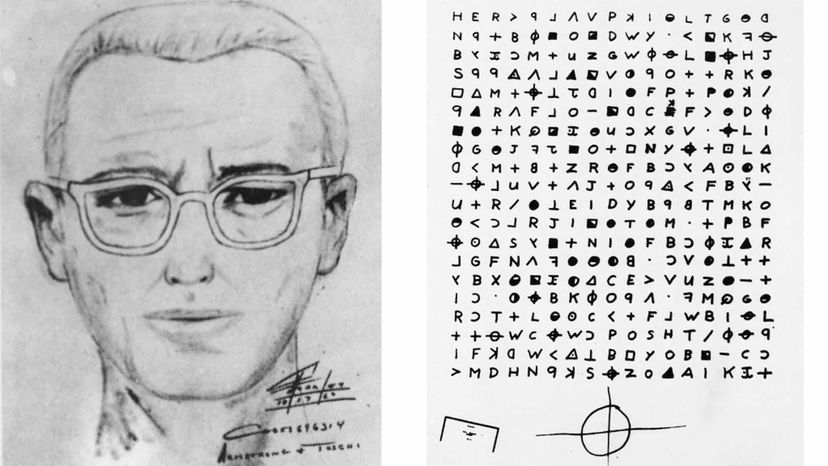 Whoever the Zodiac Killer was taunted police and made threats through cryptic letters like this one sent to area newspapers from 1969 to 1974, before they abruptly ceased communication.
San Francisco Police Department
Originally Published: Mar 16, 2021