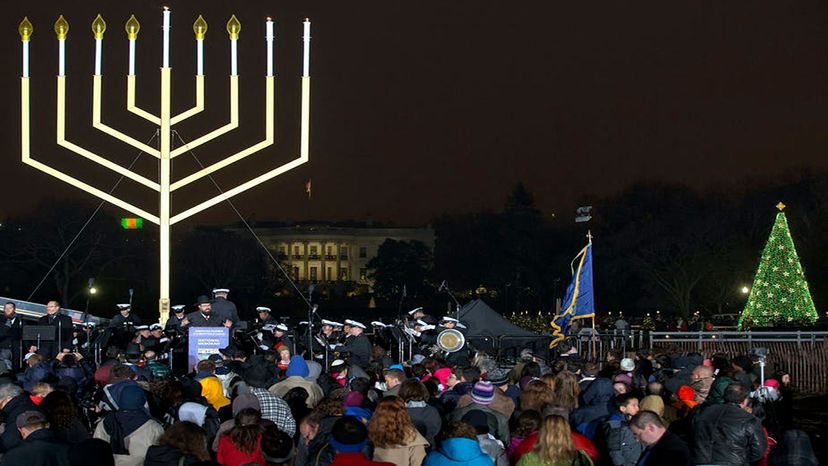 President Joe Biden's staff has dispatched invitations to a "Menorah Lighting to be held at the White House" on Dec. 1, the evening when the fourth candle of the eight-day festival of Hanukkah will be lit. The event promises to be quite different from last year's event, hosted by Donald Trump.
President Trump in 2020 held what he called a "Hanukkah Reception" in midafternoon before Hanukkah began. The reception was a heavily partisan affair, no candles were lit, much food was consumed, and some of the participants went maskless, the raging COVID-19 epidemic notwithstanding. Most Democrats, as well as many Jewish leaders, stayed home.
President Biden's "menorah lighting," by contrast, promises to privilege ritual over reception, focusing on the lighting of the traditional Hanukkah candelabrum itself. Reportedly, the event will be nonpartisan, with COVID-19 precautions enforced. According to the Jewish Forward, no food or drink will be served at all, so masks won't even need to be lifted. In addition, the guest list has been severely pared down to encourage social distancing — so much so that a senior White House official was quoted as saying it would likely be the smallest White House Hanukkah party in history.
The vice president and second gentleman Douglas Emhoff are slated to be among those in attendance, and for the first time the ceremony will be livestreamed. On Nov. 28, Emhoff also attended the lighting of the National Menorah on the Washington Ellipse.
Overlooked amid these carefully parsed details is a question that, to me, as a historian of American Jewish life and a scholar of American religion, seems far more fascinating and important: How did the office of the president of the United States come to hold official White House menorah lightings and Hanukkah parties in the first place?