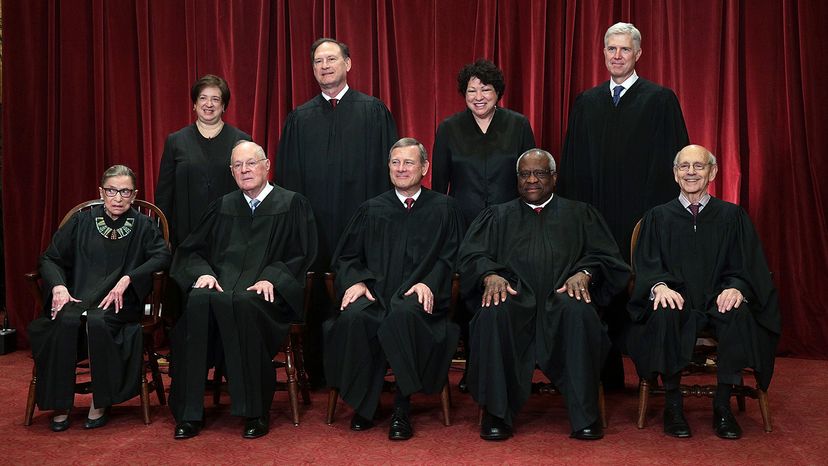 (Front row from left) U.S. Supreme Court Associate Justice Ruth Bader Ginsburg, Associate Justice Anthony M. Kennedy (retiring July 31), Chief Justice John G. Roberts, Associate Justice Clarence Thomas, and Associate Justice Stephen Breyer; (back row from left) Associate Justice Elena Kagan, Associate Justice Samuel Alito Jr., Associate Justice Sonia Sotomayor and Associate Justice Neil Gorsuch pose for a group portrait in the East Conference Room of the Supreme Court on June 1, 2017, in Washington, D.C.
Alex Wong/Getty Images
On June 27, 2018, long-time Supreme Court justice Anthony Kennedy announced that he would retire, effective July 31, 2018, giving President Donald Trump a second opportunity to appoint a second justice to the bench since being elected to president. Kennedy, a conservative Republican, was long known as a member of the Supreme Court who frequently casts swing votes, so his vacancy — and Trump's choice to replace him, Brett Kavanaugh — will have an enormous impact in how the Supreme Court shapes the nation's laws going forward.
Of course, appointing Supreme Court justices is the job of the POTUS. President Trump nominated — and the Senate confirmed — Neil Gorsuch in early 2017 after the death of Justice Antonin Scalia. And President Barack Obama nominated Sonia Sotomayor in 2009 to replace retiring Justice David Souter. These nominations are nothing new. But they have been matters of tremendous importance to American law almost since the inception of the United States.
A president's nomination to the Supreme Court can make a profound impression on history, so it's important to understand how these appointments work. From how justices are nominated, to who's qualified to serve and how a nominee is approved, it's a pretty involved process. And of course, there are some complicated politics that come into play. We'll start with the basics on the next page.