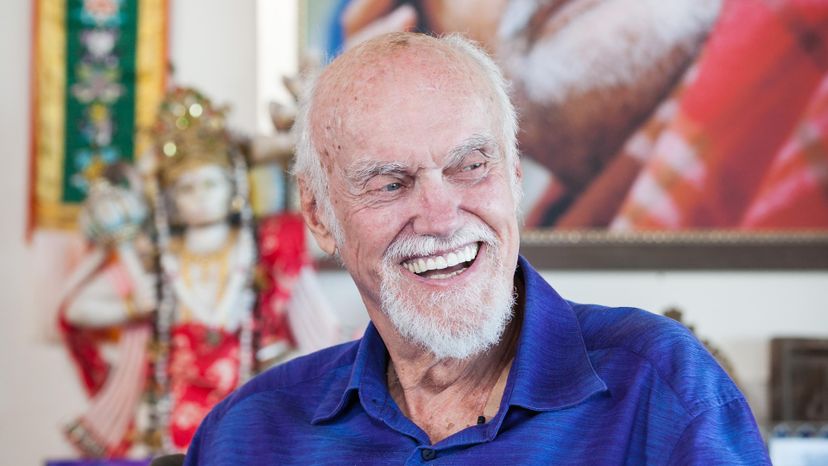 At one point or another, you've probably heard the phrase, "Be here now." The saying isn't just a Pinterest-friendly slogan, but one of the most enduring tenets of famed psychologist-turned spiritual leader, Ram Dass. By the time he wrote the book, "Be Here Now," in 1971, he'd already amassed a major following based on his meditations that were rooted in a unique combination of teachings from Buddhism, Hinduism, Advaita, Sufism and later, Jewish mysticism. To date, "Be Here Now" has sold over 2 million copies and up until his death at age 88 in 2019, Dass continued to spread his message of unconditional love through several more books, online courses, podcasts and more.
Born Richard Alpert in Boston in 1931, he received an M.A. from Wesleyan in Connecticut and a Ph.D. from Stanford and served on the psychology faculties at Stanford and the University of California. He accepted a tenure-track position at Harvard University in Cambridge, Mass., in 1958 as an assistant clinical psychology professor.
It was during his time teaching at Harvard in the 1960s that he met Timothy Leary, a lecturer in clinical psychology at the university, and he began exploring human consciousness with Leary and some of the era's most prominent thought leaders on psychedelic drugs. Because of his controversial new research interests, Harvard let Alpert go in 1963 and he eventually relocated to India where he met Neem Karoli Baba, who renamed him with the moniker Ram Dass, which translates to "servant of God." Over the next few decades, Dass learned about a variety of spiritual methods and practices from ancient traditions, and developed his own belief system inspired by a variety of these teachings.
"One of the most beautiful things about Ram Dass was how honest and transparent he was with everything in his life," Ganesh Braymiller, a content writer and editor for the Love Serve Remember Foundation and the Be Here Now Network, writes via email. "This type of unrelenting honesty and humility, mixed with his laser-focus on helping people awaken through sharing his own pitfalls and humanity, helped foster a relationship of authenticity, trust, love, seva (selfless service) between Ram Dass and our still-growing community of seekers and individuals who have been touched through his teachings."
Here are three of Dass' most enduring spiritual teachings and how they relate to the here and now: