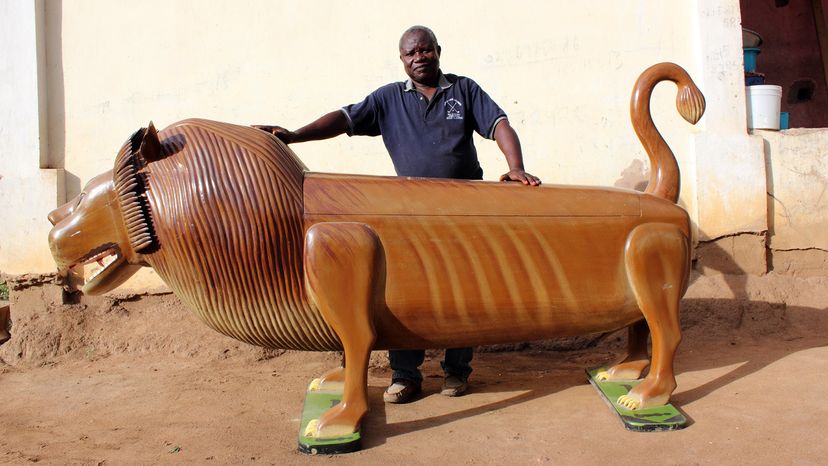 Renowned for its amazing wildlife sanctuaries, the Republic of Ghana is often called West Africa's "golden child." International companies like Google, Guinness and Coca-Cola have set up facilities in Accra, the nation's capital city.
But Accra is also known for another industry — this one more homegrown. And it's, well, a business so unique that it's caught the eye of death care providers all over the world.
You see, in Ghana there's big demand for big coffins, oftentimes shaped like chili peppers, taxi cabs, even Nike sneakers — just about any object imaginable. Each one's a vibrant work of art, requiring skillful carpentry. In the Ga language, the funerary boxes are called "abebuu adekai," which means "proverbial coffins." English-speakers know them by another name: "fantasy coffins."
The practice of building fantasy coffins is effectively limited to Ghana and Togo (a neighboring country). According to Genevieve Keeney, this region has a corner on the highly specialized artform. A licensed embalmer, Keeney's the president and chief operating officer of the National Museum of Funeral History (NMFH) in Houston, Texas.
Keeney says she's never "come across or been presented with" any parallels to fantasy coffins from other parts of the globe. "I get made aware of quite a lot of interesting rituals and customs and have yet to hear of anything close," she says.
Her museum houses the largest collection of fantasy coffins outside Ghana. Altogether, the NMFH has a dozen on permanent display, their shapes ranging from a Mercedes-Benz to a red-legged crab. Similar coffins have been showcased at the University of Iowa, the Brooklyn Museum and the National Museum of Modern Art in Paris, France.