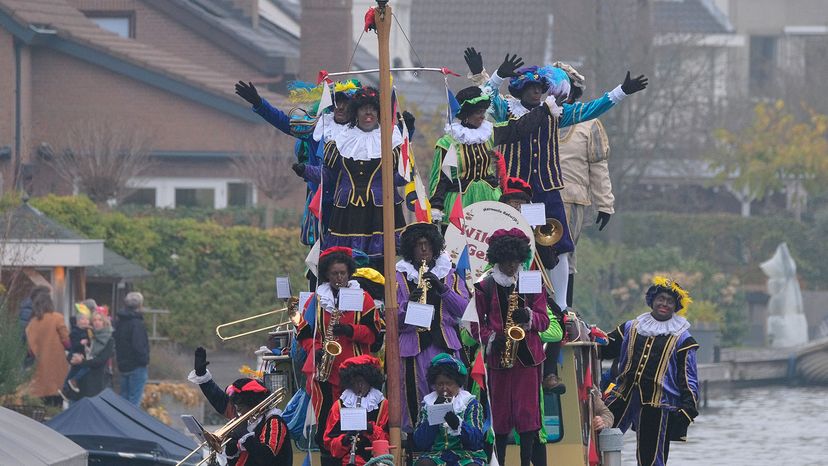 Christmas comes early to the good children of the Netherlands. In mid-November, St. Nicholas, known there as Sinterklaas, arrives via steamship from Spain for two weeks of celebrations leading up to the eve of his birthday, December 5, when Dutch families and friends exchange gifts.
But Sinterklaas doesn't come alone. The stern, white-bearded bishop is traditionally accompanied by a jolly troupe of Zwarte Pieten, white men dressed up in blackface, curly afros and Moorish costumes fondly known as Black Petes. In the United States, talk show hosts are fired if they question the inherent racism of blackface, but in Netherlands, many Dutch defend their beloved Black Pete tradition as an indispensable part of Dutch culture.
American author Emily Raboteau spent half a year in the Netherlands while writing her award-winning nonfiction book "Searching for Zion." She'll never forget the first time she saw the bumbling, blackface character of Black Pete popping up on grocery store displays and kids' TV specials with his red lips and gold earring, an experience she chronicled in 2014 for the Virginia Quarterly Review.
"As an African American, I was shocked to witness the widespread practice of blackface leading up to Christmas," Raboteau writes in an email. "It struck me as offensive, racist and willfully ignorant."
But what was almost more shocking to Raboteau was the pushback from her liberal-minded Dutch neighbors who insisted that Black Pete wasn't a racist caricature at all. He wasn't even Black, some argued. His dark skin came from shimmying down chimneys to deliver presents. (No explanation for why only his face is covered with soot and not his bright, clown-like clothes.)