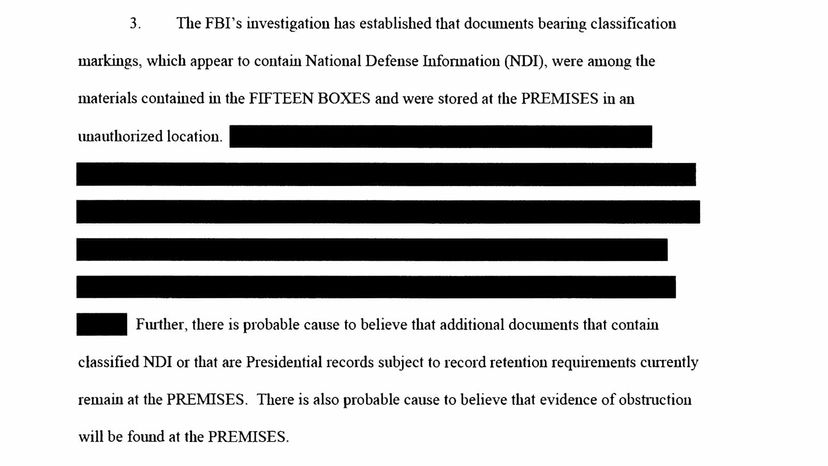 On Aug. 8, 2022, the FBI executed a search warrant on former president Donald Trump's Mar-a-Lago resort in Palm Beach, Florida. The search warrant was part of an investigation into how Trump was handling presidential documents, including classified documents.
Just a few days later, Friday, Aug. 12, a federal judge unsealed that warrant and its property receipt (the property taken during the search) and it confirmed the FBI removed 11 sets of classified documents, including some labeled top secret and "TS/SCI," the highest levels of government classification.
The warrant also confirmed that the Department of Justice was investigating Trump for three possible crimes:
18 U.S.C. § 793: Gathering, transmitting or losing defense information, which carries a penalty of up to 10 years in prison (violation of the espionage act).
18 U.S.C. § 2071: Concealment, removal or mutilation generally, which carries a penalty of up to three years in prison and disqualification from holding office (concealing of public records).
18 U.S.C. § 1519: Destruction, alteration, or falsification of records in federal investigations and bankruptcy, which carries a penalty of up to 20 years in prison (obstruction of justice).
Given the unprecedented nature of searching a former president's home, there was been an unusual amount of transparency surrounding the warrant. And attorneys for several media outlets, including The Associated Press, The New York Times, The Washington Post and The Wall Street Journal, argued in court for the release of the affidavit supporting the warrant. Affidavits often contain information about what evidence law enforcement thinks is at a property, and other facts, including witnesses who may have provided testimony.
The U.S. Justice Department objected to the release of the affidavit, saying it would compromise their investigation. But U.S. Magistrate Judge Bruce E. Reinhart ruled Aug. 18, 2022, that portions of the affidavit could be released, with stipulations. From the court order:
As I ruled from the bench at the conclusion of the hearing, I find that on the present record the Government has not met its burden of showing that the entire affidavit should remain sealed. It is ORDERED that by noon EST on Thursday, August 25, 2022, the Government shall file under seal its proposed redactions along with the with a legal memorandum setting forth the justification for the proposed redactions.
On Aug. 26, around noon, the DOJ released the 38-page affidavit, with more than half of it blacked out. So what's the point?