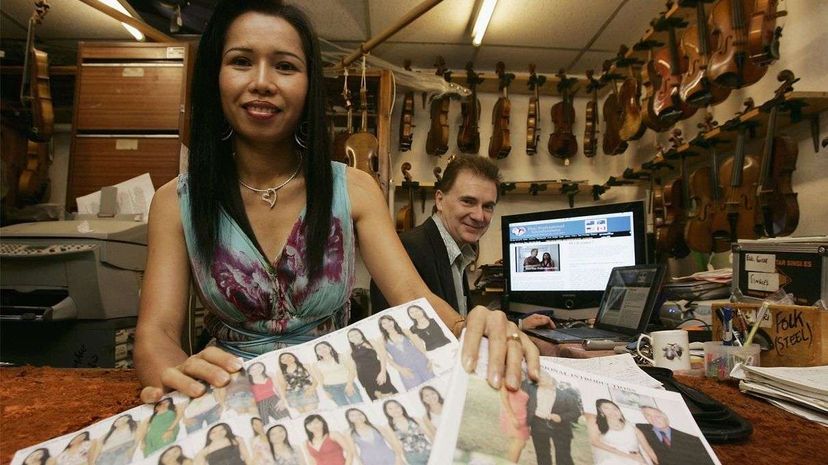 You can't buy a spouse on the Internet. There's no Amazon that will drone-deliver a blushing bride to your doorstep.
But, you can look for a bride online, if you're of the mind. Thousands of women on websites all over the world will gladly tell you what they desire in a man. They'll flirt. They'll mention family, commitment and, maybe, marriage.
And that can start you on your way to wedded bliss. Or not.
The mail-order bride business — object to the term, but there's no sidestepping it — is alive and well in the 21st century. For many brave enough to wade in, though, it can kick them right in the teeth.
Sometimes, the mail-order bride industry brings people together in holy matrimony, although the numbers are sketchy. And it may allow women in some pretty horrendous situations control of their future. But there are also stories of abuse or scamming, from both sides of the transaction.
So it's a complicated business, this mail-order marriage.
Much like love.
A New Frontier
When Marcia Zug, a law professor at the University of South Carolina, began researching her book, "Buying a Bride: An Engaging History of Mail-Order Matches," she figured she'd expose the seedy side of the industry.
"I expected to find that modern mail-order marriages are fundamentally harmful and that these problems are long-standing," Zug writes in the introduction to the book, due in June. "I was surprised that this is not what I found. Despite significant risks, mail-order marriages are typically beneficial and even liberating for women."
In her book, Zug details the history of mail-order brides — English and French women who emigrated to help build the Virginia colony in the U.S., for example. French women known as the filles du roi (king's daughters) who came to New France (mostly Canada now) in the late 1600s.
Later, as the American West was being settled and a need for women there became acute, both men and women began to advertise for spouses. Zug found this in a Missouri paper, circa 1910:
Attractive women, not a day over thirty, would be pleased to correspond with eligible man. Not absolutely necessary that he should be young. Would prefer one with property, but one with a good paying position would be satisfactory. The young lady is of medium height, has brown hair and gray eyes, not fat, although, most decidedly, she is not skinny. Her friends say she is a fine looking woman. Object matrimony. Reason for this advertisement, the young woman lives in a little dinky town, where the best catches are the boys behind the counters in the dry goods and clothing stores, and every one of them is spoken for by the time he is out of his short pants.
In many ways, modern mail-order brides are not far removed from this ad: women in dire situations, taking charge of their lives for the promise of something better.
"The idea that men are buying women and that the women have no say, no free will, basically that they're trafficked [is not true] ... mail-order brides are very much, in most cases, in control," says Zug. "It doesn't mean that it always works out. But they know what they're doing in the sense that they believe that this is going to be something that offers them an opportunity to improve their lives."