'Good, Bad, Ugly' Halloween Party
It doesn't matter if autumn blows into your town looking good, bad, or ugly. Your guests will be ready to meet it head on if they don their favorite face -- good, bad, or stomach churning -- for a party that lets them dabble in all three Halloween dimensions.
Try It!

Here are some Halloween recipes from our collection:

Halloween Invitations: Wheel of...Misfortune?



Who knows which way the wheel of fortune will turn when October winds blow? Your guests will if a gust blows this three-way invite into their mailboxes.

To make, cut a black 51/2-inch card stock circle and a white 6-inch card stock circle per guest. Cut out a triangle, about 1/4 of the pie, from each black circle, leaving at least a 1/2-inch border at the outside edge. (Make a triangle template, and trace it onto each circle. Then cut out the triangles.)

Cut out 6-inch circles from green, red, and black construction paper. Fold circles in half, then in quarters. Cut circles into quarters using folded lines as guides. Glue a green, red, and black circle quarter on each white circle, leaving a quarter white.

Use a brass fastener to secure the center of each black circle to the center of each colored large circle. Slowly turn the small circle until it spins easily. On the smaller disk use a silver pen to write: "This Halloween, will you be one of the good, the bad, or the ugly?"

©2006 Publications International, Ltd.
Create these wheels of
misfortune for invitations.

In the white window, write: "Feeling good? You're invited to don your cheeriest costume and step into the happiest Halloween dimension." In the black window, write: "A bad moon is rising. Wear your spookiest costume for a walk on the dark side." In the green window, write: "Calling all monsters! Put on your ugliest scare-wear for a horrifically good time." In the red window, write: No matter which side you're on, you're invited! Come to Casey's house, 1234 Maple, on Saturday, October 25. The party is from 3 p.m. to 5 p.m. RSVP at 555-1234 by Sunday."



Three-Dimensional Decorating: Halloween Decorations



If you can't decide on one Halloween decorating scheme, shoot for the tri-angle: One part good, one part bad, and one part perfectly horrifying.

This party looks best when you have three areas to decorate. Three rooms work best, but if you don't have the space, divide a large room into three distinct areas.

©2006 Publications International, Ltd.
Divide the room into different
areas for good, bad, and ugly.

For the dark side, turn the lights low or close the curtains to create a nightmare feel. Tack a foil-covered moon to the ceiling or wall, toss some creepy plastic spiders about, and drape black crepe paper and spiderwebs (find them at a party store) over anything that doesn't move.

A tombstone against the wall is wonderful, but go the extra mile and tape a doll's arm at its base so it looks like it's rising from the ground. If this nightmare scene has a room to itself, put some werewolf howls on the CD player (check out a CD of coyote calls from the library).

The ugly room should look a bit like Dr. Frankenstein's lab. Scatter with broken doll parts and plastic jars and bottles of all shapes and sizes. If you have kids coming who appreciate gruesome sights, fill some of the jars with colored water or corn syrup and a few doll limbs.

Hang lightweight, shiny dryer tubing from wall to wall by running string through the tubes and attaching the string to the walls and ceiling. Cut out different facial and body features from magazines, and let the little ones paste the pieces together on poster board. Voila! Instant blueprints for Dr. Frankenstein's hideous monster plans.

Since good moods make for good digestion, make the serving area (or kitchen) the kids' dreamscape. Open the curtains, and let the sun shine in. If it's connected to the party room, hang white streamers on the heavenly side of the door frame and black on the dark side. A light blue or white tablecloth set with white plates and goblets and scattered with silvery star confetti can decorate the table.

Tape clouds and rainbows on the walls and dangle them from the ceiling. Make clouds by cutting out cardboard shapes and gluing cotton batting to the outside. Want your guests to sit on a cloud? Lay cotton batting over each seat. Elevate the ethereal feel by hanging foil-wrapped stars. Complete the heavenly effect by playing some tinkling music, such as harps or flutes. You can find it in the classical music section of your local library.



Halloween Crafts





Heavenly Halos

©2006 Publications International, Ltd.
Angels and devils can make
their own headbands.

Angel lovers can make a halo by entwining lightweight silver gift ribbon with a white, pink, or lavender chenille stem. Bend the two into a circle. Parent helpers can use wire cutters to attach the circle to an inexpensive headband by twisting a 4-inch length of 20-gauge wire around the headband and the halo. Kids can also add ribbon streamers for a more angelic look.



Devilishly Fun Headbands



Those who'd rather wear a little devil on their heads than on their shoulders can create devilishly good horns. Coil red chenille stems around the pointed end of a funnel to make the horns. Using a cool-temp glue gun, adults should help the kids attach the horns to an
inexpensive headband.



Monstrous Masks



For the kids who want a face only a mother could love, parents should prepare several milk jug masks before the party. Here's how: Gather one empty, washed gallon milk jug for every two guests. Cut along the side seams of each jug, starting from the mouth of the jug.

©2006 Publications International, Ltd.
Create monster masks out of milk jugs.

Shift direction toward the center of the jug (toward the handle) when the scissors are about even with a point roughly one inch below the handle (the end farthest from the jug mouth). Continue cutting across the jug until you reach the seam on the other side, then cut back up along that seam toward the mouth until the jug is in two pieces. The handle piece, with its built-in "nose," will be smaller.

To finish, cut the mouth part of the jug from each piece, making a slightly rounded cut after it is removed to echo the shape of the chin. Trim any rough edges. On the larger piece, the jug bottom is meant to sit atop the child's head and the longer side against the child's face. Cut the shorter side so the opening is large enough to slide comfortably over a child's head.

Using your child as a model, mark dots on each mask for eyes and mouth holes. Remove the mask, and cut out large eye holes -- at least twice the size of your child's eyes. Make evil upturned eyes, as well as wicked grins, crooked smiles, and gaping-gasp mouths. Tape the outside edges of the mask with colored electrical tape to prevent scrapes or cuts.

At the party, provide permanent markers or acrylic paints with which the kids can decorate the masks. Yarn can be glued on for hair. Use a hole punch and elastic string to secure the masks to each child's face.



Halloween Games





Angel Toss

©2006 Publications International, Ltd.
In Angel Toss, kids try to
throw the halo onto the peg.

Use strong tape to attach a plastic ruler to several kid-size hats (baseball caps and winter headgear work great). Make halos out of silvery chenille stems (you will need three halos for every two children). Half the kids don a stick hat. The other half have three halos each. Each team of two -- a halo tosser and a catcher -- stands ten or more feet apart (depending on age) and has three turns to toss and hook the halos. Hatted kids can run and wiggle or stand perfectly still to hook their partner's halos. Let the teams who hook all three halos compete for the winner's title.



Monster's Moat



Buy 9 x 12-inch squares of felt: You'll need three times the number of squares as there are children. Lay the squares around the party room or yard, creating an obstacle course. Be sure the squares are laid at varying distances, but all need to be within jumping distance of at least one other square. The area surrounding the squares is the hot zone.

Designate a child to be the monster. He or she must try to tag the kids, who are trying to jump from square to square, when they land in the hot zone. If they fall, get tagged, or get bumped from a square by another jumper, they join the monster. One caveat: Players must keep moving at all times. Although a referee helps, kids are usually quite anxious to point each other out. Last kid jumping wins.



Devil's Gate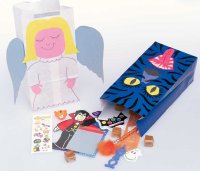 ©2006 Publications International, Ltd.
Carry the good, bad, ugly theme
into the goodie bags.

Play this game outside. Divide the players into two teams, and have each team stand about 50 feet apart, arms linked. The first team starts the game by yelling, "Devil, Devil, get me out of this place!" The second team picks a child from the first team by yelling, for example, "Billy, Billy, it's your turn to run the race!" Billy must then run across the field and try to break the second team's chain. If he breaks through, he can go back to his team. If he doesn't, he must join the other team. The last person to join a chain is the winner.
Sugar, Spice, and Not-So-Nice: Halloween Goodie Bags



Provide colored paper sacks and markers so kids can decorate their own goodie bags as an extra craft or during a lull in the party (such as when some finish eating or crafting earlier than the rest). Before kids leave, fill their bags with good, bad, and ugly fun: some sweet treats, a fluffy pencil, devilishly fun craft supplies, and monstrous Halloween toys.

It's hard to find the right balance between scary and fun for little monsters. In the next section, we'll show you how to throw a few themed Halloween parties for the younger crowd.

Advertisement