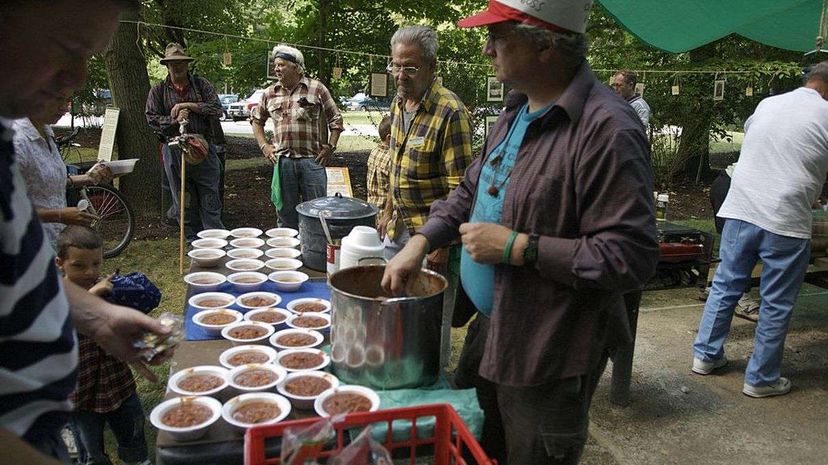 Connecticut Shorty's father is buried in the National Hobo Cemetery in Britt, Iowa. When a hobo dies, they say he's "caught the Westbound." Shorty's father, Connecticut Slim, rode the rails for 44 years before catching the Westbound in 1990 to the hobo jungle in the skies. Shorty didn't fully understand the lure of the hobo lifestyle until she began hopping trains herself in 1993.  
Shorty was in her mid-40s when she caught out on her first train from Dunsmuir, California to the legendary Roseville rail yard outside of Sacramento. A veteran hobo called Road Hog USA showed her the ropes — where to hide from the "bulls" (train yard cops), where the train stops or slows enough to hop on, what type of train cars to look for, and what to bring in your pack.
"I've never been afraid," says Shorty. "It's always been such a grand adventure for me. My longest trip was from Staples, Minnesota to Whitefish, Montana over the Rocky Mountains and back."
By the time she took the Rocky Mountain ride, Shorty was already in her late 50s. She and her traveling companion — a fella named Frog — hopped an intermodal container train. Those are the huge trains carrying double-stacked shipping containers, hardly the slow rolling boxcars of yesteryear. Shorty and Frog rode in the "well" or "porch" behind the shipping containers, exposed to the wind and dust and noise, but partially shaded from sun and rain.
"It's not comfortable!" Shorty laughs. "Nothing's comfortable. You're sleeping on metal floor, after all. But it gets you where you're going. You cross the country, you're out there with nature, you go through Indian reservations, over mountains — it's a wonderful adventure, and you're seeing America for free."
For Shorty and her white-haired hobo friends, hopping trains is one of the last great traveling adventures. Shorty's not destitute or desperate. She has a home in Iowa and a winter refuge in Florida. For her, hoboing is a hobby and a way to honor her late father. But Shorty is only one type of modern American hobo.
Hobo culture is alive and well in the United States, but it's a far cry from the sanitized Halloween-costume version most of us are used to — the patched overalls, the charcoal beard and the red-bandana bindle (that's a bundle on a stick). Today's hobos are gutter punks and anarchists, crusty kids and societal dropouts trying to piece together an existence outside of civil society. And the best way to get there is to hop a train.