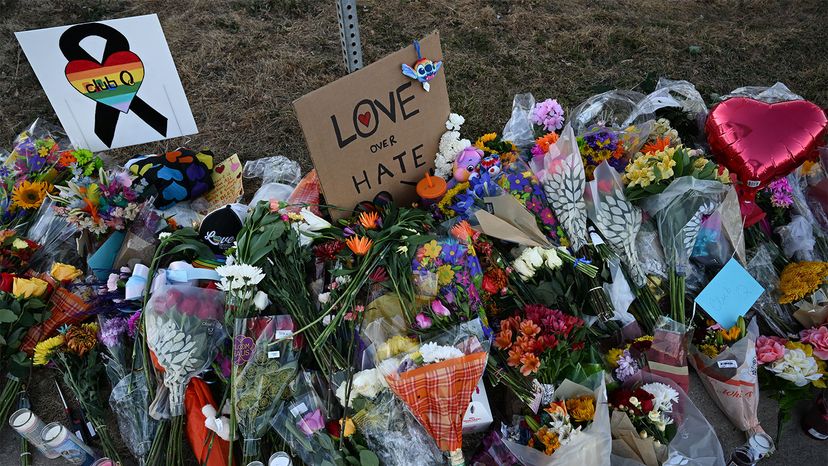 The shooting in a Colorado LGBTQ bar Nov. 19, 2022, in which five people were killed and at least 25 injured, is the latest mass shooting in the U.S. and it has reignited the debate over red flag laws and their effectiveness in stopping these kinds of mass killings. Police have yet to determine a motive for the killings, but it is clear that the suspect had a history of violent plans, having allegedly threatened to attack his mother with a homemade bomb more than a year before the attack at Club Q.
The suspect was arrested in June 2021 in connection with a bomb threat that led to a standoff at his mother's home, according to a news release from the El Paso County Sheriff's Office at the time.
This has led to questions over why that earlier alleged incident did not trigger Colorado's "red flag" law – something that may have prevented him from acquiring the AR-15-style semi-automatic weapon that police say was used in the Club Q attack. But there is reportedly no public record indicating that law enforcement or any family member acted on that threat and petitioned the court.
The Q nightclub shooting occurred in a county where the sheriff has openly opposed Colorado's law and has previously stated that his officers will not petition for an order except under "exigent circumstances." The county has declared itself a "Second Amendment preservation county," in the belief that gun safety laws are unconstitutional.
In another case, from 2019, in California, the manager of a car dealership contacted police and described a scary situation. An employee allegedly had confided to a co-worker that if he was fired from his job, he would shoot his supervisor and other employees, though he would warn the co-worker in advance so he could escape.
Thanks to the red flag law that California enacted in 2014, the police could take action right away, without having to charge the employee with a crime. The cops obtained a court order and the next day seized five firearms. The court subsequently issued another order, allowing authorities to hold on to the weapons for a year.
That case, described in an article by University of California Davis researchers published Aug. 20, 2019, in the journal Annals of Internal Medicine, is an example of what many advocate as a way to prevent the mass shootings that have devastated the U.S.