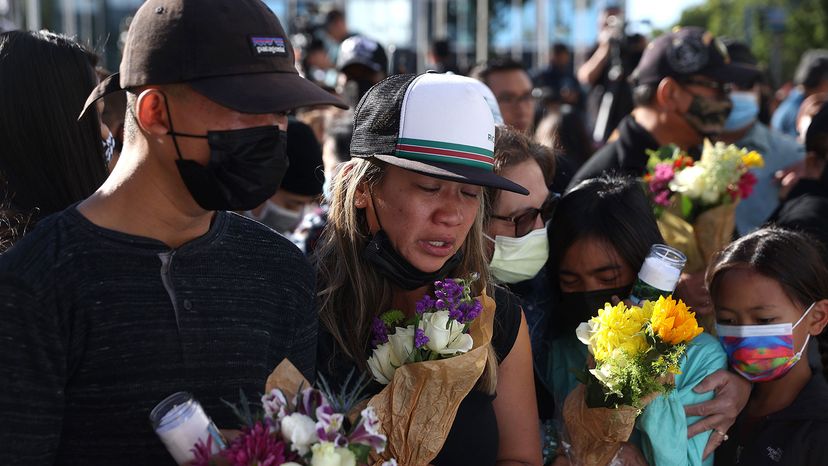 Family members of Santa Clara Valley Transportation Authority (VTA) light rail yard shooting victim Paul Megia react during a vigil at San Jose City Hall on May 27, 2021. Hundreds attended a vigil for the nine people killed when a VTA employee opened fire at the VTA light rail yard during a shift change on Wednesday morning.
Justin Sullivan/Getty Images
In May 2021, a disgruntled employee at a public transit rail yard in San Jose, California, opened fire on co-workers, firing 39 rounds that killed eight of them and wounding a ninth who later died, before taking his own life in front of law enforcement officers who had rushed to the scene. The mass killer had three 9-millimeter semi-automatic handguns with him and 11 ammunition magazines on his belt. Later, authorities found 12 more firearms and 25,000 rounds of ammunition at the suspect's home [sources: Fernando, Hays and Hauck; Hanna and Vera ].
The horrific slaughter was yet another shock to a nation that in recent decades has been traumatized again and again by mass shootings, from the killing of 20 elementary school students and six adults by a 20-year-old gunman in Newtown, Connecticut, in 2012, to the massacre of 58 spectators at a country music concert in Las Vegas by a 64-year-old sniper who rained fire down on them from the 32nd floor of a resort hotel [sources: Candiotti and Aarthun; Hutchinson, et al.].
From 1999 to 2021, more than 2,000 people were killed in mass shootings, according to an analysis by Reuters [source: Canipe and Hartman]. But mass shootings are just part of the larger pattern of firearm violence. In 2020, despite the pandemic, nearly 20,000 people were killed in homicides and 24,000 died in suicides involving guns [source: Thebault and Rindler].That unceasing carnage has led many Americans to call for stricter gun laws.
"We need to treat gun violence as a public health issue, " Fred Guttenberg, whose 14-year-old daughter Jaime was killed in a 2018 mass shooting at a high school in Parkland, Florida, explained in a 2021 interview [source: Allen].
But gun rights advocates say such laws would violate Americans' constitutional right to bear arms. They also argue that citizens need weaponry to defend against criminals. "The only way to stop a bad guy with a gun is with a good guy with a gun, " National Rifle Association executive vice president Wayne LaPierre said in 2012 [source: CBS DC].
Others even say that gun rights are essential to stave off the possibility of government tyranny.
"The Second Amendment is about maintaining, within the citizenry, the ability to maintain an armed rebellion against the government if that becomes necessary, " Rep. Matt Gaetz, R-Fla., told an audience a political rally in May 2021 [source: Chamberlain].
So which side is right? That's for you to decide. But to help you make an informed decision, here are answers to 10 big questions in the U.S. gun control debate.