Who Said Punk Is Dead?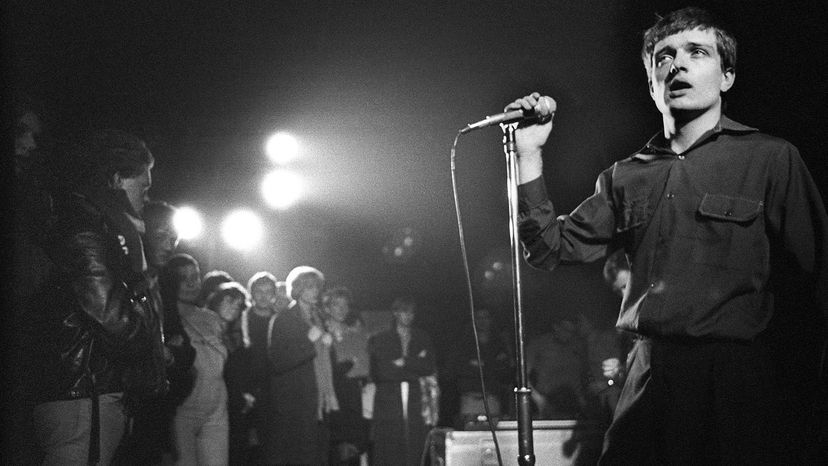 Post-punk band Joy Division's run was cut short after lead singer Ian Curtis (seen here) committed suicide, but it still had huge influence on bands like U2 and Radiohead, and spawned mega-successful new wave band New Order.
Rob Verhorst/Redferns/Getty Images
Hardcore started a change of direction for punk rock, which eventually stretched its tentacles into new wave, grunge and even synth pop in the '80s and '90s. In many ways, post-punk bands like Joy Division, Public Image Limited (featuring former Sex Pistols singer Johnny Rotten), and Siouxsie and the Banshees marked a return to the proto-punk garage rock of bands like the Talking Heads and the Stooges.
It's often said that The Velvet Underground's 1967 collaboration with vocalist Nico only sold 30,000 records, but that everyone who bought the album decided to start a band. The same could be said for Joy Division, whose brief stint in the late '70s influenced everyone from U2 and Radiohead to Tyler, the Creator and Lupe Fiasco.
Joy Division's four-year run also ushered in a shift from the loud anger of punk and hardcore to the moody, synth sound of new wave. After lead singer Ian Curtis killed himself in 1980, the remaining members created mega-successful new wave band New Order and launched post-punk into the '80s dance club era. But by the time bands like the Psychedelic Furs, Thompson Twins and OMD began popping up on the soundtracks for John Hughes teen movies, new wave was harder to directly connect to its punk forefathers.
Sid Vicious' death in 1979 is still often considered the day punk died. For some, Green Day's ascension to the top of the pop charts with "Dookie" 15 years later was like the music industry kicking a dead dog.
But Andersen says the spirit behind the punk movement "keeps being reborn." He said he sees it particularly in the Riot grrrl feminist punk movement of the '90s and Taqwacore, an Islamic punk scene in the United Kingdom.
"What we have seen is that punk can never die," Andersen says. "There is this spirit that animates it that is constantly being revived."