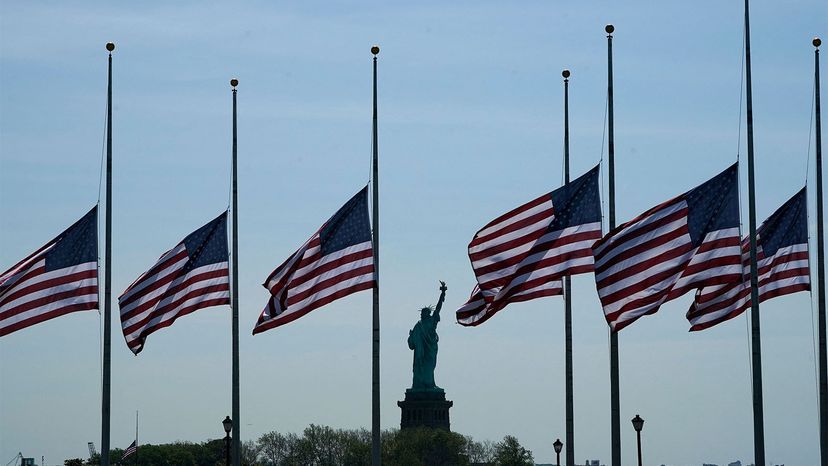 U.S. flags fly at half-mast at Liberty State Park in Jersey City, New Jersey, May 25, 2022, for the victims of the May 24 mass shooting at Robb Elementary School in Uvalde, Texas.
TIMOTHY A. CLARY/AFP/Getty Images
After the horrific March 24 mass murder of 19 elementary schoolchildren and two teachers by an 18-year-old gunman in an elementary school in Uvalde, Texas, Golden State Warriors coach Steve Kerr refused to talk about basketball at a pregame news conference.
Instead, Kerr gave an impassioned speech in which he demanded that the U.S. Senate take action on a long-stalled piece of legislation that would require background checks for all gun purchases across the nation.
"There's a reason why they won't vote on it," Kerr said in a voice cracking with emotion. "To hold on to power."
"So I ask you: [Senate Minority Leader] Mitch McConnell, I ask all of you senators who refuse to do anything about the violence and school shootings and supermarket shootings. I ask you: Are you going to put your own desire for power ahead of the lives of our children and our elderly and our churchgoers? Because that's what it looks like. It's what we do every week."
Kerr was talking about H.R. 8, the Bipartisan Background Checks Act of 2021, sponsored by California Democrat Rep. Mike Thompson. The bill passed by the U.S. House last March by a narrow 227 to 203 vote, despite getting support from just eight Republican legislators. In the Senate, the bill has languished for months, due to the reality that it stood little chance of passage in the 50-50 chamber, without attracting at least 10 Republican supporters in order to prevent a filibuster by opponents and move to a final vote on the law.
But on the same day that Kerr gave his plea, and Senate Democrats indicated the odds against them, they nevertheless were hoping to put the bill on the legislative calendar, with the aim of forcing a vote sometime after the Memorial Day holiday, according to Roll Call.
If that plan comes to fruition, another gun control bill passed by the House, H.R. 1446, which would increase to 10 days the time a purchaser must wait for a background check, would be put to a vote as well.
Gaps in the Existing System
"Background checks work and expanding them would only make more people safe from gun violence. We have 90 percent of the American people on our side and it's Constitutional," Thompson, the bill's sponsor, said in a news release back in March.
When someone tries to buy a firearm from a federally licensed gun dealer, the dealer is required to contact the federal government's National Instant Criminal Background Check System (NICS), either electronically or by phone. The buyer fills out a form that asks about past criminal indictments and conventions, use of drugs, court-ordered confinement in mental institutions, dishonorable discharges and convictions in military courts, convictions for domestic violence, and whether the person is a legal resident of the U.S. After that, NICS staff performs a background check, to verify that the buyer is eligible to purchase or own a firearm.
NICS, which was created by the Brady Handgun Violence Prevention Act of 1993 and went online in 1998, has conducted more than 300 million checks on gun purchases. Most purchasers pass the screening, but more than 1.5 million would-be gun buyers were rejected, according to the FBI website.
Even so, critics point to major loopholes in the screening process. As this ATF explainer notes, people who don't make a business of selling firearms but only do "occasional" sales or purchases are exempt from the background check requirement, unless they're a seller who has reason to believe that a purchaser might be legally barred from owning a gun.
Additionally, federal law doesn't establish a clear line for when a gun seller becomes a professional dealer, just a vague rule-of thumb that someone who repetitively sells guns with the motive of making a profit must be licensed and conduct background checks.
That gaping gray area enables non-licensed dealers to sell scores of weapons at gun shows or via internet ads — or even out of the trunk of a car in a fast-food restaurant parking lot, as Robin Lloyd, managing director of gun control advocacy group Giffords, points out.
"We know that criminals and other folks who maybe can't pass a background check or don't want to attempt to pass a background check can easily find a firearm for purchase," Lloyd says.
This study, conducted by Northeastern University and Harvard University researchers and published in Annals of Internal Medicine in 2015, estimated that 22 percent of gun owners who had obtained a weapon in the previous two years had done so without going through a background check. Worse yet, 96 percent of prison inmates who had been prohibited from owning the gun that they used in a crime had obtained it through an unlicensed seller.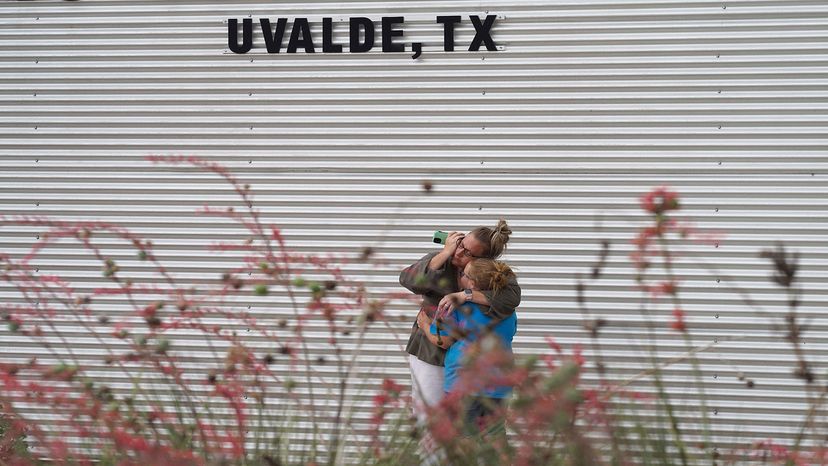 A woman cries and hugs a young girl outside the Willie de Leon Civic Center in Uvalde, Texas, May 24, 2022. The massacre there was the latest in a spree of deadly shootings in America, where horror at the cycle of gun violence has failed to spur action to end it.
ALLISON DINNER/AFP/Getty Images
What H.R. 8 Would Do
The proposed law would eliminate the private sales loophole, by making such transactions illegal. Instead, private sellers would be required to hand the weapon over to a licensed dealer, importer or manufacturer, who would then comply with the background check requirement before transferring the weapon to the buyer.
H.R. 8 still would allow only a few narrow exceptions — law enforcement agencies would be allowed to do transfers without background checks, as would family members giving weapons to other family members. A person could also inherit weapons without a background check. Finally, in the case of an imminent threat of bodily harm or death, a person could give a weapon to someone else to protect themselves, as long as the weapon was returned when the threat went away.
Conducting background checks on nearly all gun purchasers "would make an extraordinary difference in preventing gun violence in this country," David Chipman explains in a phone interview. He's a 25-year veteran of the Bureau of Alcohol, Tobacco, Firearms and Explosives (ATF) who was President Joe Biden's initial choice to head the ATF.
Background Checks Have Public Support
The idea of universal — or nearly universal — background checks is supported by the majority of the American public, as Lloyd notes. An April 2021 Quinnipiac University poll, for example, found that 89 percent of Americans favor such a requirement, while only eight percent oppose universal background checks. A March 2021 Morning Consult poll had a similar result, with 84 percent of voters — including 77 percent of Republicans — supporting mandatory screening before gun sales. A 2018 Gallup poll found that Americans favored mandatory checks by a 92 percent to 7 percent margin.
Dan Flannery, a professor of psychiatry and pediatrics and director of the Begun Center for Violence Prevention Research and Education at Case Western Reserve University, says in an interview that enacting universal background checks is "an important first step" toward reducing gun violence.
But Flannery again cautions that the information reported in the system is limited, and may not necessarily detect everyone who is a threat to commit violence.
"It's not like you press a button and 'oh, they're on the list or, you know, a domestic violent extremist groups, or they have been treated with serious psychiatric disorder,'" Flannery says. Someone with mental health problems might slip through the system, unless a court at some point has committed that person to an institution.
The teenage gunman in the Uvalde shootings, for example, legally bought two rifles from a federally licensed gun store shortly after his 18th birthday, according to the Texas Tribune. The background check system didn't detect the disturbing behaviors noticed by friends and relatives, which are described by The Washington Post.
"Having more mental health resources, and threat assessment protocols for when kids who are identified who may be at risk, having those systems of supports in place is another thing," Flannery says. "Many of the school shooters in particular, have told someone else personally or on social media of their attempt, and there were opportunities to intervene."
Proponents of H.R. 8 face a difficult challenge in the Senate, where 60 votes are necessary for passage. When The New York Times surveyed GOP senators, it found that only four out of 50 even were open to considering universal background checks.
Though the Democrats could change the rule to allow a straight majority vote, Sen. Joe Manchin, the conservative Democrat from West Virginia, opposes such a move. Instead, Manchin told CNN's Manu Raju on Wednesday that he believes the magnitude of the latest tragedy in Texas will force the two parties to cut a deal on either background checks or federal "red flag" legislation advocated by President Biden. The latter would allow family members or law enforcement to petition judges to temporarily bar certain people from possessing firearms, on the grounds that they are a danger to themselves or others if armed.
Thompson, H.R. 8's sponsor, had harsh words for Senate opponents of his bill in an interview with the Santa Rosa Press Democrat on Tuesday. "What that boils down to is, there's too many gutless senators sitting on their hands instead of taking action that will save lives," he said.