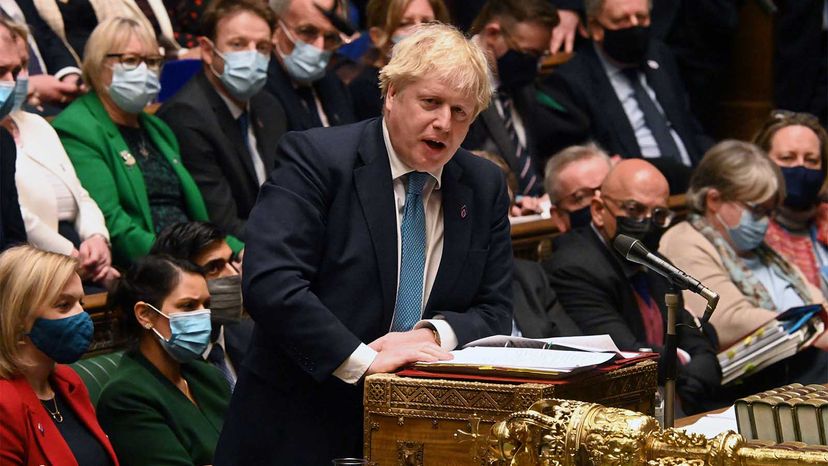 In late January 2022, British Prime Minister Boris Johnson sat in front of a table in a room in the Palace of Westminster in London, surrounded on all sides by benches filled with members of that nation's 650-seat House of Commons. Johnson listened, no doubt uncomfortably, as the man across the table from him, Leader of the Opposition Keir Starmer, castigated Johnson over allegations that the prime minister had attended parties at his residence during the nationwide COVID-19 lockdown in 2020.
"The ministerial code says that ministers who knowingly mislead Parliament will be expected to offer their resignation," Starmer said. "Does the prime minister believe that applies to him?"
Johnson rose to his feet, holding a folder of papers that he spread on the table before him and retorted that he couldn't comment on the ongoing investigation about the social events, and that as a lawyer, his critic should know that he had to remain silent. Johnson then tried to shift the attention to something else. "What I am focused on is delivering the fastest recovery of any European economy from COVID," Johnson replied.
Starmer wasn't through. He continued to press Johnson and called for the prime minister to resign. Johnson refused and countered his critic, accusing him of wanting to prolong the lockdown restrictions at cost to the U.K. economy, and disparagingly referring to the Labour leader as "Captain Hindsight."
Starmer responded by taunting Johnson for previously having said that in hindsight, he shouldn't have permitted a May 20 staff party at 10 Downing Street, the prime minister's residence.
All the while, the members of both Johnson's Conservative Party and the main opposition Labour Party hooted and hollered, like fans of rival teams at a sports event.