The first Christmas gifts were
from the Magi to the baby Jesus.
For many American family, gift giving at Christmas is a big attraction of the day. Where did this tradition originate? What are some classic holiday toys?
Find out everything you wanted to know about Christmas gifts as you expand your Christmas gift trivia with the fun facts below.
What is the Origin of Gift Giving?
The first gifts given at Christmas were from the Magi (Wise Men) to Baby Jesus. Later, in Roman times, gift giving was popular during Saturnalia, a winter solstice celebration. The tradition as we know it today is derived from St. Nicholas, a bishop who was known for giving children presents.
His long flowing red and white bishop's robes were the inspiration for Santa's modern-day costume. St. Nicholas Day, celebrated on December 6, marks a day for gift giving throughout Europe.
Did You Know?
You can spend your holidays in these destinations: Christmas, Florida; Santa Claus, Indiana; Noel, Missouri; and Rudolph, Wisconsin.
The Salvation Army collection kettle evolved from a large stewing pot set out in the streets of San Francisco in 1891 to collect money to provide Christmas dinner to 1,000 of the city's poorest residents.
In the United States, many retailers make up to 70 percent of their annual revenues in the month preceding Christmas.
More diamonds are purchased during the Christmas season than at any other time of the year.
The original Salvation Army collection kettle was a large stewing pot.
Can you Name Five Classic Holiday Toys?
Can't decide what to get the little tyke? Check out this list of America's favorite toys over the years, compiled by the Toy Industry Association.
The Rubik's Cube® is considered a classic holiday toy.
Parcheesi® game

1867
Lionel® train

1900
Crayola® crayons

1900
Teddy bear

1903
Rook® game

1906
Tinkertoys®

1914
Lincoln Logs®

1916
Radio Flyer® wagon

1917
LEGO® building set

1930
View-Master® 3D viewer

1938
Candy Land®

1949
Silly Putty®

1950
Mr. Potato Head®

1952
Play-Doh®

1955
Barbie® doll

1959
Etch-A-Sketch®

1960
G.I. Joe®

1963
Easy Bake Oven®

1963
Twister®

1966
Spirograph®

1966
Hot Wheels® racecar set

1968
Rubik's Cube®

1979
Cabbage Patch Kids®

1983
Trivial Pursuit®

1983
Magna Doodle®

1986
Pictionary®

1987
Teenage Mutant Ninja Turtles™

1988
What are America's Favorite Stocking Stuffers?

Silly Putty® is one of America's favorite stocking stuffers.

Candy
Nuts
Oranges
CDs and DVDs
Small stuffed animals
Playing cards
Silly Putty®
Lifesavers® Sweet Storybooks
Money
Stickers and stamps
Little dolls and toy cars
Crayons and markers
Movie tickets
Books
Lottery tickets
Lumps of coal
What is Toys for Tots?
In 1947 Diane Hendricks asked her husband, Bill, a major with the U.S. Marine Corps Reserves in Los Angeles to deliver a doll she had made to an agency that gave toys to needy children at Christmastime. He soon discovered that no such agency existed, so Diane encouraged him to start one. That Christmas, Bill and a group of Marine reservists delivered 5,000 toys.
The project was so successful that, in 1948, the Marine Corps adopted the Toys for Tots program and extended it across the nation. And so the legendary holiday charity was born. For the first national campaign, Walt Disney designed a poster for the program, as well as the Toys for Tots logo that is still used today. Through the years, celebrities have continued to lend their stature to the program.
In 1956, Nat "King" Cole, Peggy Lee, and Vic Damone recorded a Toys for Tots theme song written by Sammy Fain and Paul Webster. Bob Hope, John Wayne, Tim Allen, and Billy Ray Cyrus are among those who have volunteered their time and talents.
Since 1947, more than 335 million toys have been delivered to nearly 160 million children in approximately 500 communities across the United States and Puerto Rico. Without a doubt, the U.S. Marines play a major role in bringing joy to America's needy children at Christmastime.
Toys for Tots continues to be a popular charity with celebrities. In 2003, the New Jersey Nets Dance Team pitched in to support the Marines in their toy drive.
In 1914, to boost sales for his new invention, Charles Pajeau hired little people, dressed them as elves, and had them play with his Tinkertoys® set in the display window of a Chicago department store. The merchandising ploy was overwhelmingly successful. Over the next year, more than a million sets of Tinkertoys® were sold.
Toy Trivia: What American Toy was Banned in Japan in the late 1950's?
Mattel sells two Barbie® dolls per second, and 90 percent of American girls have had at least one Barbie® doll.
The first toy advertised on television was Mr. Potato Head® in 1952. Parents had to provide children with a real potato for the body until Hasbro introduced the hard plastic body in 1964.
In the United States, nearly 25 million hula-hoops were sold in just four months during 1958 and 1959. However, the toy was banned in Japan and the USSR as a "symbol of the emptiness of American culture."
The world's leading vehicle tire manufacturer is not Michelin or Firestone, but the LEGO Group, which produces more than 300 million tiny tires annually.
Game of the Century: Monopoly®
Toy of the Century: LEGO®
What Types of Materials were used to Wrap Gifts in the 1900s?
Believe it or not, Christmas gifts haven't always been presented wrapped in pretty paper. In the early days, toys and candies were dangled from the Christmas tree.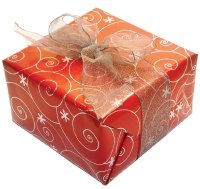 In the early 1900s, gifts were wrapped in white tissue paper
and red satin ribbon.
In the early 1900s, presents were wrapped in white tissue paper and red satin ribbon, with a bit of holly or fresh pine tucked into the ribbon. Straight pins were used to hold the paper together until tape became the standard.

By now, you should have more than enough Christmas trivia to carry you through the holiday season. Let's wrap things up with a final trivia test.Take a Christmas trivia quiz in our final section.