Besides Thanksgiving, Christmas is the only other time of the year where it's perfectly fine for people around the world to overindulge. There are so many delicious Christmas foods and desserts to choose from, its no wonder the average American eats 17 pounds of turkey each year!
Learn all about Christmas food as you test your Christmas food trivia knowledge with the tidbits below.

In America, Christmas dinner wouldn't
be complete without turkey.

What's for Christmas Dinner in America?
Baked ham
Turkey and stuffing
Mashed potatoes and gravy
Sweet potatoes
Green bean casserole
Winter squash soup
Waldorf salad
Cranberry salad
Parker house rolls
Divinity
Red velvet cake
Pumpkin pie
How many Turkeys are Consumed at Christmas each Year?
The largest turkey on record weighed 86 pounds, about the size of a large dog.
Native Americans used turkey feathers to stabilize arrows.
Twenty-two million turkeys are consumed each year at Christmas, compared to 45 million at Thanksgiving.
On average, each American eats more than 17 pounds of turkey annually.
What is Figgy Pudding?
Before you sing, "Now bring us some figgy pudding," it might be helpful to know exactly what you are requesting. Figgy pudding is an English dish similar to bread pudding. Made from figs, bread crumbs, cinnamon, nutmeg, and milk, the pudding is baked, then topped with a scrumptious brandied hard sauce, custard icing, powdered sugar, or whipped cream.
The dish was immortalized in the song We Wish You a Merry Christmas and was served by Mrs. Cratchit in the Charles Dickens classic A Christmas Carol.
What is fruitcake?
Fruitcake früt-k¯ak n (1848) 1: a rich cake containing nuts, dried or candied fruits, and spices; 2: a foolish, eccentric, or crazy person.
What is Christmas without fruitcake? Indeed, this chewy, rich confection is a staple of the holidays, but what, exactly, is it? It is called a cake, but because it is chock-full of nuts and candied fruits, it resembles a candy bar. When sliced, pieces can be passed off as cookies.
In ancient times, fruitcake was made with raisins, pomegranate seeds, and pine nuts mixed together with barley mash. Later, honey, spices, and candied fruits were added. Because of fruitcake's consistency and longevity, early warriors and hunters carried it with them on long journeys.

This rich fruitcake is a staple of the holidays.


In the 1700s, Europeans baked ceremonial fruitcakes at the end of the nut harvest, saved them, and then ate them at the beginning of the next year's harvest. This was done with the hope that it would bring another successful harvest.
Also, throughout Europe during this time, the consumption of fruitcake (also called plum cake) was restricted to special occasions because of its "sinfully rich" taste. Those laws were later rescinded, and fruitcake became an essential of the Victorian tea era.
In 18th-century England, it was believed that unmarried wedding guests who put a slice of fruitcake under their pillow at night would dream of the person they were destined to marry.
What is The Legend of Bûche de Noël?
A classic French dessert, Bûche de Noël is a delicious confection of chocolate cake and rich pastry cream rolled into the shape of a log. The cake symbolizes the belief that a large log should burn continuously on Christmas night.

Bûche de Noël symbolizes the belief that a large log should burn
continuously on Christmas night.
If it goes out, it means bad luck in the coming year. The next morning, the ashes from the log are scooped up and kept as a good luck charm to heal sickness, bring on needed rain, and guarantee success in business.
What is Gingerbread?
Whether baked into delicious spiced cakes or crunchy, flat cookies, or used to build a "house," gingerbread has been a European delicacy for centuries. As the dessert spread throughout Western Europe, ginger-bread became a part of local traditions. In England, unmarried women would eat gingerbread "husbands" for luck in meeting the real thing.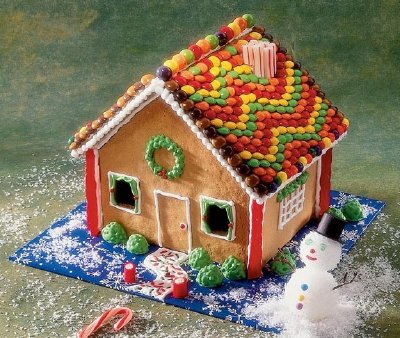 The famous lebkuchen gingerbread in Nuremberg is considered to be
the best gingerbread in the world.


On festival days, images of saints would be stamped in gingerbread and sometimes iced. Today, gingerbread is often associated with Germany and its holiday traditions. Gingerbread hearts are commonly found at fall fairs, decorated with colored icing and tied with ribbons.
In December in Nuremburg, the "gingerbread capital of the world," the Christkindlmarkt features the famous lebkuchen, which is considered to be the best gingerbread in the world.
Can you name the most Popular Holiday Treats?

Some popular holiday treats include mince pie, pumpkin pie, and fruitcake.

Candy canes
Gingerbread
Chestnuts
Fruitcake
Bûche de Noël or Yule log cake
Rum balls
Chocolate truffles
Meringue kisses
Divinity
Mince pie
Pumpkin pie
Homemade fudge
Frosted sugar cookies
Toffee
So you've learned about everything from figgy pudding and fruitcake to interesting facts about turkey. Are you ready to exchange some unusual facts about Christmas gifts? Continue to the next section to test your Christmas gift trivia knowledge.