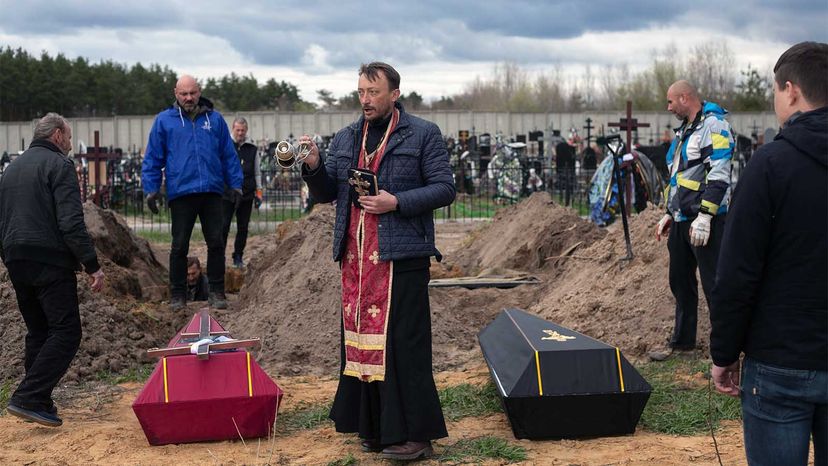 After Russian forces invaded Ukraine in February 2022, the world was shocked by horrifying revelations of the systematic mass slaughter of Ukrainian civilians. After the Russians pulled back from Bucha, a suburb of the Ukrainian capital of Kyiv, scores of residents were found shot to death in the streets, including some who had their hands tied behind their backs and showed signs of torture, according to this report from Radio Free Europe/Radio Liberty. Others were discovered buried in mass graves, including hundreds at a 45-foot-long (13-meter-long) trench the church of St. Andrew Pervozvannoho All Saints.
The carnage shocked the world. Even so, U.S. President Joe Biden still stirred controversy when, for the first time, he used a specific term to describe the Russians' crimes: genocide.
"I called it genocide because it's become clearer and clearer that Putin is just trying to wipe out even the idea of being Ukrainian," Biden told reporters before he boarded Air Force One April 12, 2022. "The evidence is mounting."
Biden's choice of words was momentous, because he was accusing the Russians of committing one of the most monstrous offenses imaginable.
The term genocide was first coined during World War II by Polish lawyer Raphael Lemkin. It described the mass extermination committed by Nazi Germany during the Holocaust, when a systematic effort succeeded in wiping out 6 million Jewish lives in Europe. Lemkin, who lost 49 members of his own family, including his parents, framed the term from the ancient Greek word genos (meaning race or tribe) and the Latin term cide (meaning killing).
Lemkin defined genocide in a way that rose above the typical brutality of war and collateral damage that it invariably inflicts upon non-combatants. In genocide, Lemkin wrote in 1945, "The intent of the offenders is to destroy or degrade an entire national, religious or racial group by attacking the individual members of that group."
Lemkin's idea that the systematic effort to kill an entire group of people was as much of a crime as any one murder eventually caught on. In 1948, the United Nations General Assembly enacted Resolution 260, which officially designated genocide as a crime under international law. In 1998, the Rome Statute of the International Criminal Court also listed genocide as one of the crimes under its jurisdiction.