Becoming a Secret Service Agent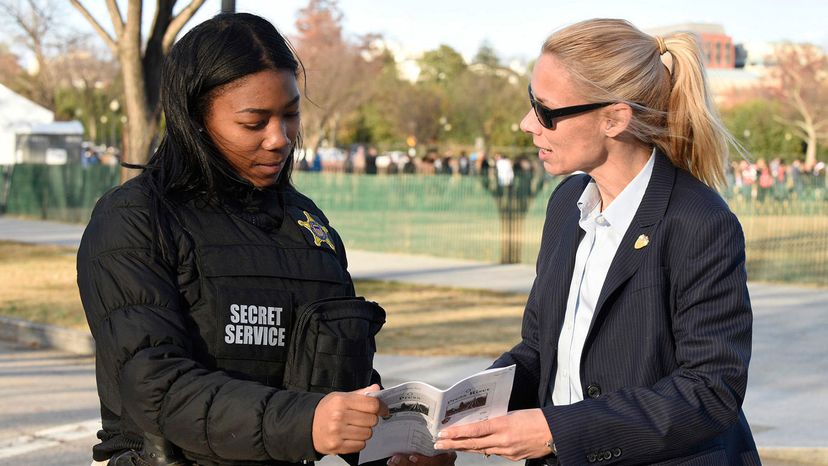 Two female Secret Service agents confer at the 2016 National Tree Lighting ceremony in Washington, D.C.
Secret Service
So you want to become a Secret Service agent? Before you can even apply for the job, you must be a U.S. citizen, between the ages of 21 and 37 and have a urinalysis screening to check for illegal drug use. You shouldn't have any visible tattoos or piercings, and will be subject to age, vision and physical condition requirements. You may have to pass a polygraph test and/or medical exam, too, depending upon the position for which you're applying. In addition, all prospective agents must pass a Top Secret security clearance process, which can take up to nine months. The Secret Service generally looks for those with a bachelor's degree or equivalent education and experience [sources: United States Secret Service].
If you make it past the written exam and interview, you'll be sent to the Federal Law Enforcement Training Center in Glynco, Georgia, for a 10-week training program, which focuses on investigation techniques and criminal law. After that you'll move on to an 18-week course in special agent basic training, held in Washington, D.C. This program teaches organizational policies and procedures, marksmanship and emergency medicine, among other subjects.
Once officially on the job, agents typically serve several years in a U.S. field office, then a few more in a protective assignment. After that, you may have a choice of working in the field, at the agency's headquarters in Washington, D.C., or in training. In addition, if you're fluent in a foreign language, you may be able to work overseas.
During your early years in protection, you will not be protecting the current president. Those jobs go to longstanding agents. Instead, you'll likely be assigned to a former president's detail. You may also work at a "standing post," which means manning the security perimeters at a presidential event. For example, if the president is speaking at a hotel, you might be assigned to stand in a stairwell for several hours after it has been checked and cleared [source: Nguyen].
You may also be called upon to travel at a moment's notice. Let's say you're working in a field office and the president is traveling somewhere in your state to speak. You may be tapped to serve in a standing post at that event. You'll get extra pay for the extra work, but you may not be able to turn it down.
If you're offered the job, you'll be hired as a federal government employee at the GL-07 or GL-09 level, depending upon your education and experience. The pay range depends on where you end up working and your actual job.