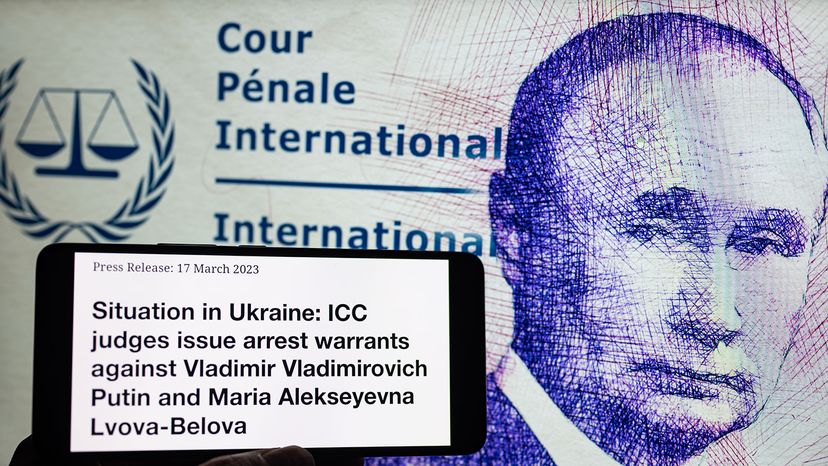 The International Criminal Court issued an arrest warrant for Russian President Vladimir Putin March 17, 2023, over war crimes in Ukraine, alleging he bears "individual criminal responsibility" for abducting thousands of children from occupied parts of the country.
Russia's Commissioner for Children's Rights, Maria Alekseyevna Lvova-Belova, was also cited by the court on similar charges.
They mark the first arrest warrants the independent tribunal, based in The Hague, has issued since Russia launched a full-scale invasion of Ukraine in February 2022.
But the development will not guarantee the imminent arrest of Putin. The ICC, as it is often called, does not have its own police force and requires other supporting countries to enforce their warrants.
"The ICC is doing its part of work as a court of law. The judges issued arrest warrants. The execution depends on international cooperation," the court's president, Piotr Hofmanski, said in a statement March 17.
As Russian police aren't likely to arrest their country's leader, as long as Putin remains inside Russia, he is probably safe.
Since Russia launched an invasion of Ukraine in February 2022, the Ukrainian government, Western powers and the United Nations have collected evidence of Russian violations of international humanitarian law, such as war crimes. This includes widespread sexual violence and the forced abduction and transfer of thousands of Ukrainian children to Russia.
Since 1998, I have worked in securing forensic evidence of these types of crimes in Afghanistan, Guatemala and other places. To me, it is apparent that identifying and collecting evidence of international crimes like killing civilians during conflict is beyond the capabilities and resources of local police crime scene teams, criminal investigators and prosecutors.
It's also likely that the full extent of war crimes committed by both Ukraine and Russia won't be credibly investigated and possibly prosecuted until after the war finally ends.
It surprises me that arrest warrants would be issued for the abduction of Ukrainian children. In order to successfully prosecute this crime, investigators will need to show that not only did the alleged abductors take the children against their will, but that they also did not intend to return the children to their legal guardians. This can be more challenging to prove than other kinds of war crimes.
To put these upcoming indictments into perspective, it is also useful to remember that the International Criminal Court, an independent tribunal based in The Hague often known as the ICC, tends to focus on high-level cases that go after political leaders and is not tasked to provide answers to families of all victims.