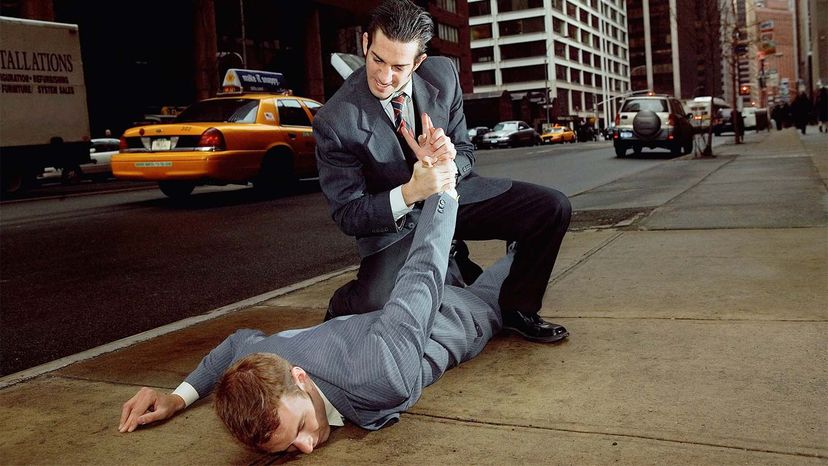 On Aug. 19, 2018, three people clad in hooded sweatshirts allegedly entered an Apple Store in Thousand Oaks, California, grabbed iPhones and computers valued at $18,000 and then ran out of the store, according to a Ventura County Sheriff's Office press release. But two of the suspects didn't get very far. Instead, other customers in the area tackled the two and detained them until police could arrive.
A Sheriff's Department spokesman said he was happy that the bystanders got involved. "These items are relatively small and very expensive so if they get away with a few things in their hands these are very easy to transfer into cash," Capt. Garo Kuredjian told local TV news station KCAL.
It's not the first time that ordinary people who weren't law enforcement officers have captured crime suspects. One of the most celebrated cases is the capture of serial killer Richard "Night Stalker" Ramirez in 1985 by a group of East Los Angeles residents. After Ramirez tried to steal two cars and assaulted a woman, they chased him down and forced him to sit on the curb until police arrived, according to a 2013 Los Angeles Times retrospective.
The custom of citizen's arrest dates back to medieval England, according to a 2016 article on the subject by American University law school professor Ira P. Robbins in the Cornell Journal of Law and Public Policy. The Statute of Winchester in 1285 not only gave ordinary people the right to arrest others who committed crimes, but actually obligated them to help in the apprehension if a constable or another citizen raised the hue and cry that a suspect was escaping. And people making a citizen's arrest in those days had broad authority. They didn't need proof that a crime actually had been committed, and the statute exempted them from being punished for making a mistaken arrest.