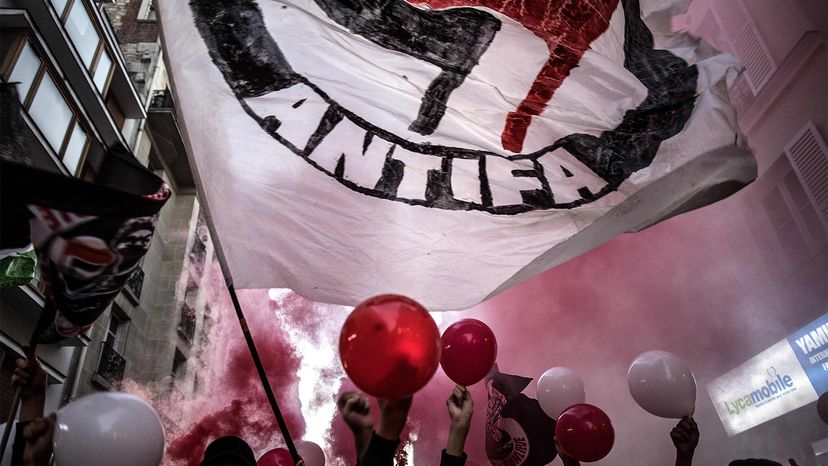 When cities across the nation erupted into disorder in late May 2020 following the killing of an African American man named George Floyd by Minneapolis police, the Trump administration was quick to place the blame on a left-wing protest movement with an exotic-sounding name.
"The violence instigated and carried out by Antifa and other similar groups in connection with the rioting is domestic terrorism and will be treated accordingly," Attorney General William Barr proclaimed in a press release. President Trump weighed in as well, tweeting that the U.S. government would be designating the group a "Terrorist Organization," a legal designation that technically is only applied to foreign organizations. In early June 2020, the White House official account tweeted that Antifa activists were "invading our communities" and posted video footage that supposedly showed supplies of bricks that had been pre-placed for use as weapons. (The White House later removed the video, which the Washington Post and other news outlets reported contained misleading images.)
For all that furor, arrest records and interviews with law enforcement officials yielded no evidence that Antifa activists had plotted a coordinated campaign or even had been a significant presence in the unrest following Floyd's death, according to The New York Times. Instead, the newspaper reported, federal prosecutors had attributed most of the violence to individuals unconnected with any group.
Many Americans may have heard of Antifa for the first time back in the summer of 2017, when T-shirt clad counter protesters, their faces masked with bandanas, showed up to confront white nationalists marching in the streets of Charlottesville, Virginia. In the ensuing clash, scores of people were injured, including a young woman who was killed when a car rammed into the crowd. Since then, Antifa activists have clashed with far-right groups in Berkeley, California, and Washington, D.C., among other places.
Antifa isn't easy to understand from the outside, because unlike most of the prominent political movements that we're familiar with, it's decentralized and lacks prominent leaders. And unlike environmentalists, civil rights or police reform activists, Antifa doesn't have big-picture policy objectives that it aims to accomplish. Instead, Antifa is a loosely organized alliance of people who join forces to oppose far-right groups whenever they show up in local communities, according to Stanislav Vysotsky. He's an associate professor of sociology and criminology at the University of Wisconsin-Whitewater who's been studying the movement for years, and is the author of a soon-to-be-published book, "American Antifa: The Tactics, Culture and Practice of Militant Antifascism."
"It's always in response to fascist activity," says Vysotsky, who also has written about Antifa for The Conversation. "You tend not to see anti-fascist activity where there aren't any fascists."