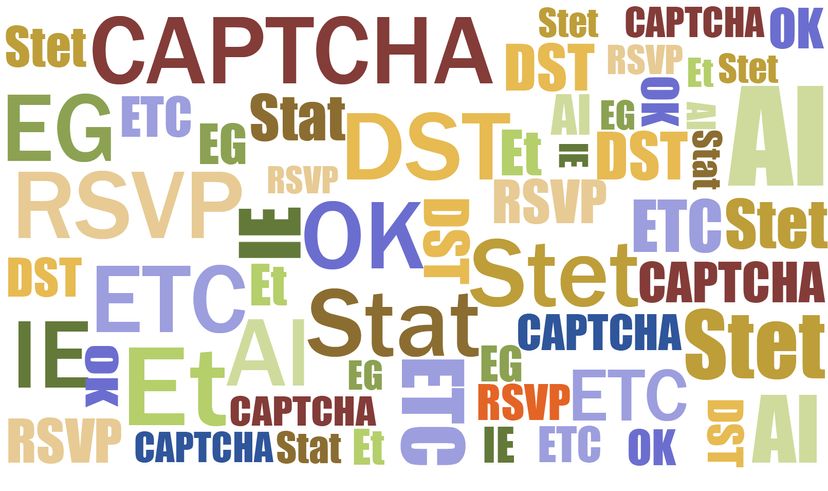 Image: HowStuffWorks
About This Quiz
Abbreviations are supposed to make things easier, but when people misuse or misunderstand them it often does just the opposite. How well do you know these commonly flubbed abbreviations? Take our quiz to find out!
Which abbreviation means "for example"?
E.g. is the Latin shorthand for exempli gratia, which means "for example." It's often mistakenly interchanged with i.e., a Latin abbreviation for id est or "in other words."
What does the popular abbreviation "BAE" or "bae" stand for?
Not to be confused with Queen Bey (Beyonce, naturally), BAE is a modern term of endearment. Although in Danish it means "poop." So, watch where you say it!
What does the abbreviation OK (as in "all right") stand for?
This one has an interesting backstory. OK was coined by a Boston newspaper in 1839 and was trendy shorthand for "oll korrect" or "all correct." The term stayed alive with the invention of the telegraph as a standard way for operators to acknowledge receipt of a telegram.
When you see RSVP on an invitation, what does that mean?
You should let the host know whether or not you're attending the event
RSVP stands for répondez, s'il vous plaît, a French expression meaning "respond if you please" or "please reply." In other words, guests receiving an invitation with an RSVP should always let the host know whether they plan to attend or not.
You only need to inform the host if you're NOT attending.
You only need to inform the host if you ARE attending.
If you watch TV medical dramas, you've probably heard this term when doctors are rushing around to save a patient's life. What is it?
"Stat!" is what those doctors shout, which is another way of saying a situation is urgent. It's a Latin abbreviation for statum, which means "immediately." ("Stet" is a Latin word which you might see on a manuscript, meaning "leave as is" or ignore a correction. Stot, we just made up.)
What does DST stand for?
Although people often add an "s" on the end, the correct pronunciation is daylight saving time, the period when we put our clocks ahead one hour and complain about waking up in the dark.
You've probably been asked at one time or another to complete a "CAPTCHA." What does it stand for?
Captive Audience Purpose to Catch Humans Aware
Completely Automated Public Turing Test to tell Computers and Humans Apart
CAPTCHA technology actually blocks spammers and bots bent on wreaking havoc on the internet. So the next time you have to "click all the pictures that show a pigeon" try not to be annoyed. It's actually a helpful service.
Computer Activated Program to Catch Hackers Already
While enjoying which sport would you be most likely to encounter the abbreviation, HALO?
It's a very important acronym for skydivers, as it stands for "high altitude, low opening."
If a doctor prescribes a medicine with the abbreviation "a.c." noted, what are you supposed to do?
Take the medicine before meals.
Don't worry, most prescription instructions are spelled out much more clearly than this bit of medical jargon which means before a meal (another Latin phrase, ante cibum.)
Take the medicine as called for.
Take the medicine after a colonoscopy.
You might see this term "et al." in a study or academic paper. What does it mean?
It's another way of saying etc.
There are a whole lot of other authors that have not been mentioned.
"Et al.", which always takes a period after "al", is a Latin abbreviation for et alia or in English "and others." It's used when a particular paper or work has more than two authors and it would be very cumbersome to list all the names.
HowStuffWorks