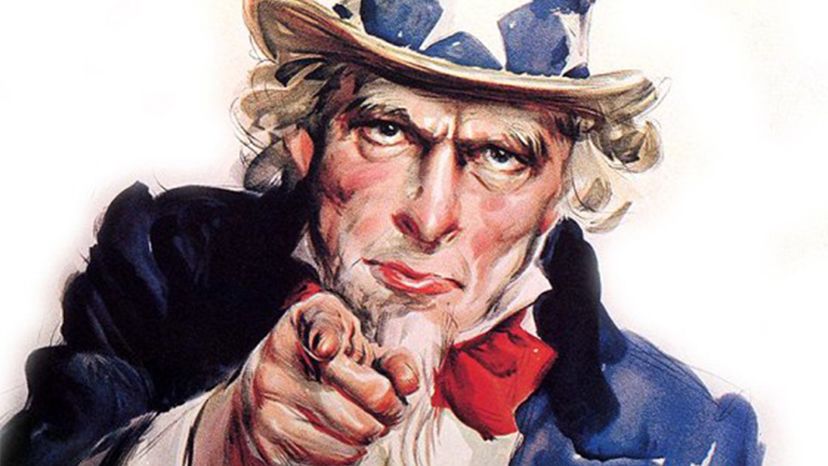 When white-haired Uncle Sam leans forwards, fixes a penetrating gaze upon you and points, there's nowhere to hide. He's a man with authority. Dressed in red, white and blue, he's got the full weight and power of the United States of America behind him.
And he wants YOU!
So, just who is this guy Uncle Sam? Where did he come from?
Well, the most famous image of Uncle Sam, created in 1917, is the work of artist James Montgomery Flagg, a painter and illustrator who was asked to create propaganda posters during WW I. Flagg was inspired by a poster of British Minister of War, Lord Kitchener. Flagg, however, used his own face as a model, adding wrinkles and a beard. The poster was printed more than 4 million times in the last year of the war, but Uncle Sam had a life long before that.
"The term 'Uncle Sam' was believed to have come into use during the War of 1812," says Don Hickey, history professor at Wayne State College in Wayne, Nebraska. It was long thought to derive from one "Uncle Sam" Wilson, a Troy, New York, meatpacker who supplied barrels of beef to the army during the War of 1812. The barrels were stamped "U.S." indicating they were government property, and soldiers called them Uncle Sams.
The New York Gazette popularized this story in a 1930 article. The explanation had such credence that Congress passed a resolution in 1961 recognizing Sam Wilson as being the origin of the name.
But historian Hickey finds this tale to be flawed, as detailed in his paper on the subject in the December 4, 2015 issue of The New England Quarterly.
And in 2013, the USS Constitution Museum uncovered an 1810 diary entry from a slightly disgruntled 16-year-old sailor serving on the USS Wasp. The sailor wrote that he'd been so seasick he would have gone ashore if he could. He wrote:
"I swear that uncle Sam, as they call him, would certainly forever have lost the services of at least one sailor." This reference shows that Uncle Sam "was clearly part of Navy lingo as early as 1810," Hickey says.
Several other references that show early uses of the term also tend to discredit the Sam Wilson story.
"The whole origin story was wrong," says Christopher Philippo, author and trustee of the Lansingburgh (New York) Historical Society. However, Philippo did uncover a letter written by the minister at Sam Wilson's funeral. In the letter the minister wrote that he'd often talked with Wilson "about the circumstances which led to the singular transfer of his popular name to the United States."
"The Sam Wilson story may have helped popularize the nickname," Philippo says.