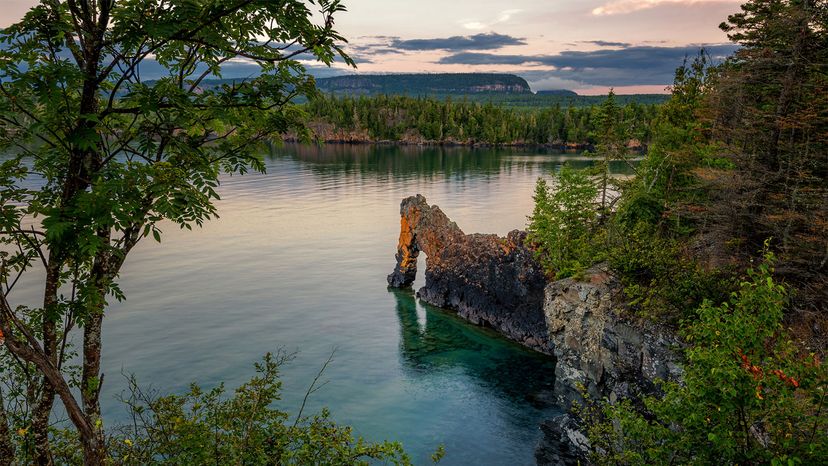 Image: Posnov/Getty Images
Which is the smallest of North America's Great Lakes?
To help you remember, here's a mnemonic that lists the lakes from biggest to smallest: Super Heroes Must Eat Oats. (Superior, Huron, Michigan, Erie, Ontario.)
Let's say you're working on a mathematical expression. Which operation should you calculate first?
Think "Please Excuse My Dear Aunt Sally" (parentheses, exponents, multiplication, division, addition, subtraction.)
Calling all band geeks! On the treble staff, what note comes after "B"?
Repeat after us: "Every Good Boy Deserves Fudge." (E, G, B, D, F.)
Which of the following countries is not located in Central America?
You're gonna love this one. The mnemonic is "Big Gorillas Eat Hotdogs, Not Cold Pizza." (Belize, Guatemala, El Salvador, Honduras, Nicaragua, Costa Rica, Panama.)
Moving on to climate science, what's the uppermost layer of Earth's atmosphere?
From lowest to highest, Earth's atmospheric layers are the troposphere, stratosphere, mesosphere, thermosphere, and exosphere. To remember the rankings, say "The Strong Man's Triceps Exploded."
Who's on the U.S. fifty-dollar bill?
Here's your handy, dandy currency portrait mnemonic: "When Jeff Left Home, Jack Got Fat." (Washington $1, Jefferson $2, Lincoln $5, Hamilton $10, Jackson $20, Grant $50, Franklin $100.)
In the biological classification system, what rank falls between a species and a family?
It goes "domain, kingdom, phylum, class, order, family, genus, species." ("Do Kings Play Cards On Fat Green Stools?")
Of the three elements listed below, which one is diatomic?
Hydrogen, nitrogen, fluorine, oxygen, iodine, chlorine, and bromine are "diatomic," meaning they've only got two atoms each. Keep saying "Have No Fear Of Ice-Cold Beer" and you'll never forget which elements made the cut.
Complete this sentence: Venus is the ______ planet from the sun.
The eight planets in our solar system are — in order — Mercury, Venus, Earth, Mars, Jupiter, Saturn, Uranus, and Neptune. (Think "My Very Excellent Mother Just Served Us Nachos.")
To close out the quiz, we're switching things up a bit. "ROY G. BIV" is a famous mnemonic. What is it supposed to help you remember?
the colors of the rainbow
Say it with us: The colors of the rainbow are red, orange, yellow, green, blue, indigo and violet. Thanks, Roy!
assorted poop consistencies
Henry VII's ill-fated wives
Posnov/Getty Images