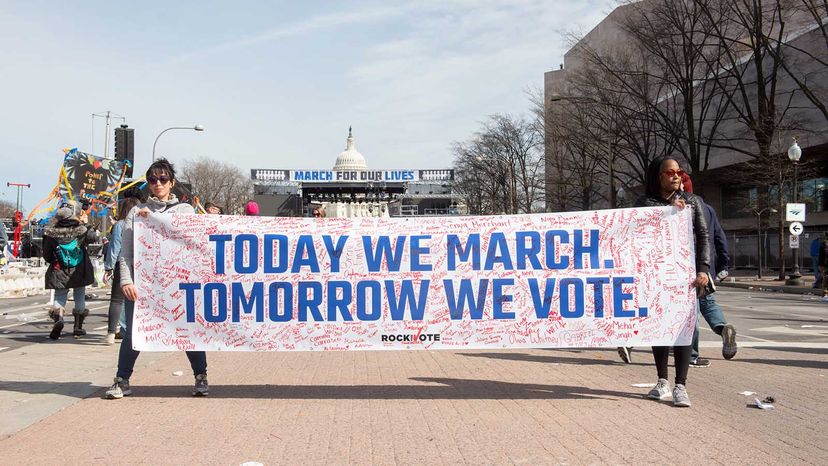 I'm a mother of two daughters — one 20, one 16 — and I've been taking them to the polls with me to vote their entire lives. I remember taking my oldest daughter, Isabella, in her car seat for the 2000 presidential election between George W. Bush and Al Gore. She was just a couple of months old, and because our address changed, we had to visit three polling locations before I found the right one. Luckily, she was a good baby.
Recently, Isabella and I got the chance to vote together for the first time during the presidential primary in Atlanta. Afterward, we posted a photo on social media, of course. But young people Isabella's age haven't always had the right to vote in the United States. It wasn't until July 1, 1971, when the 26th Amendment to the Constitution was ratified, that the voting age was lowered from 21 to 18.
It grew out of protests that started as far back as World War II. At that time, people were demonstrating under the battle cry "Old enough to fight, old enough to vote." But the voting age wasn't actually lowered until major protests against the Vietnam War, the draft lottery and the fact that men as young as 18 were being drafted but couldn't vote.
That time, they were successful in getting the 26th Amendment ratified. It states:
The right of citizens of the United States, who are eighteen years of age or older, to vote shall not be denied or abridged by the United States or by any State on account of age.
Today social media networks are filled with young people offering political opinions, but the United States has a historically low rate of turnout among young voters, according to Rock the Vote, which has been working to empower young voters since 1990.
While 18- to 29-year-olds are interested in politics, statistically, they don't turn out to vote as much as other age groups. Will the 2020 election be the year that changes that? We talked with some first-time presidential election voters to find out what's driving them to the polls.