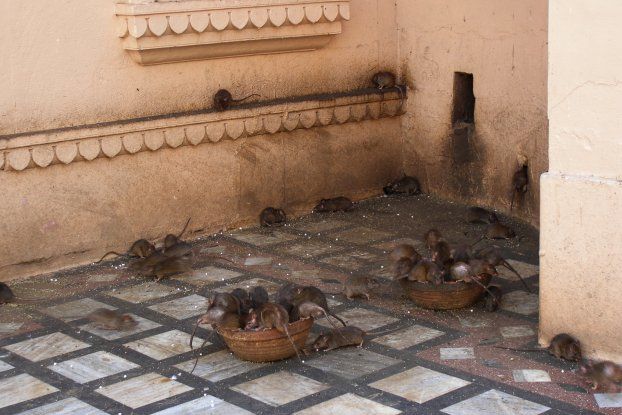 The temple to Karni Mata near Deshnoke, India, is home to thousands and thousands of rats, who believers consider to be reincarnated members of the Charan clan of storytellers and bards.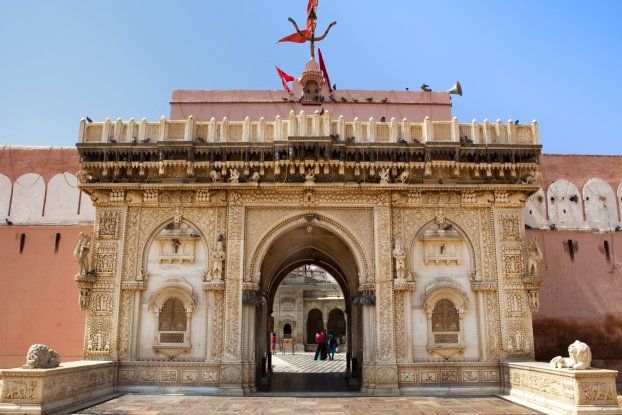 The temple's current exterior was built in the early 20th century by Maharaja Ganga Singh. It replaced a 19th-century structure, which had replaced an older courtyard. The innermost temple is hundreds of years old.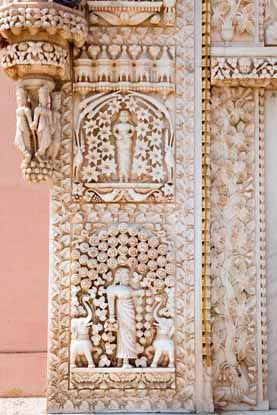 The temple exterior follows late Mughal-style architecture, the same style as the Taj Mahal. It features lots of domes, arches and carved marble. This style of architecture was common from the 16th to 18th centuries in India.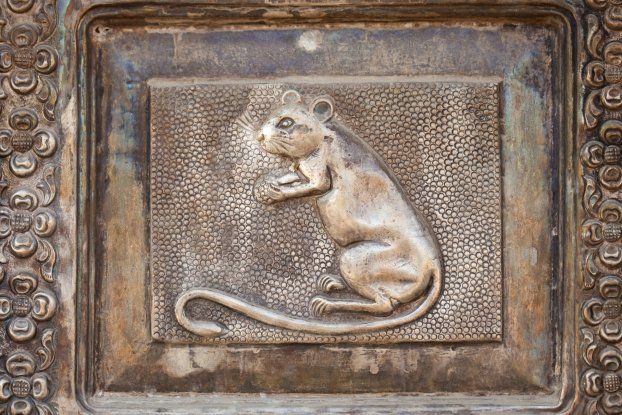 In addition to carvings of Karni Mata and the Hindu god Ganesh, artwork in the temple includes depictions of rats.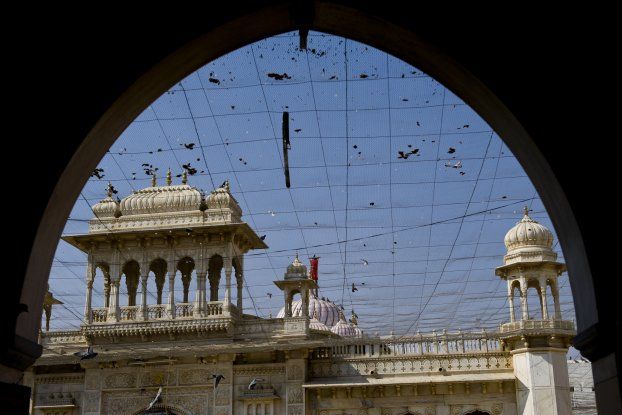 A mesh ceiling covers the courtyard to protect the rats who live inside. There are also tunnels and holes throughout the temple for rats to live in.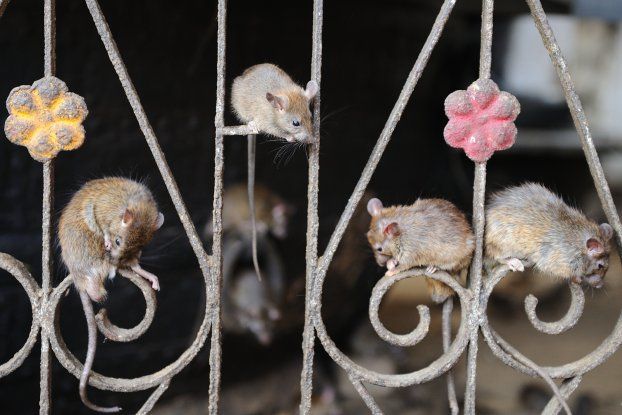 The rats who live in the temple are believed to be reincarnated members of Karni Mata's clan. Karni Mata was a 15th-century sage and mystic who herself was believed to be an incarnation of the Hindu goddess Durga.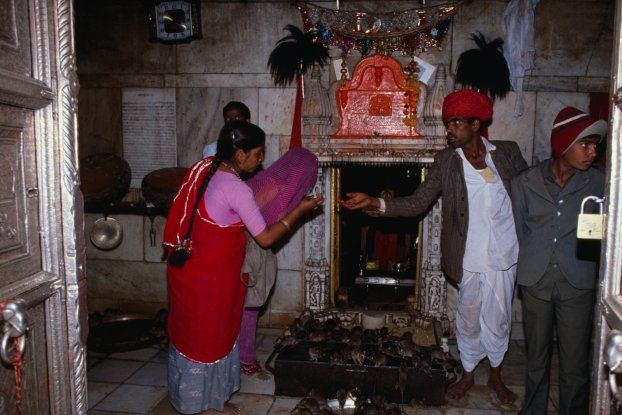 Jane Sweeney/Lonely Planet Images/Getty Images
Here you can see people and rats inside the temple. According to the story, a child in Karni Mata's clan had died. She went to Yama, the god of death, to ask for him to be returned to life.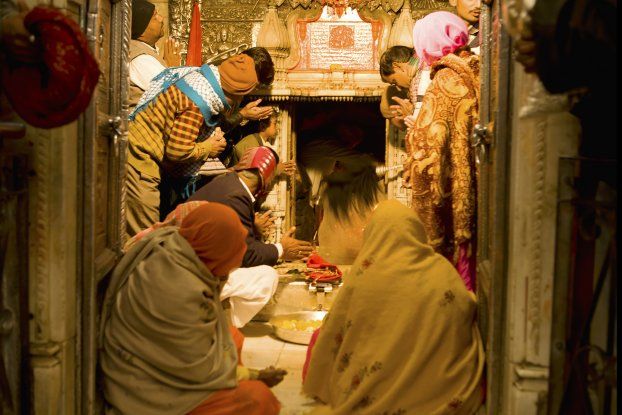 Cormac McCreesh/Gallo Images/Getty Images
When Yama said the boy had already been reincarnated, Karni Mata arranged for all of her clan to be returned to life as rats before being reborn into the clan. In this image, worshipers gather within the temple.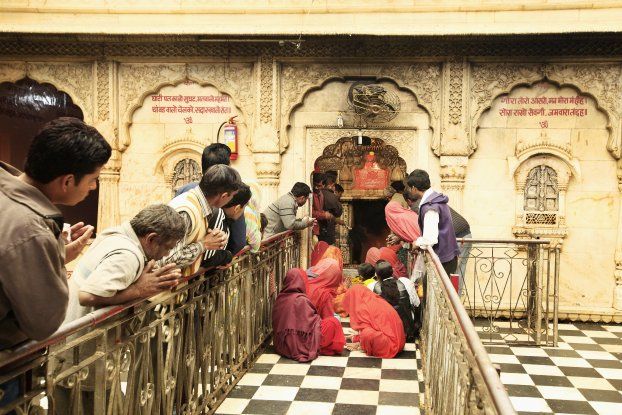 © Atlantide Phototravel/Corbis
Today, pilgrims visit the temple to worship, pay homage and receive blessings, especially grooms-to-be and newlywed couples.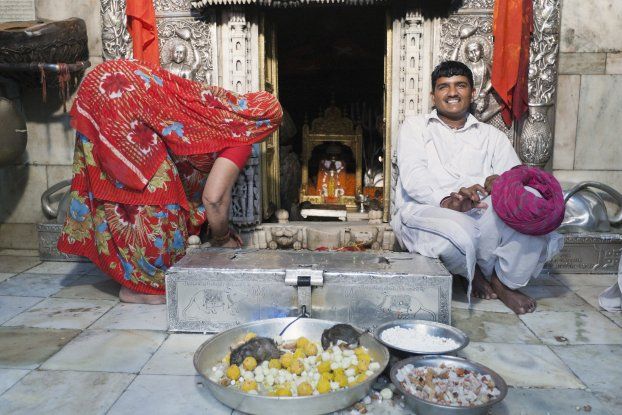 The rats, known as kabbas, are treated with reverence and respect. They're given coconut, a sweet food known as prasad and other delicacies to eat.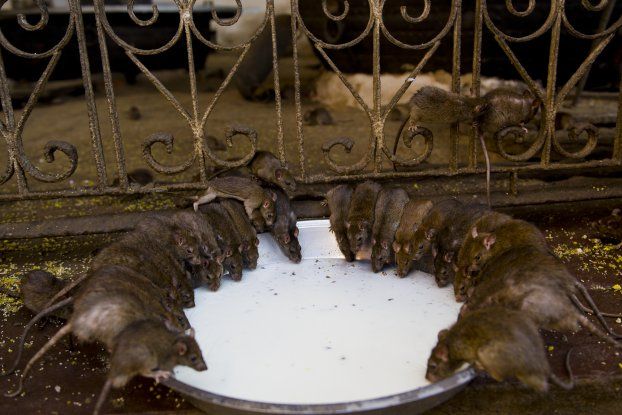 The rats are also given milk to drink.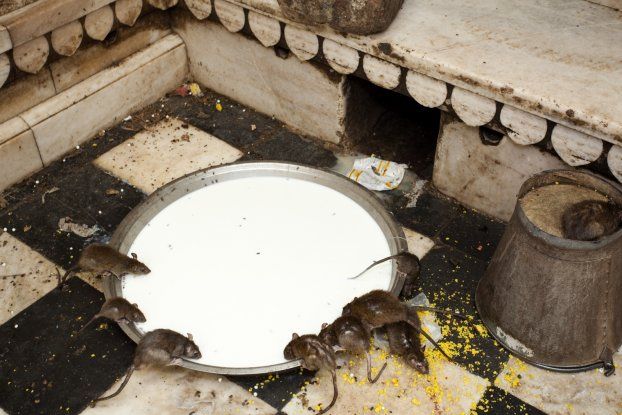 Visitors must remove their shoes before entering the temple. Anyone who accidentally kills a rat must replace it with a gold rat statue.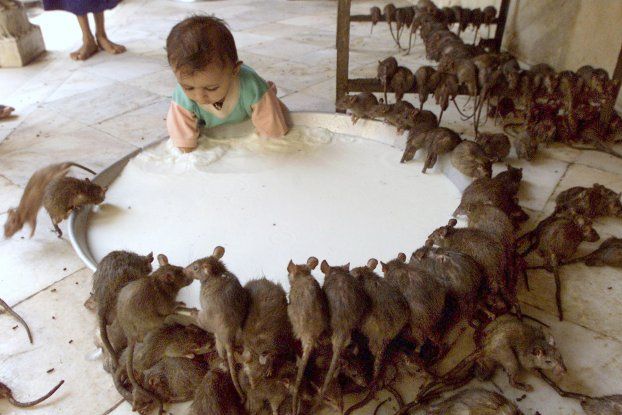 Eating or drinking after a rat is considered to be particularly auspicious, as is seeing one of the temple's few white rats or having a rat run across your feet. The white rats are believed to be incarnations of Karni Mata and her family.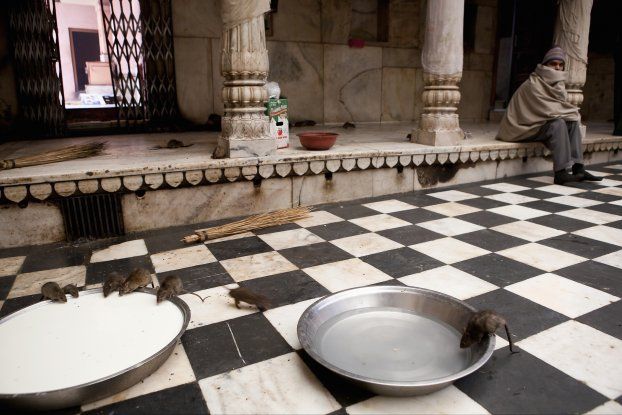 Dori Moreno/Gallo Images/Getty Images
Descendants and devotees of Karni Mata are responsible for cleaning and maintaining the temple and caring for the rats.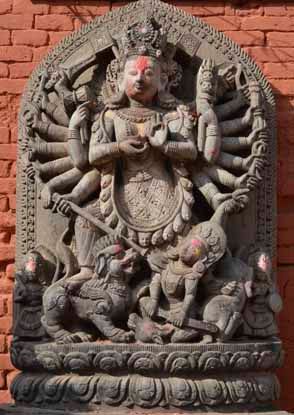 Her followers believe Karni Mata to be the incarnation of the Hindu goddess Durga, shown here in a carving.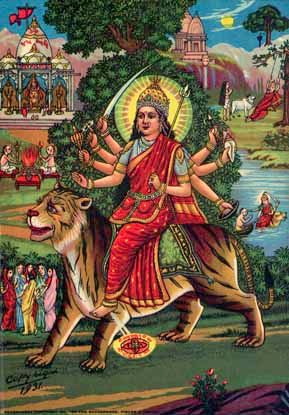 Durga rides a lion or tiger and carries a holy weapon in each of her many arms. The gods brought her into being to fight the invincible buffalo demon Mahisasura. After a 9-day battle, she won.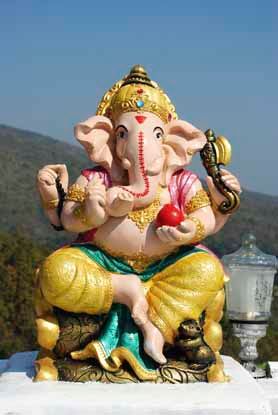 Karni Mata isn't the only figure associated with rats in the Hindu religion. The elephant-headed god Ganesh is often depicted riding a rat or with a rodent at his feet.