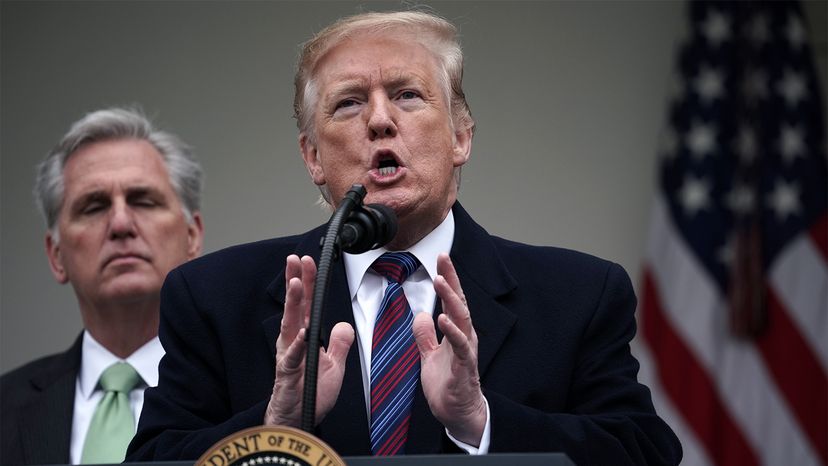 On Friday, Jan. 25, 2019, President Donald Trump finally put an end to the longest government shutdown in U.S. history that resulted over his demand that Congress provide $5.7 billion to build a 234-mile (377-kilometer) portion of his promised wall along the U.S.-Mexico border. But there was a caveat: The bill passed was a three-week stopgap spending bill and if Congress and Trump can't come to an agreement by Feb. 15, he is threatening to build his wall by invoking the National Emergencies Act, a 1976 law that allows a president to take dozens of different actions without Congressional approval in the event of a crisis.
"If we don't get a fair deal from Congress, the government will either shut down on Feb. 15, or I will use the powers afforded to me under the laws and Constitution of the United States to address this emergency," he said in a speech in the Rose Garden on Jan. 25, 2019.
And according to reporting by CNN, the draft proclamation for Trump to declare a national emergency has been underway for several weeks. It includes $7 billion for a border wall, and would also direct the U.S. Department of Defense to be in charge of its construction, circumventing Congressional authority altogether.
At this point, you may be wondering: What exactly, is a national emergency, anyway? And can a president really declare one to get around Congress?
Unfortunately, neither of these questions has a clear answer. The law that allows presidents to declare national emergencies doesn't really define what constitutes such a dire situation, and up to this point, the limits that the law imposes upon presidential authority haven't been tested by a situation of this sort.
As this 2007 Congressional Research Service (CRS) report details, the idea of giving the president emergency powers dates back to the nation's beginnings. In 1792, after distillers in Pennsylvania, Virginia and the Carolinas resisted paying a federal tax on whiskey, Congress passed a law giving a president the authority to proclaim an emergency and call up a militia in response to an insurrection or invasion. President George Washington waited two years to invoke those emergency powers and put down the uprising by force.