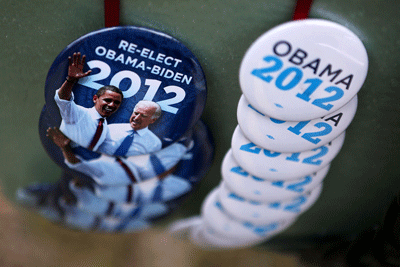 Getting a candidate into the Oval Office is a costly affair. The 2012 campaign to reelect President Barack Obama, for instance, spent more than $14 million in April of that year alone, with a bulk of its budget going to personnel salaries, as well as television and online advertising. Considering that the campaign dropped more than $23,000 on text messaging services alone that month, election buttons like these are probably considered a drop in the bucket.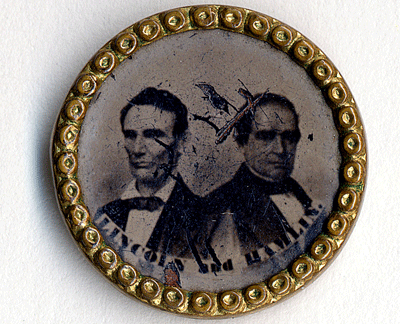 George Eastman House/Getty Images
A 2008 article published in USA Today reported that the process for manufacturing campaign buttons was patented in 1894, 34 years after this button featuring Abraham Lincoln and his running mate, Hannibal Hamlin, was produced. The value of a campaign button doesn't necessarily rely on whose face is featured on it but rather on scarcity. The fewer of a specific type of campaign button that were made, the higher price it can fetch at an auction house.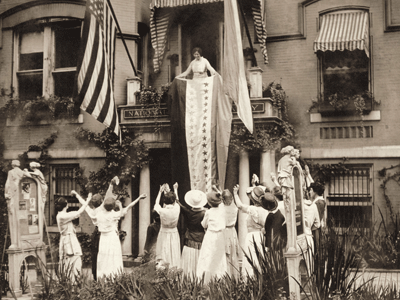 Stock Montage/Getty Images
In 1871, Victoria Woodhull became the first American woman to throw her hat into the ring for president. However, it wouldn't be until 1920 that the U.S. Congress ratified the 19th Amendment granting women the right to vote. Suffragettes around the nation celebrated their newfound equality at the polls.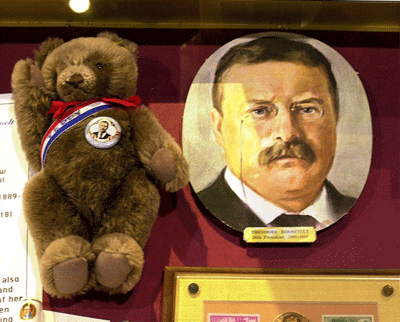 William Thomas Cain/Getty Images
The teddy bear was originally referred to as Teddy's Bear, named after President Theodore Roosevelt, who refused to shoot a black bear while hunting in Mississippi. The popular stuffed animal came to symbolize the politician and was used to promote his re-election in 1904.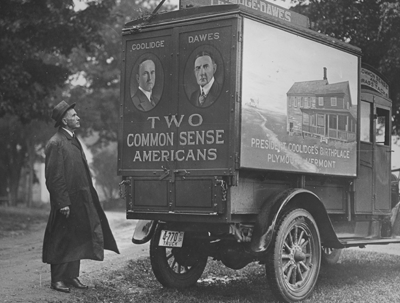 In August 1923, President Warren G. Harding died of a heart attack, and his second-in-command, Calvin Coolidge, took over the most powerful seat in the land. The following year, a popular Coolidge ran for a full term, under the snappy slogan "Keep Cool with Coolidge." After completing his first full term in office, however, Coolidge declined to seek reelection.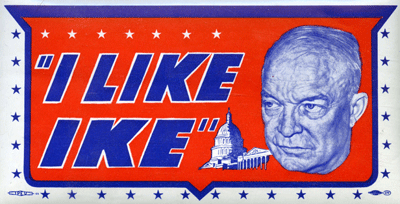 Transcendental Graphics/Getty Images
The pro-Eisenhower "I Like Ike" is one of the most famous campaign slogans in U.S. election history. A World War II general and stateside hero, Eisenhower's cheerful tagline wasn't a bit of political hubris, either. According to the Museum of Moving Image, a 1952 poll determined the former Allied commander to be the most admired person in the United States.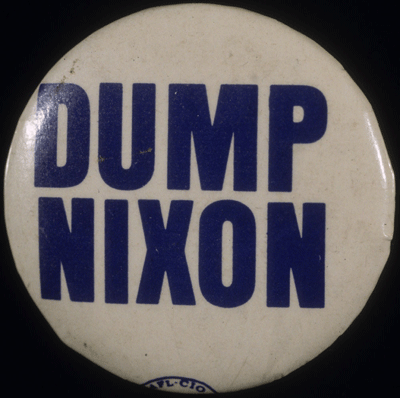 Blank Archives/Getty Images
Of course, not all political merchandise offers a positive spin, as evidenced by this button. Granted, it was sported in 1974, the year the Watergate scandal sunk the Nixon administration, leading to the infamous president's resignation from office that year.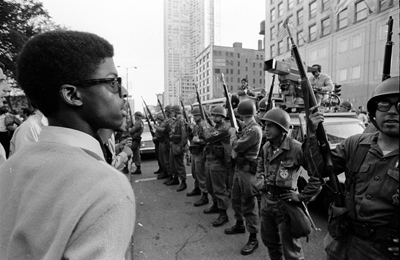 Robert Abbott Sengstacke/Getty Images
The 1968 presidential election was a raucous time with the Vietnam War still raging, the civil rights movement in full swing and violent riots springing up around the nation. Students and anti-Vietnam activists demonstrated in front of the International Amphitheatre in Chicago during the 1968 Democratic National Convention, and National Guard units were deployed to the site with the permission to "shoot to kill" if necessary.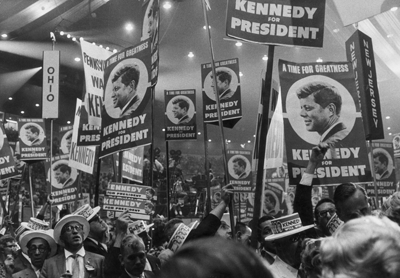 Hulton Archive/Getty Images
Not only did John F. Kennedy's handsome visage shine on television, his profile also cut a nice figure on campaign posters. At the 1960 Democratic National Convention, JFK supporters proudly waved their placards bearing his monumental slogan, "A Time for Greatness."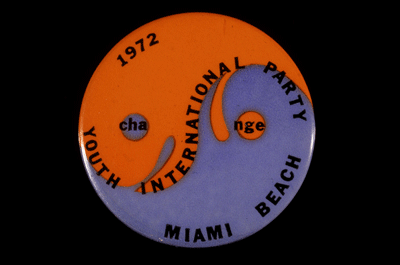 Blank Archives/Getty Images
The counterculture group Youth International Party arose during the late 1960s. In 1968, the group attempted to nominate a pig for president at the Democratic National Convention. The button pictured above is a souvenir from the yippies' 1972 anti-Vietnam War protest rally in Miami.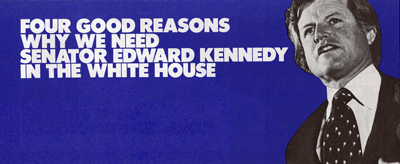 Archive Photos/Getty Images
In 1980, Senator Ted Kennedy ran unsuccessfully against incumbent Jimmy Carter for the Democratic nomination for president. But some political historians suspect that Kennedy had already spoiled his chances of following his brother JFK's footsteps to the Oval Office in 1969. One night while driving home from a party on Chappaquiddick Island, Kennedy drove his car off a bridge and later pled guilty to fleeing the scene and leaving behind his deceased passenger, Mary Jo Kopechne. As a result, Kennedy received a two-month suspended jail sentence and lost his driver's license for a year.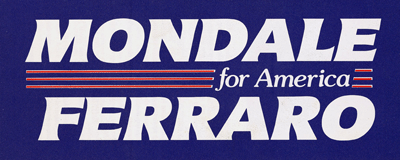 Kean Collection/Getty Images
The Democratic Party made history in 1984 by nominating the first woman for the vice presidential slot on a major party ticket. Former New York assistant district attorney Geraldine Ferraro attracted intense media attention, but her groundbreaking presence in the election wasn't enough to push the Democrats to victory. Despite the "first woman" buzz, Republican incumbent Ronald Reagan and George H.W. Bush won in a landslide.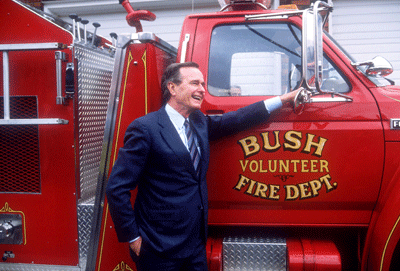 Nothing says "presidential candidate photo opportunity" like an eponymous fire engine. George H.W. Bush, father of later President George W. Bush, handily beat out Democrat Michael Dukakis in 1988.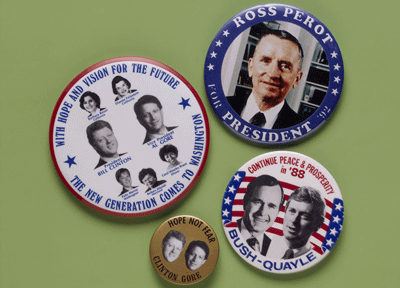 The 1992 presidential election in campaign buttons. Although Ross Perot was a third party candidate, he made an impressive showing at the polls. Winning 18.6 percent of the popular vote, Perot became one of the most successful third party candidates in American history.
The U.S. Constitution upholds the separation of church and state, but behold the election yarmulke. Promoted as the first-ever political yarmulke, these religious head coverings promoted the election of Jewish Senator Joe Lieberman who campaigned unsuccessfully as the vice presidential running mate of Al Gore in 2000.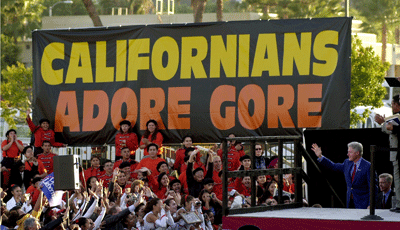 Although plenty of Californians may have "adored Gore" during his 2000 run for the Oval Office, ultimately not enough Floridians shared the sentiment. The controversial contest between Democratic Al Gore and Republican George Bush came down to a razor thin margin in Florida, and the U.S. Supreme Court ruled that Bush won the election by 537 votes.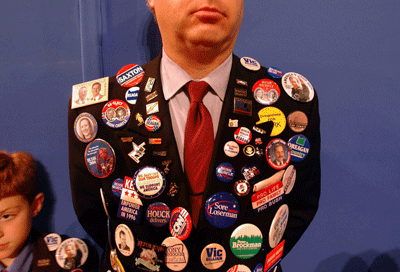 Why wear one campaign button when you can cover your entire blazer with them? During political conventions, such as the 2004 Republican National Convention pictured here, attendees tend to go overboard with their party regalia, sporting candidate's merchandise from head to toe.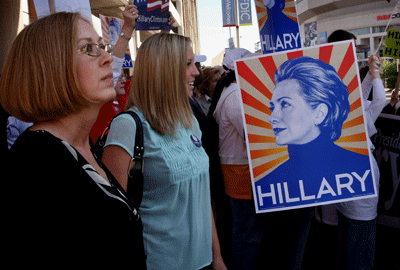 Artist Shepard Fairey's "Hope" poster of Barack Obama has become one of the most iconic images in campaign history, and his Democratic competitor Hillary Clinton also had some impressively designed advertisements as well. The soon-to-be Secretary of State attracted legions of female Democratic supporters during her historic bid for the presidential nomination.
Ethan Miller/Getty Images
Republican vice presidential nominee Sarah Palin made a splash at the 2008 Republican National Convention when she described herself as a pit bull wearing lipstick. Conservative women around the country swooned to the former Alaskan governor's feisty rhetoric, and "read my lipstick" became a popular pro-Palin slogan.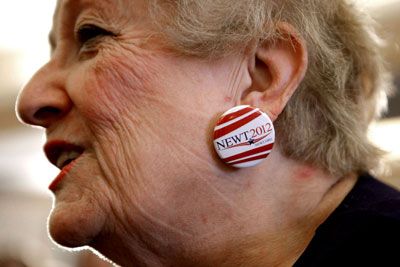 Chip Somodevilla/Getty Images
Who says campaign tchotchke can't double as a fashion statement? Although Newt Gingrich's 2012 bid for the Republican nomination for president was ultimately unsuccessful, this female supporter's earrings are still a snazzy piece of memorabilia.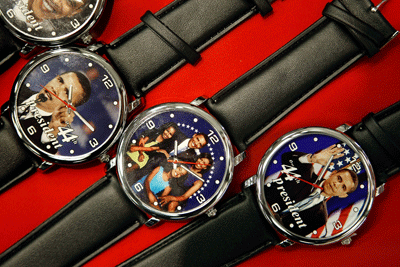 Chip Somodevilla/Getty Images
For Barack Obama supporters counting down to Nov. 4, 2012, when they can cast their vote for his reelection, one of these watches might be a delightful way to track the hours and ensure that they get to their polling station early. Or if that's not enough, the D.C. store that sells the watches also offers life-size cutouts of Barack Obama to take home for fireside chats.