1
The Opening Ceremonies of the 1939 World's Fair
In terms of broadcast TV history, this is where the story begins.
In the late 1920s, manufacturers such as Radio Corporation of America (RCA) were producing consumer-grade TVs that, while expensive and considered luxuries, began appearing in more and more households in America and Europe. But the other half of the TV equation -- regular broadcasts -- hadn't yet caught up with television set technology. If there was nothing worth watching, the manufacturers would have a hard time selling televisions.
RCA moved to remedy this situation in the late 1930s with the development of the National Broadcasting Corporation (NBC), its TV broadcast initiative. NBC developed and acquired broadcasting and transmission technology, and in 1939 was ready to make the leap into regular TV broadcasting.
NBC launched in grand style. On April 30, 1939, its TV crews arrived at the World's Fair in New York City with broadcast vans packed with the latest TV technology. NBC's cameras were rolling as President Franklin D. Roosevelt opened the fair; the signals moved from the mobile broadcasting trucks to a tower atop the Empire State Building for aerial transmission, and early technology adopters in the region watched the first live TV broadcast.
Other manufacturers launched TV sets and receivers at the World's Fair, and the market grew rapidly; by the 1940 World's Fair, space delegated for TV technology displays had doubled, and television was on its way to becoming a world-changing medium.
For more great TV articles, check out the links below.
Related Articles
Sources
Allen, Kevin. "College kids perform Olympic miracle." ESPN. Aug. 11, 1997. (April 11, 2011)http://espn.go.com/classic/s/miracle_ice_1980.html

Baird, Iain. "Television In The World of Tomorrow." ECHOES. Winter 1997. (April 12, 2011)http://www.bairdtelevision.com/RCA.html

Barnhart, Aaron. "How Nixon-Kennedy debate changed politics." The Kansas City Star. Sept. 27, 2010. (April 11, 2011)http://www.mcclatchydc.com/2010/09/27/101160/how-nixon-kennedy-debate-changed.html

BBC News. "Tsunami Disaster." Sept. 10, 2008. (April 10, 2011)http://news.bbc.co.uk/2/hi/in_depth/world/2004/asia_quake_disaster/default.stm

Bolton Council of Mosques. "The Boxing Day Tsunami -- Facts and Figures." (April 10, 2011)http://www.thebcom.org/ourwork/reliefwork/96-the-boxing-day-tsunami-facts-and-figures.html?showall=1

Bulova. "The History of Bulova." (April 13, 2011)http://www.bulovaspecialmarkets.com/about/history.aspx

CBS Entertainment. "Disneyland." TV.com. (April 12, 2011)http://www.tv.com/disneyland/show/6244/summary.html

CBS Entertainment. "Survivor." 2011. (April 14, 2011)http://www.cbs.com/primetime/survivor/

DoSomething.org. "11 Facts About the 2004 Indian Ocean tsunami." (April 10, 2011)http://www.dosomething.org/tipsandtools/11-facts-about-2004-indian-ocean-tsunami

Eleanor Roosevelt National Historic Site. "Cold War." Teaching Eleanor Roosevelt. 2003. (April 11, 2011)http://www.nps.gov/archive/elro/glossary/cold-war.htm

Hallin, Daniel. "Vietnam on Television." The Museum of Broadcast Communications. (April 11, 2011)http://www.museum.tv/eotvsection.php?entrycode=vietnamonte

The Internet Movie Database. "Walt Disney's Wonderful World of Color." (April 12, 2011)http://www.imdb.com/title/tt0046593/

Kahn, Jeffery. "Postmortem: Iraq war media coverage dazzled but it also obscured." UC Berkeley News. March 18, 2004. (April 11, 2011)http://berkeley.edu/news/media/releases/2004/03/18_iraqmedia.shtml

Langley Productions. "Company History." 2009. (April 14, 2011)http://www.langleyproductions.com/about.html

Mair, John. "Afghanistan: war, media, and the rebirth of embedding." Journalism.co.uk. Aug. 31, 2010 (April 10, 2011)http://www.journalism.co.uk/news-features/afghanistan-war-media-and-the-rebirth-of-embedding/s5/a540302/

The Most Expensive Journal. "Most Expensive Television Commercial." Jan. 9, 2009. (April 13, 2011)http://most-expensive.net/television-commercial

MSU. "'Honey, I'm Home!' Sitcom Evolution Since the 1950's." (April 14, 2011)https://www.msu.edu/~trepani1/tc200term.htm

MTV Networks. "Real World: Las Vegas." 2011. (April 14, 2011)http://www.mtv.com/shows/real_world/lasvegas/series.jhtml

National Television System Committee. "The Forces at Work Behind the NTSC standards." June 1981. (April 12, 2011)http://www.ntsc-tv.com/ntsc-main-01.htm

Posnanski, Joe. "10 interesting facts you may not know about the Miracle on Ice." Sports Illustrated. Feb. 22, 2010. (April 11, 2011)http://sportsillustrated.cnn.com/2010/writers/joe_posnanski/02/22/miracle.on.ice/index.html

Rushdie, Salman. "Reality TV: a dearth of talent and the death of morality." June 9, 2001. (April 14, 2011)http://www.guardian.co.uk/books/2001/jun/09/salmanrushdie

Russell, Cristel Antonia and Barbara B. Stern. "CONSUMERS, CHARACTERS, AND PRODUCTS: A Balance Model of Sitcom Product Placement Effects." May 18, 2006. (April 14, 2011)http://www.redorbit.com/news/science/509069/consumers_characters_and_products_a_balance_model_of_sitcom_product/

TV Acres. "Broadcast Firsts." (April 13, 2011)http://www.tvacres.com/broad_commercials.htm

TV Squad. "Most Watched TV Finales." May 15, 2010. (April 14, 2011)http://www.tvsquad.com/2010/05/15/most-watched-tv-finales/

Webley, Kayla. "How the Nixon-Kennedy Debate Changed the World." TIME. Sept. 23, 2010. (April 11, 2011)http://www.time.com/time/nation/article/0,8599,2021078,00.html

Williams, Dr. David R. "30th anniversary of Apollo 11: 1969-1999." NASA Goddard Space Flight Center. May 24, 2005. (April 12, 2011)http://nssdc.gsfc.nasa.gov/planetary/lunar/apollo_11_30th.html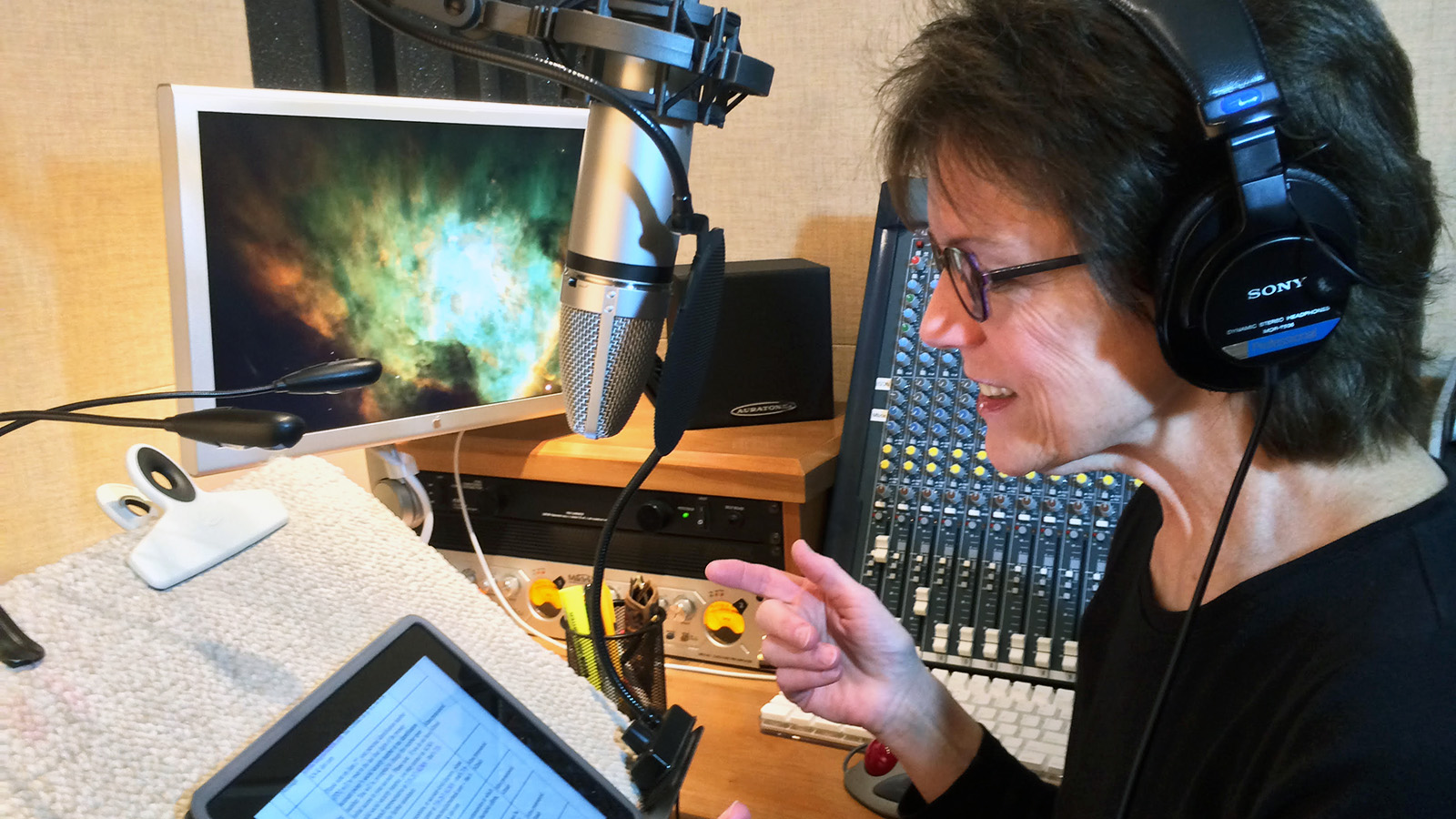 Up Next
Susan Bennett never knew she would become one of the world's most famous voices until Siri debuted on iPhones in 2011. HowStuffWorks tells her story.
---