Fans and producers worked hard to save the sci-fi series "Quantum Leap" from the notoriously bad 8 p.m. Friday time slot. The show originally aired on Wednesdays at 10 p.m., and it enjoyed high ratings until NBC moved it to Friday evenings, a virtual death sentence for most TV shows. Network executives claimed that they moved "Quantum Leap" to the Friday night slot to try to improve that time period's dismal ratings, but the producer and fans were not on board.
When "Quantum Leap" producer Donald P. Bellisario heard about the schedule change, he was furious and used the show's newsletter to rally a fan letter-writing campaign. With efforts from fans and advocacy groups, more than 50,000 letters supporting the show arrived for NBC president Warren Littlefield. The "Keep the Leap" campaign was a success, and NBC moved "Quantum Leap" back to its original time slot less than a year later. The popular show went on to air for five total seasons.
For more fun TV articles, check out the links below.
Related Articles
Sources
Affinitive LLC. "Universal Pictures: Serenity." (April 8, 2011)http://www.beaffinitive.com/case-studies/universal-pictures-serenity/

Armstrong, Mark. "WB Heeds 'Roswell,' 'Felicity' Fan Mail." E!Online. May 15, 2000. (April 8, 2011)http://www.eonline.com/on/shows/chelsea/chelseaness/b39854_wb_heeds_roswell_felicity_fan_mail.html

The Associated Press. "Giggity Giggity! Family Guy clan heads to comics." Bloomberg Businessweek. April 5, 2011. (April 6, 2011)http://www.businessweek.com/ap/financialnews/D9MDKP000.htm

Ausiello, Michael. "Exclusive: 'Friday Night Lights' sets end date." Entertainment Weekly. Feb. 10, 2010. (April 8, 2011)http://insidetv.ew.com/2010/02/10/friday-night-lights-to-end/

Bernstein, Fred. "Pulling itself out of the ratings waste heap, 'Designing Women' becomes TV's Trashy New Smash." People Weekly. April 20, 1987. (April 8, 2011)http://www.designingwomenonline.com/Articles/PR002.php

Cagle, Jess. "Leapin' Wizards." Entertainment Weekly. March 29, 1991. (April 8, 2011)http://webcache.googleusercontent.com/search?q=cache:EuINMcLdDSoJ:www.ew.com/ew/article/0,,313790,00.html

Chonin, Neva. "When Fox canceled 'Firefly,' it ignited an Internet fan base whose burning desire for more led to 'Serenity.'" SFGate. June 8, 2005. (April 8, 2011)http://articles.sfgate.com/2005-06-08/entertainment/17375721_1_firefly-screening-fans

Day, Dwayne. "Star Trek as a Cultural Phenomenon." U.S. Centennial of Flight Commission. (April 6, 2011)http://www.centennialofflight.gov/essay/Social/star_trek/SH7.htm

Empire. "Serenity And Beyond." Jan. 9, 2006. (April 8, 2011)http://www.empireonline.com/news/story.asp?NID=17800

Ford, Sam. "Light Bulbs and Eye Drops: FNL Fan Care Packages for NBC." MIT Convergence Culture Consortium. Feb. 14, 2008. (April 8, 2011)http://www.convergenceculture.org/weblog/2008/02/light_bulbs_and_eye_drops_fnl.php

Huff, Richard. "'Roswell' may face extinction." NY Daily News. Jan. 25, 2002. (April 8, 2011)http://articles.nydailynews.com/2002-01-25/entertainment/18184502_1_upn-roswell-aliens

MediaPost. "'Roswell' Joins 'Buffy' on UPN." Reuters/Variety. May 17, 2001. (April 8, 2011)http://www.mediapost.com/publications/index.cfm?fa=Articles.showArticle&art_aid=11333

Moore, Jason. "The Jericho Comic Book: An interview with Jon Steinberg." Save Jericho Again. July 6, 2009. (April 8, 2011)http://www.savejerichoagain.com/2009/07/jon_steinberg_comic_book_interview/

The Rosenzweig Company. "About Cagney & Lacey." Cagney & Lacey: The Official Website. (April 8, 2011)http://www.cagneyandlacey.com/about-cagney-lacey

Sanders, Coyne Steven and Tom Gilbert. "Desilu: The Story of Lucille Ball and Desi Arnaz." HarperCollins. 1993.

Sconce, Jeffrey. "Star Trek." The Museum of Broadcast Communications. (April 6, 2011)http://www.museum.tv/eotvsection.php?entrycode=startrek

Scott, Tracy L. "'Roswell': Saved by Tabasco sauce." The Washington Post. Dec. 30, 2000. (April 8, 2011)http://www.lawrence.com/news/2000/dec/30/roswell_saved/

Stack, Tim. "A Brief History of the 'Family Guy' -- Important dates in the life of the animated series from Fox." Entertainment Weekly. April 18, 2005. (April 6, 2011)http://www.ew.com/ew/article/0,,1049746,00.html

Stelter, Brian. "A TV Show Hopes to Cover a Lot of Ground in Postapocalyptic Kansas." The New York Times. Feb. 12, 2008. (April 8, 2011)http://www.nytimes.com/2008/02/12/arts/television/12jeri.html

Tobey, Matt. "New Futurama Episodes Premiere June 23, Series Picked Up for 26 More Episodes!" Comedy Central Insider. March 28, 2011. (April 6, 2011)http://ccinsider.comedycentral.com/2011/03/28/new-futurama-episodes-premiere-june-23-series-picked-up-for-26-more-episodes/

Tyler, Greg. "Bjo Trimble." Trekplace. August 1999. (April 6, 2011)http://www.trekplace.com/bjotrimble.html

Weisman, Jon. "A brighter future for 'Futurama?'" Variety. June 19, 2010. (April 6, 2011)http://www.variety.com/article/VR1118020836?refCatId=14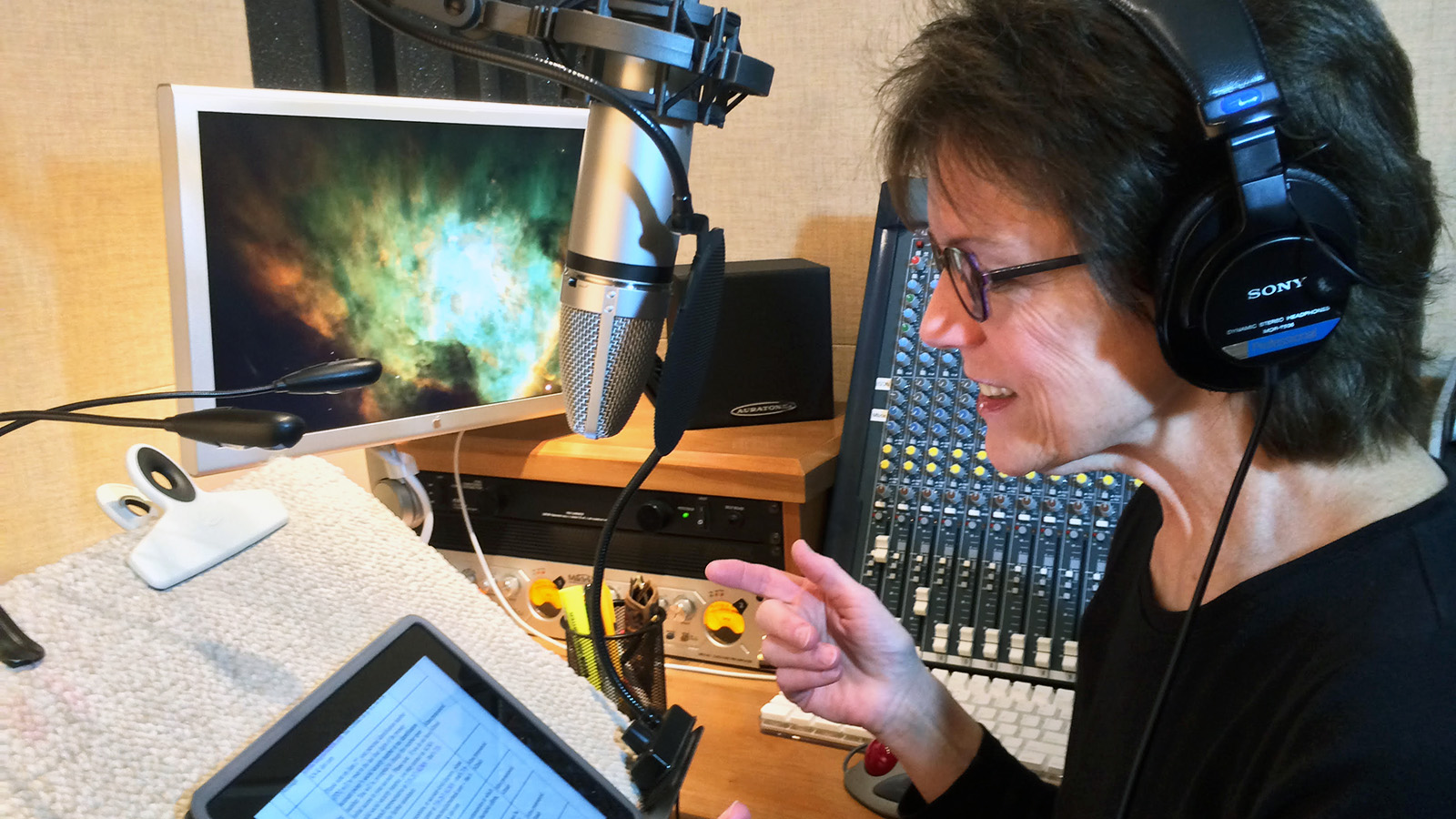 Up Next
Susan Bennett never knew she would become one of the world's most famous voices until Siri debuted on iPhones in 2011. HowStuffWorks tells her story.
---