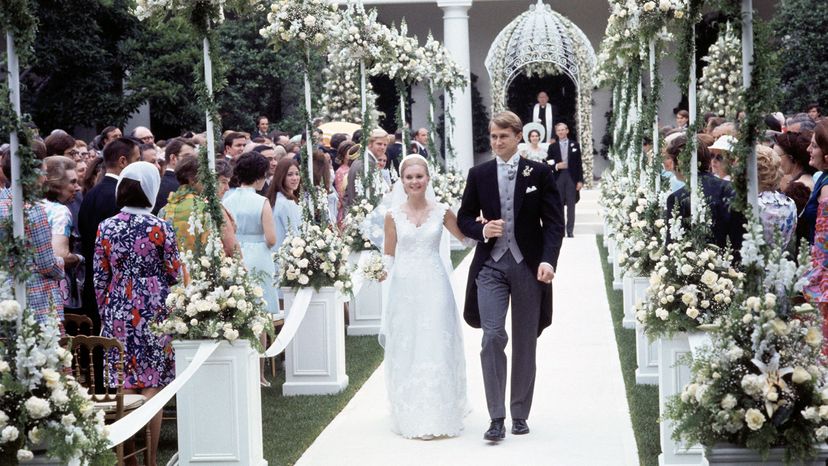 Wedding planning comes with a lot of important decisions, but the one that tops them all is location, location, location. If, like Naomi Biden, you're lucky enough to have an "in" with the reigning first family, that location could be the White House. Naomi, granddaughter of President Joe Biden, is having her Nov. 19 wedding at the White House. The ceremony will take place on the South Lawn, a first, followed by a family-only luncheon and a dessert and dancing reception in the evening. (Naomi's fiance Peter Neal shared an Instagram of the couple getting their marriage license.)
Better than even the swankiest private club, a White House wedding comes with an unrivaled sense of elegance and exclusivity, not to mention historic significance. Originally built in 1792, the structure was torched by the British during the War of 1812, then rebuilt. It has undergone multiple renovations since. Today, the six-story residence boasts 132 rooms and 35 bathrooms. With that sort of square footage, there are many on-site options for betrothed couples to choose from.
"When you look at White House weddings, each of them is so unique," says Sarah Fling, historian with The White House Historical Association. "[It] really depends on the desires, personalities and wishes of the bride and groom."
However desirable a White House wedding might be, such an event is rare. To date, only 18 weddings and four receptions have been held on the property. "There's certainly a historic precedent of having just a reception at the White House," Fling says. Most recently, Jenna Bush (daughter of President George Bush) did this in 2008, with a reception on-site about a month after she wed Henry Hager in her hometown of Crawford, Texas. Naomi Biden's nuptials will mark the 19th wedding at the White House.