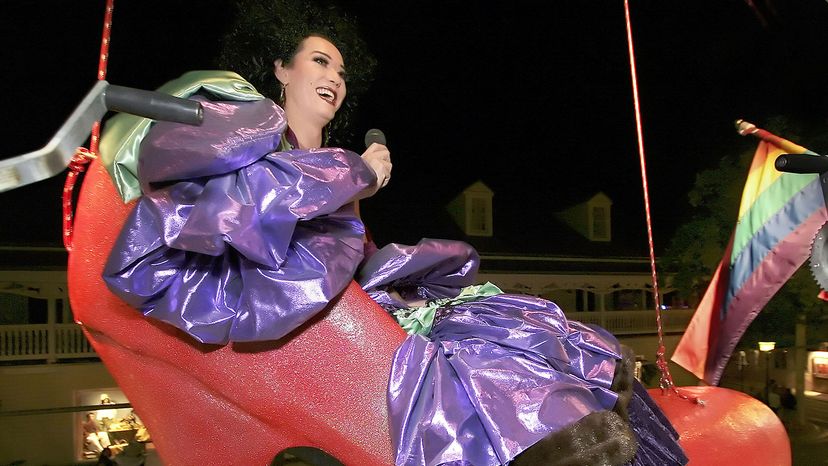 Female impersonator Sushi takes a test run descending in a giant high-heel shoe in preparation for a New Year's celebration Dec. 31, 2004 in Key West Florida. The red-shoe drop (which still goes on) is not even the wackiest "ball drop" out there.
Rob O'Neal/Florida Keys News Bureau via Getty Images
Every Dec. 31, throngs of revelers eager to ring in a new year crowd into New York City's Times Square. In the final minute of the year, as the clock ticks away seconds toward midnight, an opulent, oversized ball descends from above — and when it reaches its destination the crowd cheers, Happy New Year!
The New Year's ball drop has its roots in naval history, inspired by the Time Balls — introduced in the early 1800s. These devices were affixed to towers in coastal towns and would drop a ball at a precise moment of the day to alert nearby ship captains when to precisely set their navigational tools, called chronometers. In 1833, the Astronomer Royal, John Pond, set up a Time Ball at the Royal Observatory in Greenwich. The current New Year's tradition is a particularly American affair, and the Times Square ball drop has inspired numerous imitators across the United States, and even around the world. Here are some of the most surprising things people drop to ring in the new year.
1. Bologna Drop in Lebanon, Pennsylvania
For 25 years, a city in central Pennsylvania has celebrated the turn of the calendar by dropping a massive bologna. The spiced tube meat is popular in the region, and Lebanon, Pennsylvania, is home to several producers. Plus, there's an annual bologna festival in January. For the first 20 years of the New Year's event, a single 200-pound (91-kilogram) bologna was lowered by an industrial crane right before midnight.
In 2016, though, the tradition shifted from one massive bologna to 20 individual blocks of bologna weighing in at 10 pounds (4.5 kilograms) each. The reason for the change? The organizers of the annual event donated the meat to charities after the drop, and it took too long in the hours after midnight to slice up one gigantic bologna.
2. Onion Drop in St. George's, Bermuda
Revelers who spend New Year's Eve on the island of Bermuda don't just get to celebrate a few hours before most of the rest of the Western Hemisphere. They get to watch a gigantic onion drop at the stroke of midnight. Musicians, artists, street food vendors and other performers liven up King's Square. St. George's, founded in 1612, was Bermuda's first English settlement, and the Atlantic island became a major producer and exporter of onions. A glittering golden onion covered in light bulbs descends above the square, which overlooks Hamilton Harbour, and a laser show and fireworks traditionally follow the event.
3. Peeps Chick Drop in Bethlehem, Pennsylvania
The folks of Pennsylvania are a creative bunch. In addition to the bologna that drops in Lebanon, less than two hours away the city of Bethlehem celebrates with an enormous Peep drop that wraps up two days of celebration known as PeepsFest. The sugary (and divisive) marshmallow confection is generally produced in the shape of a bird, and is most common in U.S. stores around the Easter holiday. Just Born, the Bethlehem-based candy company responsible for Peeps, also makes Mike & Ikes and Hot Tamales. The giant Peep dropped on New Year's Eve weighs 400 pounds (181 kilograms) and stands at 4 feet and 9 inches tall (149 cm).
4. Deuce of Clubs Drop in Show Low, Arizona
This central Arizona locale gets its unique name from its days as a frontier town without a name. Two rival cowboys and ranch co-owners named Corydon E. Cooley and Marion Clark were playing an extended game of poker. The loser would vacate the city, letting the other keep hundreds of acres of land. The deciding hand, according to city lore, would belong to whichever cowboy could "show low" by holding the lowest-value card possible — and the winner turned over a two of clubs.
These days, not only is the city's main street named Deuce of Clubs, but Show Low drops a colossal illuminated playing card every Dec. 31, just a block away from where a statue commemorating the card game once stood. The statue accidentally burned down during a candlelight vigil in 2016, so the fiberglass statue was replaced by a bronze one.
5. Idaho Potato Drop in Boise, Idaho
Idaho's signature holiday event features the dropping of a giant potato. Dylan Cline, a fourth-generation Idahoan, got the idea after he traveled many hours to see the famous Times Square ball drop in New York City. Each year since 2013, tens of thousands of onlookers have gathered in downtown Boise to witness the potato drop at the Idaho State Capitol. In 2017, the 17-foot (5-meter) tall potato sculpture was upgraded to fit a LED light box inside it, and is now known as the "GlowTato."
6. Red High Heel Shoe Drop in Key West, Florida
What started as a one-off crazy stunt has become a beloved New Year's Eve Key West tradition. Since 1996, a celebrity drag queen named Sushi has sat in a giant red high-heeled shoe as it's lowered from the balcony of the Bourbon St. Pub on Duval Street, Key West's main street. Over the course of an hour, the size 8 shoe (made of fiberglass and stainless steel) complete with the 4-foot (1.2 meter) heel, is lowered 20 feet (6 meters) to the ground.
For good measure, Key West also features a conch shell drop and a "pirate wench" drop on New Year's Eve. Let the revelries begin!
Originally Published: Dec 28, 2017