Once associated with sailors, bikers and weekend benders, tattoos are positively trendy among the rich and/or famous these days. Your favorite star of screen or sport is as likely to flaunt a customized piece of body art as a Vera Wang gown or pair of Versace shades, and the artists who create and apply the designs are becoming as acclaimed as their couture counterparts.
But being a celebrity comes with a price. When your name is writ large in pop culture, your life choices appear like sky-writing in the sometimes merciless media -- especially when you make gaffes as attention-grabbing as any sky-writing.
We've chosen five truly blush-worthy skinterior designs -- not to cast stones, but as cautionary tales. Each is a variation on the axiom, "Look before you leap." Or, in this case, "Think before you ink."
Our first story encourages you to wear your heart on your sleeve -- or your collar, breast pocket or anything else you can toss in the laundry. Then all you have to do is change your clothes if you should have a change of heart.
Hip-hop and R&B producer Jermaine Dupri's ears are finely tuned when it comes to the sounds of musical gold -- or platinum, actually. He wasn't yet 20 years old when he discovered the teen duo Kriss Kross. He created their image and produced their first CD -- it sold 4 million copies. Later collaborations with Mariah Carey, Run-DMC and Usher all resulted in multiple millions of sales.
Unfortunately, Jermaine's vision has been less than 20/20 when it's come to success in personal relationships. Seven years into his romance with singer-actress Janet Jackson, he got her exact and lovely likeness tattooed on his right side in a demure Virgin Mary pose -- check out photos of it on tattoo artist Jun Cha's blog. A few months later, the couple broke up, just as some naysayers predicted when Jermaine got the piece. But Jermaine couldn't read the writing on the wall (or the blogs), and now he may well be haunted by the ink on his stomach.
By any standard, it's been one sweet career for professional basketball player Shawn Marion. In 11 years in the NBA, Marion has racked up a slew of impressive stats: 10,000 points scored, 80-plus playoff game appearances, and four All-Star team selections. In 2011, he helped the Dallas Mavericks win the NBA championship finals. And his record of charitable works rivals his on-court accomplishments.
An ill-advised tattoo barely registers on a resume like that. Nonetheless, in 2003, Marion had his right leg tattooed with what he thought were the Chinese characters for his nickname, "The Matrix." Maybe he should have consulted fellow NBA star Yao Ming, a native speaker of Mandarin Chinese born in Shanghai, first. Chinese characters are composed of exact combinations of strokes -- between poor translation and poor rendering, misprints are common in tattoos. The three figures on his leg signify demon, bird and camphor (the active ingredient in mothballs). Taken together or apart, if they have any connection to a matrix, no one has explained it.
Our next case study illustrates that although a lot of parents think their children are angels, some may take it a little too literally.
In the celebrity world, where "rich and famous" and "family man" don't often go together, soccer star David Beckham is a refreshing anomaly. He's hailed as one of the best footballers on the planet, having played for four celebrated teams in four countries: England's Manchester United, Italy's AC Milan, Real Madrid of Spain, and the Los Angeles Galaxy in the U.S.
David is also one-half of an A-list celebrity marriage. His wife Victoria, the former Posh Spice of Spice Girls fame, is now a fashion designer. They've been married since 1998, and are so respectable that they attended Prince William and Kate Middleton's royal wedding in April 2011.
He's also a devoted father of three boys (and by the time you read this, possibly one daughter as well). He even had his three boys tattooed on his chest -- in a way. The tattoo is a stunning rendering of three cherubs lifting Jesus from the tomb done by artist Mark Mahoney. David says it represents how his sons will care for him in his old age. A touching thought. But even if you are a world-class sports figure and caring father, comparing yourself to someone whom many people consider the savior of the world is overreaching, to say the least.
Our next entry proves the rhyme "I scream, you scream we all scream for ice cream." Especially when it's being emblazoned into your skin.
An undertone of violence pervades some parts of hip-hop culture, and some artists embrace it more than others. Radric Davis, aka Gucci Mane, has built a career on it.
Gucci's breakout year, 2005, was marred when he was charged with murder for shooting an armed attacker. Those charges were dropped, but an assault conviction that year sent him to prison for six months. In 2009, he was back in for violating probation. In January 2011, a battery charge landed him in a mental facility for evaluation. As of this publication, he was expected to be released in June.
Gucci's jail time has always seemed to inspire creativity, with heavy nods to the experience in his albums "The Appeal: Georgia's Most Wanted" and "The State vs. Radric Davis." After his last incarceration, Gucci promised a fresh start. He said that he understood his actions had consequences, and that he'd learned about being a role model by mentoring younger inmates -- from now on he would be "the coldest in the game". He got a new tattoo, an ice cream cone on his cheek, and planned a new album, "The Ice Cream Man," to testify to his new attitude.
That's good to remember -- but we wonder what having an ice cream cone on his face will do for Gucci's cred.
Fittingly, the crown of our countdown belongs to a man whose fans called him King James -- before they started calling him names we can't print here.
It isn't easy being a Cleveland Cavaliers fan. In four decades, the NBA franchise has come oh-so-close but never won a championship, and put together more losing years than winning ones.
But the basketball gods smiled on the Cavs in 2003. They drafted local hero and certified superstar LeBron James straight out of St Vincent-St. Mary High School, where he took his team to three championships and earned just about every national award available to prep school players. Led by "King James," the Cavs made the playoffs every year from 2006-2010. In 2007, they went all the way to the finals.
But in 2010, impatient for a championship, LeBron began entertaining offers from other teams. Four franchises courted him, grandly and generously, including the Cavaliers. In a much publicized, made-for-TV event called "The Decision," he famously declared, "I'm going to take my talents to South Beach and join the Miami Heat."
In Cleveland, Cavaliers fans burned their LeBron James jerseys in the street. They changed the slogan of Nike's LeBron James advertising campaign, "Witness," into a sneer: "Quitness." The team's owner predicted "bad karma" for James for his "shameful display of selfishness and betrayal."
And the tattoo? That's something else LeBron took to South Beach, a single word in rolling script, written near his heart: Loyalty.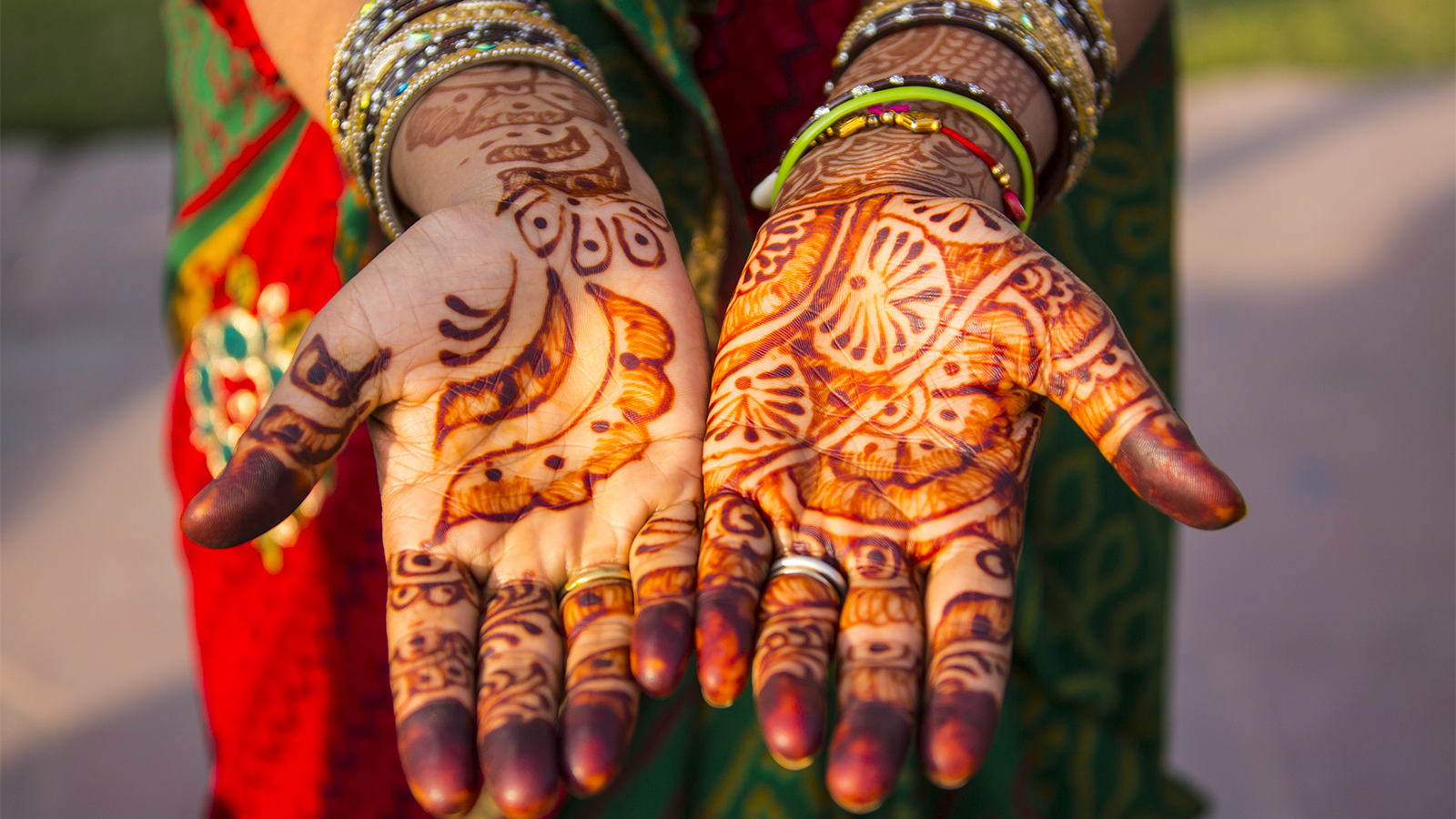 Up Next
Henna tattoos are all the rage, but there is a rich and ancient tradition behind this form of body art. HowStuffWorks goes to school on henna tattoos.
---
Related Articles
Sources
Abbott, Henry. "LeBron James' decision: the transcript." July 8, 2010. (June 6, 2011) http://espn.go.com/blog/truehoop/post/_/id/17853/lebron-james-decision-the-transcript

Bush, John. "Jermaine Dupri Biography." (May 31, 2011) http://music.aol.com/artist/jermaine-dupri/biography

Butters, Patrick. "Every Superhero Has His Sidekick." Montpelier Magazine. Dec. 9, 2003. (June 8, 2011) http://www.jmu.edu/montpelier/2003Spring/EverySuperhero.shtml

Chang, Cindy. "Cool Tat, Too Bad It's Gibberish." The New York Times. April 2, 2006. (May 26, 2011) http://www.nytimes.com/2006/04/02/fashion/sundaystyles/02tattoos.html?pagewanted=1

Chinaview.cn "Chinese tattoos popular with western celebrities." March 26, 2009. (June 9, 2011) http://news.xinhuanet.com/english/2009-03/26/content_11075332.htm

Collar, Matt. "Victoria Beckham Biography." (June 7, 2011) http://www.music.aol.com/artist/victoria-beckham/biography

Cordor, Cyril. "Gucci Mane Biography." (June 5, 2011) http://music.aol.com/artist/gucci-mane/biography

The Daily Mail. "David Beckham confirms AC Milan return - Italians agree January loan for England Star." Nov. 2, 2009. (June 7, 2011) http://www.dailymail.co.uk/sport/football/article-1224737/David-Beckham-confirms-AC-Milan-return--Italians-agree-January-loan-England-star.html#ixzz1OcjGiW5m

The Daily Mail. "Good Lord! David Beckham reveals chest tattoo of Jesus and angels for the first time." Feb. 26, 2011. (June 7, 2011) http://www.dailymail.co.uk/tvshowbiz/article-1360730/David-Beckham-reveals-chest-tattoo-Jesus-angels-time.html

Gustin, Sam. "Cleveland Cavs Owner 'Curses' LeBron James, Fans Burn Jersey." Daily Finance.com. July 9, 2010. (June 6, 2011) http://www.dailyfinance.com/2010/07/09/cleveland-cavs-owner-curses-lebron-james

Hatzigiannis, Marielena. "Gucci Mane arrested, charged with battery in Georgia." CBS News. April 11, 2011. (June 4, 2011)http://www.cbsnews.com/8301-31749_162-20052754-10391698.html

HiphopCrunch.com. "Jermaine Dupri Janet Jackson Tattoo." May 19, 2009. (June 2, 2011) http://hiphop.popcrunch.com/jermaine-dupri-janet-jackson-tattoo-photos/

Lipshutz, Jason. "Gucci Mane Reveals Joint Album with Waka Flocka Flame." Billboard.com. March 17, 2011. (June 5, 2011) http://www.billboard.com/news/gucci-mane-reveals-joint-album-with-waka-1005079272.story#/news/gucci-mane-reveals-joint-album-with-waka-1005079272.story

Livingston, Bill. "LeBron's 'decision' to quit serves as inspiration for Quitness Day." The Plain Dealer. May 10, 2011. (June 8, 2011) http://www.cleveland.com/liningston/index.ssf/2011/05/lebrons_decisiom_to_quit_serve.htm

McElroy, Q. "Janet Jackson confirms break-up with Jermaine Dupri." Nov. 18, 2009. (June 9, 2011)http://blogs.ajc.com/the-buzz/2009/11/18/janet-jackson-jermaine-dupri-breakup-confirmed/

MTwain.com. "Mark Twain Quotes." (May 31, 2011) http://www.mtwain.com/l_quotes.html

Muhammad, Latifah. "Gucci Mane's prison sentence shortened by 15 months." Theboombox.com. May 11, 2011. (June 5, 2011) http://www.theboombox.com/2011/05/10/Gucci-manes-prison-sentence-shortened-by-15-months/

NBA.com "Prospect Profile: LeBron James." (June 6, 2011) http://www.nba.com/draft2003/profiles/JamesLeBron.html

NBAUniverse.com. "2007 NBA Playoff Results." (June 6, 2011) http://www.nbauniverse.com/yearbyyear/2006_2007_playoff_results.htm

Reuters. "The life and career of David Beckham." Jan. 11, 2007. (June 7, 2011) http://www.reuters.com/article/2007/01/11/us-soccer-beckham-factbox-idUSL11174799820070111

Shawn Marion Official Website. "About Shawn." (May 30, 2011) http://www.matrix31.com/about-shawn-marion.php

TMZ.com "LeBron James Takes His Talents to the Bahamas." July 19, 2010. (June 6, 2011) http://www.tmz.com/2010/07/19/lebron-james-bahamas-beach-photo