Historic Congressional Investigations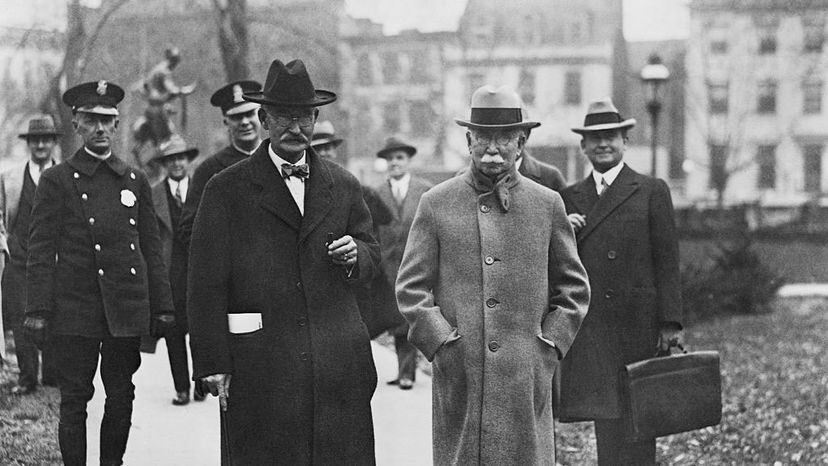 U.S. Secretary of the Interior Albert Fall (R) and American oil magnate Edward Doheny travel to the courthouse, during the Teapot Dome scandal. Fall later went to prison.
Bettmann/Getty Images
Here's a list of some of the most noteworthy Congressional investigations:
Robert Morris investigation: In 1790, financier Robert Morris asked Congress to investigate his own handling of the country's money during the Revolutionary War in order to clear his name of alleged impropriety. It was the first-ever Congressional probe [source: U.S. House].
John Brown raid: During 1859-60, a Senate select committee investigated the abolitionist firebrand's raid on the arsenal at Harper's Ferry, Va. It was the first-ever Senate investigation [source: U.S. Senate].
A Teapot Dome hanger from the 1924 United States presidential election features Democratic candidates John W. Davis and Charles W. Bryan. They lost to Calvin Coolidge.
David J. & Janice L. Frent/Corbis via Getty Images
Ku Klux Klan: From 1871-72, a Senate committee headed by Sen. John Scott, R-Pa., documented the Klan's terrorist activities in North Carolina and convinced President Ulysses S. Grant to send troops to intervene [sources: Senate, Pearl].
Teapot Dome scandal: A 1923-24 Senate investigation exposed corrupt deals that gave oil companies access to Naval oil reserves in the West, and ultimately led to the bribery conviction of Harding Administration Interior Secretary Albert Fall. Fall was the first cabinet member ever to go to prison [source: Cherny].
Army-McCarthy hearings: In 1954, Sen. Joseph McCarthy, a Republican, investigated alleged Communist influences in the media, the government and the U.S. Army. McCarthy got his comeuppance from Army chief counsel Joseph Welch, who famously asked him: "Have you no sense of decency, sir, at long last?" [source: Politico].
Watergate: A 1973-74 select committee headed by Sen. Sam Ervin probed the burglary at the Democratic National Committee headquarters and other illegal activities carried out by President Richard Nixon's reelection campaign. The probe was one of the forces that eventually drove Nixon to resign from office [source: U.S. Senate].
Intelligence abuses: In 1975-76, a Senate select committee probed abuses of power by U.S. intelligence and law enforcement agencies, including the FBI's COINTELPRO program that tried to disrupt and discredit civil rights figures such as Martin Luther King, Jr. [source: Senate].
Iran-Contra affair: In 1987, a joint Congressional committee put the spotlight on the Reagan Administration's covert sales of missiles to Iran and diversion of the proceeds to aid the Nicaraguan Contra rebels [sources: Senate, Politico].
Big Tobacco: 1994 House hearings led by Rep. Henry Waxman, D-Calif., questioned cigarette industry executives under oath about whether their products were addictive. He later obtained secret documents showing an industry cover-up [source: Greenberg].
Benghazi: Congress held multiple hearings on the cause of the 2012 attack on the Libyan mission and whether the State Department could have prevented it. When former Secretary of State Hillary Clinton first testified, she memorably said, "[T]he fact is we had four dead Americans. Was it because of a protest or was it because of guys out for a walk one night who decided that they'd they go kill some Americans? What difference at this point does it make? It is our job to figure out what happened and do everything we can to prevent it from ever happening again" [source: Politico].
Author's Note: How Congressional Investigations Work
I've been interested in Congressional investigations ever since I watched the Watergate hearings on TV as a teenager. As a journalist, I've often utilized hearing testimony as a source of information.
Related Articles
More Great Links
Sources
Beam, Alex. "After 49 Years, Charles Van Doren Talks." New York Times. July 21, 2008. (May 8, 2017) http://nyti.ms/2qiJCjE

Boucher, Rick, and Watts, Daron. "Congressional Investigations." Sidley.com. (May 8, 2017) http://bit.ly/2qSv5Zh

Broder, John M. "BP's Chief Offers Answers, but Not to Liking of House Committee." New York Times. June 18, 2010. (May 8, 2017) http://nyti.ms/2qjHgRT

Caldwell, Leigh Ann. "Here's How Congress is Handling Russia Investigations." Nbcnews.com. Feb. 17, 2017. (May 8, 2017) http://nbcnews.to/2qSJPHq

Cherny, Robert W. "Graft and Oil: How Teapot Dome Became the Greatest Political Scandal of Its Time." History Now. (May 8, 2017) http://bit.ly/2qjwdIc

Collison, Stephen. "Benghazi panel caps 2-year probe: No bombshell, faults administration." CNN. June 28, 2016. (May 8, 2017) http://cnn.it/2qizk31

Cottle, Michele. "What Congress Is Actually Good At." Atlantic. Sep. 21, 2016. (May 8, 2017) http://theatln.tc/2qSAUG9

Counterterrorism and Humanitarian Engagement Project, Harvard University. "Congressional Inquiries: Draft Background Briefing." Harvard.edu. March 2013. (May 8, 2017) http://bit.ly/2qSxSSf

Curry, James A.; Riley, Richard B.; and Battisoni, Richard M. "Constitutional Government: The American Experience." Kendall/Hunt Publishing. 2003. (May 8, 2017) http://bit.ly/2qSXLkW

Dewhirst, Robert E. and Rausch, John David. "Encyclopedia of the United States Congress." Infobase Publishing. 2014. (May 8, 2017) http://bit.ly/2qT9hwn

Dolan, Alissa, etal. "Congressional Oversight Manual." Congressional Research Service. Dec. 19, 2014. (May 8, 2017) http://bit.ly/2qSz344

Ehrman, John. "A Half-Century of Controversy: The Alger Hiss Case." Cia.gov. (May 8, 2017) http://bit.ly/2qjrINH

Gibson Dunn. "Congressional Investigations." Gibsondunn.com. (May 8, 2017) http://bit.ly/2qSBAey

Greenberg, Jan Crawford. "U.S. Putting Heat On Tobacco Firms." Chicago Tribune. July 26, 1995. (May 8, 2017) http://trib.in/2qjA5ZN

Hennessey, Susan, and Murillo, Helen Klein. "The Rules of Congressional Investigations and Trump's Growing Russia Problem." Lawfare. March 2, 2017. (May 8, 2017) http://bit.ly/2qjjV2s

Koons, Cynthia and Edney, Anna. "Ackman, Valeant Offer Apologies, Concessions at Drug Hearing." Bloomberg.com. Apr. 27, 2016. (May 8, 2017) https://bloom.bg/2qixGyF

Kriner, Douglas L. and Schickler, Eric. "Investigating the President: Congressional Checks on Presidential Power." Princeton University Press. 2016. (May 8, 2017) http://bit.ly/2qSxmDP

Kriner, Douglas and Schwartz, Liam. "Divided Government and Congressional Investigations." Legislative Studies Quarterly. May 2008. (May 8, 2017) http://bit.ly/2qhDDvB

Levin, Carl and Warner, John. "The Right Way to Investigate Russia's Election Meddling." Politico. March 16, 2017. ( May 8, 2017) http://politi.co/2qhJaCx

Light, Paul C. "Government By Investigation: Congress, Presidents and the Search for Answers, 1945-2012." Brookings Institution Press. 2013. (May 8, 2017) http://bit.ly/2qSIC2S

Light, Paul C. "Investigations Done Right and Wrong: Government by Investigation, 1945-2012." Brookings Governance Studies. Dec. 2013. (May 8, 2017) http://brook.gs/2qSIrVh

Lowande, Kenneth, and Peck, Justin. "Congressional Investigations and the Electoral Connection." Paper presented at 2015 Congress & History Conference, Nashville, Tn. April 18, 2015. (May 8, 2017) http://bit.ly/2qhwzyY

Newman, Maria. "Congress Opens Hearings on Steroid Use in Baseball." New York Times. March 18, 2005. (May 8, 2017) http://nyti.ms/2qiKapW

Noked, Noam. "Investigative Authorities of House and Senate Committees." Harvard Law School. Aug. 14, 2011. (May 8, 2017) http://bit.ly/2qSIWi0

Ortiz, Erik. "How Can Congress Set up an Independent Commission to Investigate Russia?" Nbcnews.com. March 29, 2017. (May 8, 2017) http://nbcnews.to/2qSCbN6

Pearl, Matthew. "K Troop." Slate. March 4, 2016. (May 8, 2017) http://slate.me/2qjzTtr

Skadden, Arps, Slate, Meagher & Flom LLP. "How to Survive a Congressional Investigation." Skadden.com. Nov. 11, 2010. (May 8, 2017) http://bit.ly/2qSz4EU

Slack, Donovan. "Senate investigation finds 'systemic' failures at VA watchdog." USA Today. May 31, 2016. (May 8, 2017) https://usat.ly/2qjfrck

Thomas, Katie. "Valeant Chief, at Senate Hearing, Concedes Mistakes on Steep Drug Prices." New York Times. April 27, 2016 (May 8, 2017) http://nyti.ms/2qilSwm

U.S. House of Representatives. "Investigations and Oversight." History.house.gov. (May 8, 2017) http://bit.ly/2qSEOP8

U.S. Senate. "A History of Notable Senate Investigations." Senate.gov. (May 8, 2017) http://bit.ly/2qSxYJi

U.S. Senate. "Senate Select Committee to Study Governmental Operations with Respect to Intelligence Activities." Senate.gov. (May 8, 2017) http://bit.ly/2qjM4X8